© Donal G. Burke 2013
John Archedeckne, a baron circa 1343, bore for arms 'Argent three chevronels Sable' at the second Dunstable tournament of 1334. The same arms were also ascribed to one Adam Archdeckne and to Sir Thomas Archdeckne of Cornwall in the medieval period, while the same arms but with a label of five points Gules were ascribed to Geffrey Archdeckne. One Thomas le Archdekin, also in the medieval period, bore for arms a variation on the above, being 'Argent, three chevronels Sable bezantée.'[i]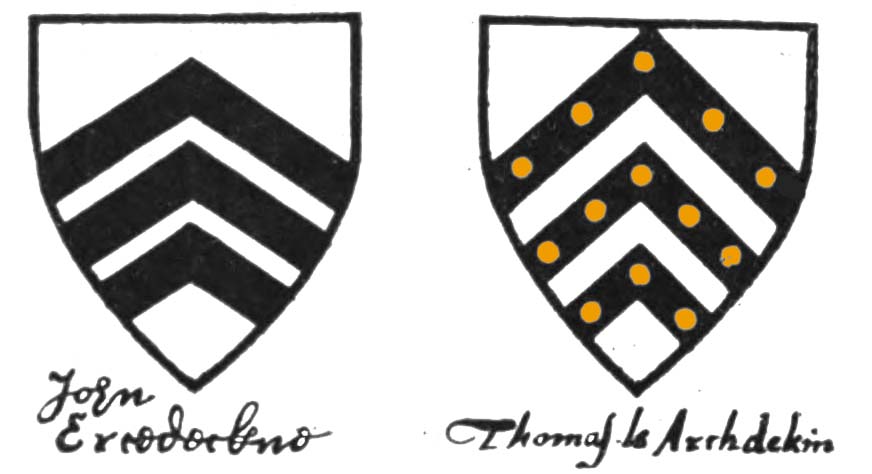 The shield borne by John Archedeckne at the Dunstable tournament (left) and that borne by Thomas le Archdekin (right) from 'Some Feudal Coats of Arms' by Joseph Foster, 1902.
The use of the same arms by the Archdeckne family transplanted by the Cromwellian authorities from Kilkenny into Connacht and allocated lands in the parish of Clontuskert in East Galway would appear to suggest that a connection was claimed between this family and those armigerous Archdecknes whose arms were detailed in the medieval English armorial compilations or Rolls of Arms.[ii]
The family at some point about the eighteenth century appear to have used a variant form of the family surname in Arcedeckne.
Nicholas Arcedeckne of Gortnamona, gentleman, in the parish of Clontuskert, in his will of 24th September 1775, having made provision for financial bequests to the younger sons of Robert Burke and to Helen, the eldest daughter of Robert Burke, and 'after directing his just debts to be paid', 'gave the residue of his real and personal estate to Robert Burke, afterwards Robert Arcedeckne Burke, and appointed said Robert Burke, D'Arcy French and John Pilley his executors.'[iii]
Robert Burke, married to Mary Arcedeckne, assumed the name Arcedeckne Burke, a surname that would be borne by all of his male children. Robert Arcedeckne Burke had at least nine children, four sons and five daughters; in order of seniority, Nicholas Arcedeckne Burke, Walter Arcedeckne Burke, Redmond Arcedeckne Burke, James Arcedeckne Burke, Helen, Jane, Anne, Mary and Eleanor Burke.
None of the four sons of Robert Arcedeckne Burke appear to have produced surviving male heirs and the Arcedeckne name was continued in the posterity of Walter Arcedeckne Burke through his daughter Anne Maria.
James Henry Edward Arcedeckne-Butler, son of The Hon. St. John Butler by his wife Anne Maria, only child of Walter Arcedeckne Burke of Gortnamona, Co. Galway assumed by Royal Licence in 1867 the surname and arms of Arcedeckne-Butler. He married Minna, daughter of John Locke, Esq. MP for Honiton and had at least two sons; St. John Henry Arcedeckne-Butler, Esq., of Stamford Hill, Dickoya, Ceylon, born in 1868 and James Fitzwalter Arcedeckne-Butler, Captain in the 1st Battalion, East Surrey Regiment, born in 1869.
The Hon. St. John Butler of Portrane, Co. Dublin, who married Anne Maria Burke, was born in 1808, the son of James Butler, 13th/23rd Baron Dunboyne. He married three times, firstly in 1832 to Anne Marie Burke, who died in 1859, in 1863 he married Anne Jackman and thirdly he married Marianne, daughter of Rev. Hon. Henry Taylour in 1873. He served as High Sheriff of County Dublin in 1856 and died in 1878.[iv] While Anne Maria Burke was the first wife of the Hon. St. John Butler, it was the second marriage of Anne Maria, she having been previously married to James Fitzpatrick.
The arms of St. John Henry Arcedeckne-Butler are given as 'quarterly one and four, Or a chief indented Azure, three escallops in bend countercharged, a label on a crescent for difference[v] (for Butler), two and three; Argent, three chevronels Sable (for Arcedeckne). Mantling is given as Azure and Or while he bore two crests simultaneously, the first, on a wreath of the colours, out of a ducal coronet Or, a plume of five ostrich feather, therefrom a demi-falcon rising Argent, a label on a crescent for difference. The second crest, borne above a wreath of the colours, is given as a cubit arm erect, vested Argent, charged with three chevronels Sable, the hand Proper grasping a sword Argent, pommel and hilt Or (for Arcedeckne). He bore for motto 'Timor Domini fons vitae.'[vi] In 1895 he married Maud, daughter of Captain Albert Money of Little Stodham, Liss and had issue, born in 1896, St. John Desmond Arcedeckne-Butler, gent., later Major-General St. John Desmond Arcedeckne-Butler, Royal Signals, retired 1946.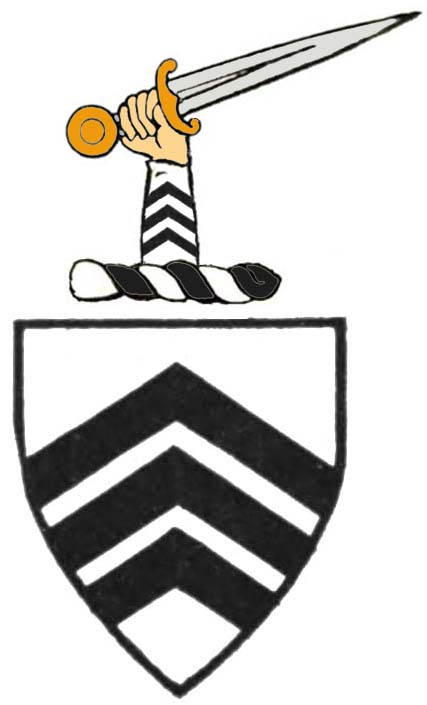 Arms of Arcedeckne of Gortnamona, parish of Clontuskert, shown quartered in the arms of St. John Henry Arcedeckne-Butler at the beginning of the twentieth century.
The arms of James Fitzwalter Arcedeckne-Butler, younger brother of St. John Henry, were given as identical to those of his elder brother, including the difference on the quarters of Butler, which also bore a label on a crescent.[vii]
The family of Arcedeckne of Cockfield Hall and Glevering Park, Suffolk, was established by Chaloner Arcedeckne, one time M.P. and Sheriff of Suffolk, descended from the Arcedecknes of Gortnamona. The arms of this family are given as 'Argent, three chevronels Gules' and for crest 'a dexter arm holding in the hand a sword.'[viii]
For further details, refer to 'Arcedeckne' under 'Families.'
---