© Donal G. Burke 2015
Heraldic arms were not attributed to those of the surname Mannion or Mannin by Dr. Edward MacLysaght, former Chief Herald of Ireland, in his mid twentieth century work, 'Irish Families, their Names, Arms and Origins.' Prior to the mid twentieth century, two different arms were associated with the name Mannin, one in an early eighteenth century compilation of blazons written in the Irish language and one in the Register of Arms in the office of the Ulster King of Arms dating from the early twentieth century. Both, however, were erroneous attributions. Nonetheless, arms were claimed to have been those associated with the family by at least one member of the name in the mid nineteenth century.
The O Mannions were the principal family of the Sodhain, a kin-group of families who were established in the east of what would later be County Galway prior to the rise of the family group known as the Uí Maine. This latter group came to dominate the earlier tribes and established a petty kingdom known as Uí Maine (Anglicised 'Hy Many'), the foremost family of which was the O Kelly chieftain of Uí Maine.
The O Mannions were the only one of the earlier tribes of separate and distinct origin from the Uí Maine kin group to retain a position of strength within the territory and in the hierarchy of the petty kingdom of Uí Maine. The head of the O Mannions was described as one of several uir-rí or 'under-kings' beneath the O Kelly king or chieftain of Uí Maine.
The original territory of the Sodhain was restricted in size to accommodate the expanding family group of the new rulers and appear to have been centred some time after the creation of the Uí Maine territory in an area known in the medieval period as the cantred of Sodhan, roughly centred about the parish of Ballymacward and environs.
In the early medieval period the chieftain of the O Mannions was reputed to have been established at Clogher in the barony of Tiaquin in east Galway but by the mid fourteenth century was siad to have relocated to the area about Menlough in the same barony. The territory of the O Mannions within Sodhan was known in the late medieval period as 'Oidhreacht Uí Mannin' or 'the inheritance of O Mannion' and comprised of twenty-four quarters of land centred about the parish of Killoscobe in east Galway. In 1585 William O Mannyne was O Mannine (ie. chieftain of the family) and seated at Mynloghe, (ie. Menlough) about the village of the same name in the parish of Killoscobe.
Dermod O Connor in his early eighteenth century Gaelic armory entitled 'Suathanais' written in the Irish language, attributed arms to the name of 'O Maininn' of 'Gribh orth air uaithne, 3 rae thuas. Cr. (ie. 'crest') lamh is cros.' This would appear to translate in heraldic terms as 'Vert, a griffin Or, three discs in chief' with a crest simply described as 'a hand and cross' but a later Irish heraldic authority would state that the blazon was more properly that of another family, named MacManus, and the name given by O Connor an error.[i]
O Connor was not always reliable as a heraldist and may have incorrectly believed the name of the arms bearer in this case to have been 'O Maininn' rather than 'MacManus.' Alternatively, the Gaelic script used by O Connor in his blazons may have led to confusion in relation to the identity of the surname intended in his work. An Alphabet of Arms known as Genealogical Office Manuscript No. 62, formerly part of the records of the Ulster King of Arms, contains blazons of numerous armigerous families of Great Britain and Ireland. Although entitled 'Smith's Ordinary of Arms A No.2,' the main body of the work is more correctly an alphabet of arms, the original of which is believed have been written by William Smith Rouge Dragon Pursuivant circa 1604. Numerous additional blazons were later added by different hands, apparently in the eighteenth and nineteenth centuries. One such later hand attributed the blazon 'Vert, a griffin rampant Or, in chief three crescents Argent, crest; a hand couped Proper holding a passion cross Or both in pale' to 'O Mannis or Mannin.'[ii] The uncertainty in the entry is evidently a result of uncertainty in relation to the last letter of the surname and may have been due to the mistaken use by O Connor or his copyist of an 'n' instead of an 's,' their form in the Gaelic script similar.
It is also possible that O Connor may have been influenced by the work of the Irish genealogist Roger O Ferrall or by the same source which informed O Ferrall. In addition to O Connor's blazon, the same arms, but attributed to a family of 'O Mannis' appear in Sir William Betham's nineteenth century transcript of Roger O Ferrall's 1709 work 'Linea Antiqua.'[iii] The arms were illustrated hatched therein as 'Vert, a griffin segreant Or in chief three crescents Argent and for crest, a hand couped at the wrist holding erect a latin cross.' O Ferrall's early eighteenth century compilation of genealogies may have pre-dated O Connor's blazons or were roughly contemporaneous but did not give any source for the origin of those arms or elaborate on the family of 'O Mannis.' In their 1851 'Encyclopaedia of Heraldry or General Armory of England, Scotland and Ireland,' John Burke and John Bernard Burke also gave the shield 'Vert a griffin segreant Or in chief three crescents of the last' and the crest 'a hand Proper holding a long cross erect Proper' as those of 'O Mannis of Ireland.' By 1960 Dr. MacLysaght came to regard these arms as more properly those of MacManus and not those of the east Galway family of O Mannion nor of those whose surname was Anglicised Mannix. In the 1960 edition of his 'More Irish Families' and later, in the fourth edition to his 'Irish Families,' he acknowledged that in an earlier edition of that work he erroneously misattributed the same arms to Mannix and in the fourth edition believed he corrected the error by attributing the arms to 'MacManus of Fermanagh.' He was of the view that 'O Mannis' was 'a seventeenth century scribe's error for MacMannis which should be equated with MacManus.'
It should be noted, however, that not all families entitled to bear arms of the name MacManus claimed arms as given by Dr. MacLysaght. Alexander MacManus applied to William Betham, Deputy Ulster King of Arms for a confirmation of arms which he asserted were borne by his family for many generations but never officially registered in Ulster's office. The arms subsequently confirmed in October 1810 by Betham as those appertaining to Alexander MacManus of Mount Davis in County Antrim, Esquire, Lieutenant Colonel in the Antrim Militia, were blazoned in that confirmation as 'Or a fess Gules and in chief a boar passant Sable, for crest a dexter hand appaumee couped at the wrist Proper and for motto 'Cor et Manus.'[iv] The confirmation was given as also appertaining to 'his family' without further elaboration. (Alexander MacManus was given in the 1847 edition of 'Burke's Genealogical and Heraldic History of the Landed Gentry' as derived from one Bryan MacManus of Ballybeg in County Antrim, who died in 1705, 'descended from an ancient Irish family which possessed extensive property in the counties of Antrim, Fermanagh and Londonderry and the county of the town of Carrickfergus.' He died in 1838 without issue and was succeeded by his nephew Rev. Robert Wilson Rowan of Mount Davis and Garry, County Antrim.)
Dr. MacLysaght differentiated in the 1985 edition of 'Irish Families' between the surname MacManus and the surname Mannix. The latter he gave in that edition as an Anglicisation of the Gaelic surname O Mainichín, a minor sept of County Cork or as a variation on the County Clare surname of Minogue or the Ulster surname of MacNeice. Despite that differentiation and his acknowledgement in 1960 that the arms he previously attributed to Mannix were more correctly that of MacManus, arms based on the blazon of 'O Mannis' as given by O Ferrall were granted in June of 1982, by Donal Begley, Chief Herald of Ireland to Frederick Philip Mannix of Calgary, Canada, whose great-grandfather George Mannix was born in 1845 in County Cork. The arms granted to Frederick Mannix and his descendants comprised a shield blazoned 'Vert a griffin segreant wings elevated and addorsed Or, in chief between two crescents Argent, three maple leaves conjoined of the second.' For crest he was granted 'a cubit arm erect Proper the hand grasping a passion cross Gules.' For motto 'Duc seguere vel recede.'
The only arms recorded as granted to individuals of the name Mannin in the records of the Ulster King of Arms prior to the twenty-first century are those shown as granted in August of 1933 by the then Ulster King of Arms to Berchmans Mannin of Mullingar, County Westmeath, Esquire and his brother William Francis Mannin of Colombo in the island of Ceylon, Esquire, Major in the Ceylon Planter's Rifle Corps, sons of John Mannin of Shannon Harbour in the King's County, Esquire.[v] This, however, was a clerical error in the Register of Arms as the first named brother is more correctly J.B.J. Berchmans Hannin, born in 1876 and who appears at the age of thirty five years in the records of the 1911 Census of Ireland as a Bank Manager, born in the King's County and resident at Headfort Place, Kells in County Meath. The draft confirmation of arms from Ulster's office in 1933 correctly gives the elder brother as Berchmans Hannin.[vi]
Apart from these erroneous entries, arms were claimed to have been associated with the name Mannion by at least one of the name in the mid nineteenth century but those arms do not appear to have been recorded in the office of the Ulster King of Arms or at least evidence thereof has not yet come to light. Paul Mannin of Tuam, County Galway, Coroner of the County of Galway, wrote to the noted nineteenth century antiquarian John O Donovan about 1842 or 1843, in advance of O Donovan's 1843 publication of his 'Tribes and Customs of Hy Many.' In doing so he provided O Donovan with some general and some specific information relating to a number of Mannions and his own immediate family. O Donovan would later make passing reference in that publication to Paul Mannin as 'supposed to be the senior representative of the name.' (The lack of substantiated or researched in-depth evidence may have prompted him to add the qualification 'supposed.') Mannin's letter was delivered to O Donovan by the former's friend Frank Mannion of No. 24 South Great Georges Street, Dublin and Paul Mannin assured O Donovan that the bearer of the letter would 'secure for (O Donovan) the arms of O Mannion,' together with information on the Lallys and others.[vii] Details of the arms of various families were included by O Donovan in his book, but details of the arms of O Mannion, if provided by the bearer on that occasion, were not included.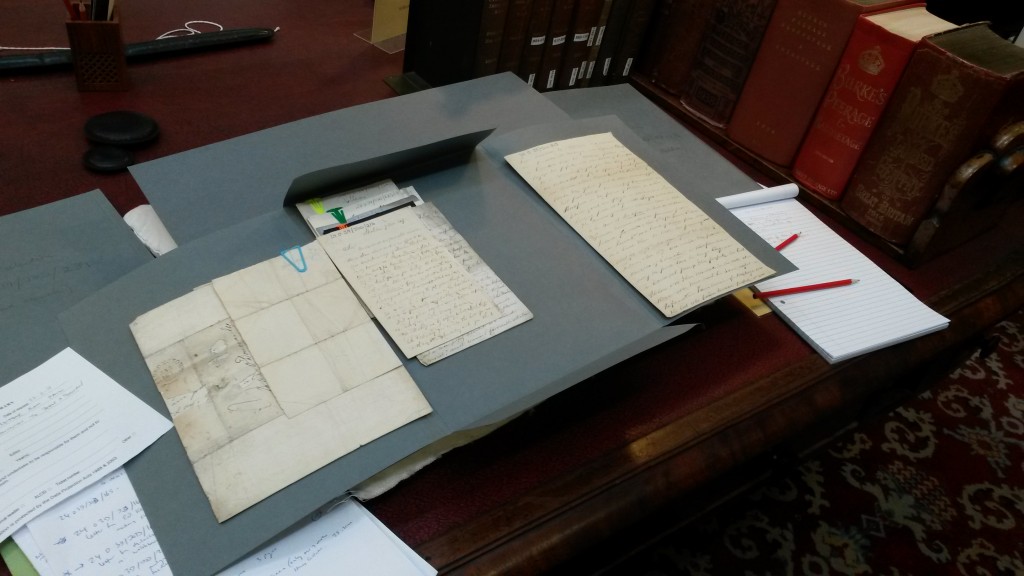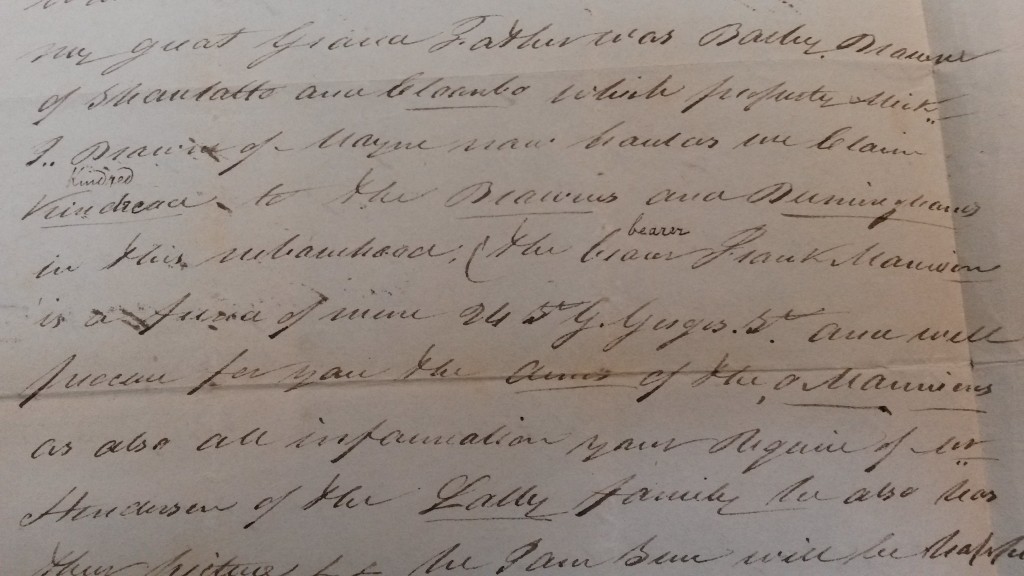 Detail from the letter addressed by Paul Mannin, Tuam, Coroner of County Galway, to John O Donovan, written in the early 1840s, in which the writer makes reference to 'the Arms of the O Mannions.' © RIA Library, Dublin.
In his letter to O Donovan, Paul Mannin described himself as a great-grandson of 'Barby' (sic.) Browne of Shantalla and Clonboo, County Galway and stated that his family 'claim kindred to the Brownes and Berminghams in this nebourhood' (ie. the wider area about Tuam in County Galway).[viii] His great-grandfather appears to have been Bartholomew Browne who, about 1702, married Mary, daughter of John Bermingham, a merchant of Galway and Jean Bermingham alias Bodkin, 'widow-relict of John Bermingham, late of Bellagady, County Galway.'[ix] Bartholomew appears to have predeceased his wife, Mary, who described herself as 'of Shantalla, County Galway' in her will dated 1750. In her will she made mention of an income she derived from lands in Shantalla and Clonboo and, among other family members, mentioned her daughter Joan Mannin and her (ie. Mary's) grandchild 'Gate Mannin.'[x] Mary Browne's will made reference to only one son of the testator; Doctor John Michael Browne, who was to inherit the family lands at Shantalla and Clonboo.
Doctor John Michael Browne, a Roman Catholic, had graduated as a doctor of medicine at the Antonian School of Medicine at Rheims in 1729 and in his diploma was described as a native of Tuam in Ireland. He married and resided for a time in Barbados and later at Philadelphia. He died at his house in Philadelphia in December of 1750 in the same year in which his mother died and in his will of that year he encumbered his lands 'of Shantalla and Clumbo in Ireland unto (his) Eldest Sister Mary Brown five Pounds Irish Currency, and to her son John Brown Twenty Pounds, and (a sum to his) Sister Joan Brown, alias Maning.'[xi] This Joan Maning or Mannin would appear to have been grandmother of the Galway County Coroner and John O Donovan's correspondent Paul Mannin of Tuam.
Born in or about 1776, Paul Mannin or Mannion died 'after a protracted illness' on 15th July 1851. The 'Tuam Herald' of four days later carried his obituary, describing him as 'Paul Mannion, Esq., Senior Coroner for this county, having filled the office for nearly fifty years.' At his death, at the age of seventy five years, 'he was one of the oldest inhabitants of (Tuam) town, much esteemed by all who knew him'.
There were few families of the surname Mannion surviving in significant social standing within county Galway into the nineteenth century. Apart from Paul Mannion's claim to seniority of the name there was an individual named James Mannion who married Anne, a younger daughter of Ambrose Madden of Annaghcalla, Co. Galway. Ambrose died in the last years of the eighteenth century but was of a notable family of that name long established at Annaghcalla and by virtue of that union he was connected by marriage with Festus O Kelly of the prominent Tycooly branch of that name, married to Anne's older sister Mary Anne. James Mannion's pedigree has not been recorded but, apart from those individuals there was at least one family of the name in comfortable standing in the parish of Ahascragh throughout much of the eighteenth century. Their surname was given in transactions variously as Mannion, Mannin and Manning. Hugh and Thomas Mannion conveyed lands in that parish to Ross Mahon of Castlegar in 1736 while Thomas Mannin of Clonbaniff in that parish was given the rank of Esquire and his son Thomas Mannin junior that of gentleman in land transactions of 1775. The family, in the person of Thomas Manning, retained the fee simple of the townland of Cloonbanniv totalling approximately 340 acres into the mid nineteenth century. No arms were recorded in Ulster's archives for any of those specific individuals.
For further details on this family, refer to 'Mannion' under 'Families.'
---
[i] Williams, N.J.A., Dermot O'Connor's Blazons and Irish Heraldic Terminology, Eighteenth-Century Ireland / Iris an dá chultúr, Vol. 5, Eighteenth-Century Ireland Society, 1990, pp. 67, 81.
[ii] NLI, Dublin, G.O., Ms. 62, Smith's Ordinary of Arms A No. 2, Grants Carney and Hawkins, Ca. 1680, p. 401.
[iii] NLI, Dublin, G.O. Ms. 146, Linea Antiqua.
[iv] NLI, Dublin, G.O. Ms. 106, Grants and Confirmations of Arms, Vol. D, 1810-1826, p. 3.
[v] NLI, Dublin, G.O. Ms. 111d, Grants and Confirmations of Arms, p. 99.
[vi] NLI, Dublin, G.O. Ms. 801, p.4a.
[vii] RIA Library, Dublin, Graves Collection, John O Donovan Correspondence, 24 0 39/JOD/215.
[viii] RIA Library, Dublin, Graves Collection, John O Donovan Correspondence, 24 0 39/JOD/215.
[ix] American Catholic Historical Society of Philadelphia, Records of the American Catholic Historical Society of Philadelphia, Vol. 16, London, Forgotten Books, 1905, pp. 296-313.
[x] American Catholic Historical Society of Philadelphia, Records of the American Catholic Historical Society of Philadelphia, Vol. 16, London, Forgotten Books, 1905, pp. 296-313.
[xi] American Catholic Historical Society of Philadelphia, Records of the American Catholic Historical Society of Philadelphia, Vol. 16, London, Forgotten Books, 1905, pp. 296-313.