© Donal G. Burke 2013
The Blake family were established in the west of Ireland in the Anglo-Norman period and reputed to be of Welsh origin. The name derives from Richard Cadell (or Caddle), progenitor of the family, who was also known by his cognomen 'Niger,' ie. 'Blak' or 'Black.' (Members of the wider family would still be identified as 'Blake alias Caddle' in documents in the late sixteenth century). About 1277 this Richard Cadell alias Blake acquired lands of Kiltorroge (modern townland of Kiltroge, parish of Lackagh, near Claregalway) and Ballymacroe (modern townland of Carnmore), near Galway and was portreeve or 'port warden' of the town of Galway in 1290. In 1303 he was appointed Sheriff of Connacht by the King and appears to have been the same 'Richard le Blake' who contributed, alongside other prominent Anglo-Normans of the de Burgh lordship of Connacht, to an expedition led by Sir William de Burgh against the Irish of Leinster about 1308.
He held the office of portreeve again in 1312 and acquired a grant of lands at Kiltullagh in the parish of Oranmore, near his lands at Kiltorroge and Ballymacroe in 1315. A number of his descendants flourished in trade and were involved in the governance of the towns of Galway and Athenry, in particular that of Galway, where they were counted among the most senior of the fourteen 'tribes' of that town.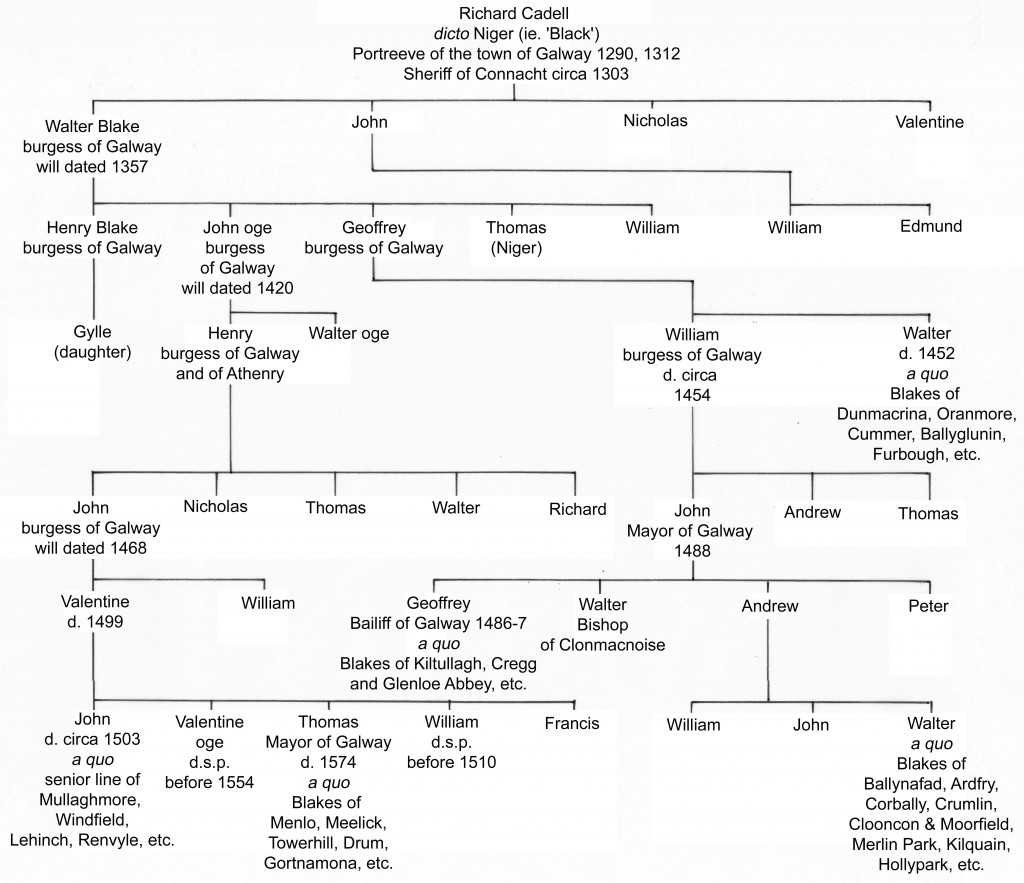 Select pedigree showing the relationship between a number of the principal branches of the Blake family, descended from Richard Cadell alias Blake, compiled from Martin J. Blake's 'Blake Family Records 1600-1700.' 
The Patent Rolls of the reign of King James I show a small number of individuals of long-established families from about the towns of Galway or Athenry, such as the Blakes, Bodkins, French or Browne, having acquired tracts of estates in the heart of what were formerly Gaelic or Gaelicized territories across County Galway by the early years of the seventeenth century. One of the earliest families descended from those established about Galway town to have established a seat in the former O Maddens territory of the barony of Longford appears to have been a junior branch of the Blakes in the later years of the seventeenth century.
Nicholas Blake, third son of the wealthy merchant Robert fitzWalter fitzAndrew Blake, of Galway and of Ardfry, Co. Galway, having had property confiscated and new lands allocated by the Cromwellian Commissioners in the baronies of Tiaquin and Ballymoe, was confirmed in possession of those same lands, in Crumlin in the former barony and Clooncon in the parish of Boyounagh in Ballymoe after the restoration of the monarchy.[i] Dying in 1682, he directed in his will to be buried in his father's tomb in the Abbey of St. Francis at Galway and was succeeded at Crumlin by his only son Peter.[ii]
Nicholas appears to have resided at Crumlin, being described thereof in his will, but while Peter inherited the lands about Crumlin and Clooncon, for much of the time his descendants appear seated at Moorfield, a townland also known as Gortnamona in the parish of Fahy, where they would continue seated for a number of generations.[iii]
Peter Blake of Gortnamona appears to have been a committed Jacobite, having served as an officer in the King's army in Ireland and thereafter in Scotland.[iv] He was described as 'of Gortnamona' when he was given among the members of the Roman Catholic gentry who were entrusted valuables by the friars of the Franciscan convent at Meelick in 1698, when the religious under the 'Banishment of Religious Act' were ordered to leave Ireland by May of that year.[v]
Catherine, daughter of Major Peter Blake of Moorfield, married Richard Darcy of Clonuane, near Rockfield in county Clare, who died in 1727. (The Moorfield Blakes would be doubly connected with this Darcy family through a later marriage in the next generation, with Bridget, daughter of Stephen Blake of Moorfield marrying Richard Darcy's nephew Dominick Darcy of Clonuane.)[vi]
At about eight o clock in the evening of 13th January 1728, Peter Blake 'strengthened by the sacraments of the Church, died at his house in Moorfield.' Buried in the Franciscan chapel at Meelick two days after his death, the friars recorded his time of death and described him at the time as 'a very devout man, and one who once, when in charge of a body of soldiers, fought hard and bravely at home and in Scotland for King James.'[vii]
Peter Blake had at least three sons; Stephen, Patrick and Nicholas. Nicholas, however, died as a young man in December 1721 during his father's lifetime and was buried at Meelick.[viii] From at least the end of the seventeenth century the Blakes of Moorfield maintained a close connection with the Meelick friars, serving as benefactors and their family tomb was located in a prominent location within the chapel sacristy. It was at Meelick chapel 'in the same tomb with her husband' that Mary Deane, wife of Peter Blake was buried when she died in July of 1730. She left a legacy to the friars at Meelick in her will but the friars later noted that her son failed to pay the same to the friary.[ix]
Peter Blake's eldest son, Stephen, inherited the family estates of Crumlin, Clooncon and Moorfield. He had one son and three daughters; Patrick, Bridget and Christina and Catherine. Catherine died at the age of fifteen years in August of 1735 and was buried there in the chapel of the Meelick friars.[x] Moorfield appears to have been the residence of both Stephen and his brother Patrick. Stephen's daughter Christina converted to Protestantism in 1741 and at her conversion was described as 'Christina Blake of Moorfield, spinster.'[xi] Another contemporary record relates to one Christian Blumfield alias Blake of Eyrecourt, suggesting that this Christina may later have married one of the Bloomfield family, Protestants who carried on a tanning business about Eyrecourt in the early eighteenth century, became established about Eyrecourt and Redwood in County Tipperary and rose through society in later generations.
Stephen Blake of Moorfield appears to have died as a Roman Catholic about 1747 and was buried in the sacristy of Meelick chapel by the friars, to whom he left a legacy in his will.[xii] His only son Patrick succeeded him to the family estates. Stephen Blake's younger brother, Patrick of Moorfield, appears to have lived to an advanced age, dying on the 19th November 1774. He was buried in the family tomb at Meelick, the friars there remembering him as 'a very good man, hospitable, kind and dear to his friends.'[xiii]
Patrick Blake of Crumlin, Clooncon and Moorfield (son of Stephen Blake) had, among other children, at least three sons, Stephen, Robert and Peter. In May of 1784 his wife, Anna Blake alias Browne, died, her death being recorded by the friars at Meelick.[xiv] That same year Patrick's eldest son Stephen of Moorfield married Judith Connell or Connor of Galway at Eyrecourt.[xv] Patrick's youngest son Peter married Jane, second daughter of Richard Eyre and sister of Colonel Giles Eyre of Eyrecourt and by her had a large family of seven sons and four daughters; Giles, Stephen, Peter, Robert, Samuel, Thomas, John, Anne, Ellen, Ancharetta and Maria.[xvi] (Peter Blake and Jane Eyre appear also to have lived at Moorfield in the early nineteenth century, as a monumental wall slab to the memory of Peter Blake of Moorfield, who died in 1812 and to his wife Jane was recorded at Meelick about a year before her death which occurred in 1848.)[xvii]
Patrick Blake died in 1790 and was succeeded by his eldest son Stephen, who died without issue in 1814. Stephen's younger brother Robert then inherited the Crumlin, Clooncon and Moorfield estates and died in five years later, in 1819. [xviii] By his wife Anne Rafter, Robert had two daughters; Eliza and Jane, the former of who appears to have been that Elizabeth Christian Blake of Moorfield who converted to Protestantism in 1776.[xix] As Robert had no surviving sons and as his youngest brother Peter died in 1812, the Crumlin and Clooncon estates passed to his nephew Giles Eyre Blake, eldest son of Peter Blake and Jane Eyre. [xx]
According to the Clonfert historian Fr. Eric MacFhinn, a headstone of the Blake family in Meelick was taken at one time and cast into the River Shannon, reputedly on the marriage of one of the Blakes of Eyrecourt to one of the Eyres, and the subsequent conversion of some of the family to Protestantism. This Blake family were said to have lived where the nun's convent would later be situated, on Market Street in the town of Eyrecourt.[xxi] While previous members of the family had converted, this anecdote may have been a reference to Jane Eyre, widow of Peter Blake. Brother James P. Fanning, then Guardian at Meelick, recorded the burial, on 15th March 1848, of 'Jane Blake of Eyrecourt, widow of Peter Blake' alongside her husband's remains within the chapel at Meelick. The usual burial fee had not been paid in this case and he went on to state that 'in the future there cannot be any interment within the precincts of the chapel of persons not dying in the Catholic faith without the special leave of the Provincial.'[xxii]
Giles Eyre-Blake, Esq. described by Martin J. Blake as 'of Crumlin and Clooncon' married Charlotte, second daughter of Thomas Seymour, Esq. of Ballymore Castle, by whom he had seven sons and one daughter; Peter, Thomas, John, Robert, Henry, Patrick, Giles and Jane. [xxiii] He died in March 1844 and his widow thereafter married William Groom, who lived at Sycamore Hill, then part of the nearby parish of Clonfert. [xxiv]
About 1844 a large house was built on the family estate at Crumlin in the parish of Abbeyknockmoy, where it would appear the senior line resided about that time. In the mid 1850s Stephen Blake, who appears to have been the next eldest brother of the deceased Giles and who held the Clooncon property of the family in the parish of Boyounagh put these up for sale. Administration was only granted on the will of Giles Eyre-Blake in 1859, who was succeeded by his eldest son Peter of Crumlin and Clooncon. Peter married in 1864 Agnes, daughter of Cornelius Creagh of Dangan, County Clare. He died without issue in June of 1879.[xxv] By the 1880s the family were bankrupt and Crumlin was subsequently purchased in the Land Court by one Cecil Henry of Toghermore.
With regard to Moorfield, a junior line appears to have lived there in the 1830s in the persons of Martin Blake and his family. Their connection to the senior line, however, was not given by Martin J. Blake in his 'Blake's Family Records.' This Martin Blake married Hannah Skerrett and had at least three sons and one daughter. Their eldest son Stephen pursued a legal education. Having been educated first at Eyrecourt, he was admitted as a student at King Inns, Dublin in 1817, his affidavit provided at that time by Francis W. Madden.[xxvi] While Martin was simply described as 'of Eyrecourt' in 1817, he was described as 'of Moorfield' on the admission of his second son, James, to Kings Inns in 1833.[xxvii]
The family appear to have sold Moorfield by mid century as it formed part of the estate of the Eyres of Eyrecourt in the 1850s, at which time the house was used as a steward's residence and that family subsequently offered the house and property for sale in the Landed Estates Court in 1869.
The last Blake family resident at Moorfield were commemorated, however, in a memorial tablet erected in 1862 in the church at Meelick where previous generations of the family had been buried. Mary Blake erected the tablet to the memory of her father Martin Blake, Esq. of Moorfield, mother Hannah and to her brothers Stephen, James and Patrick.[xxviii]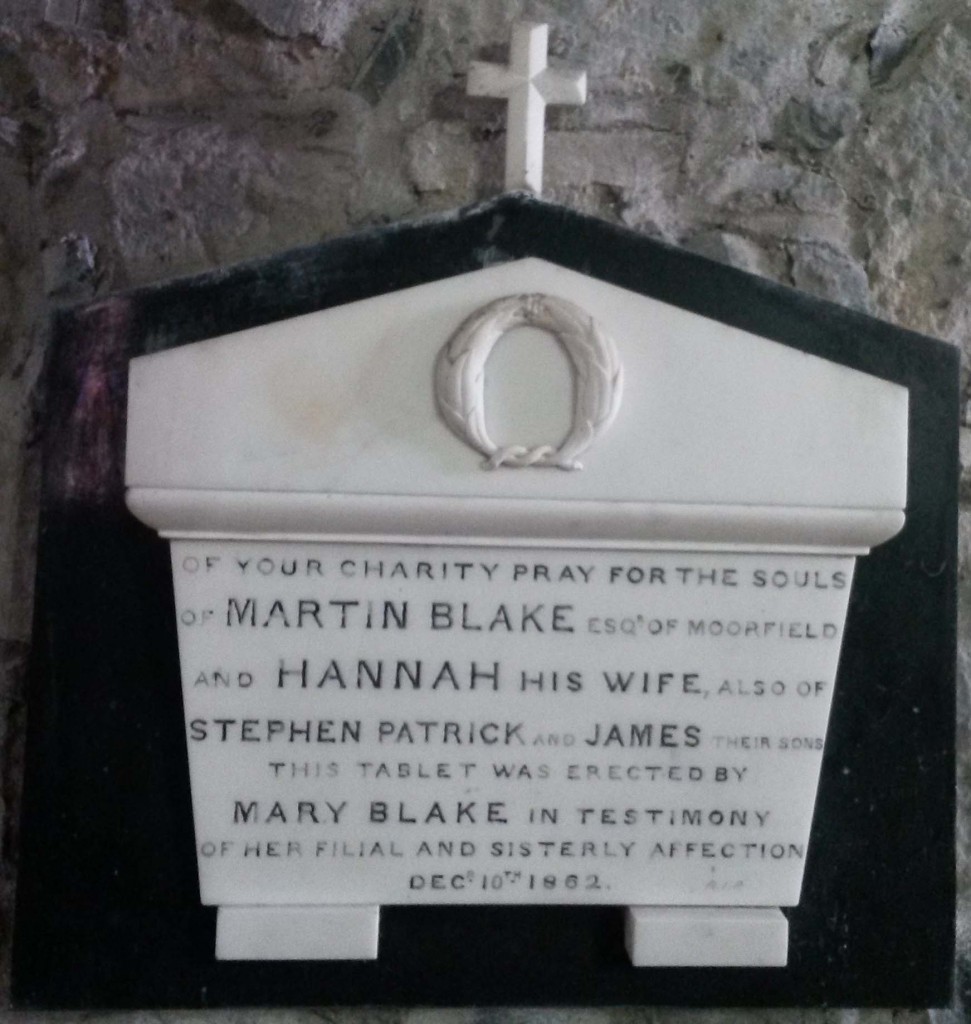 ---