Fencing has a long tradition in east Galway, cut short by the replacement of the blade with the pistol as the duellist's weapon of choice in the latter half of the eighteenth century.
Duelling fell into decline in the early decades of the 1800s and was consigned to history by the middle of the century, due in no small part to changing social values and a more robust imposition of the rule of law.
In reality an uncompromisingly brutal affair, the violence and futility of a duel was captured eloquently in Ridley Scott's 1977 film 'the Duellists', based on a short story by Joseph Conrad. I have begun to compile for this website a record of duels fought in east Galway over the years, one of the last of which was fought over supposed infractions of the rules in a steeplechase held at Ballinasloe in 1841. Two riders, Lynch and Kelly, argued and horsewhipped one another until Kelly's father induced his son to challenge Lynch to a duel. Loading his son's pistol, Kelly Senior witnessed his son shot and killed before his eyes.
Fencing continues as a sport in east Galway in the form of the Connaught Fencing Club, founded a number of years ago by Rainer Bolte, an accomplished fencer, a native of Muhlheim an der Ruhr, near Dusseldorf in Germany and now resident in the village of Milltown, near Tuam.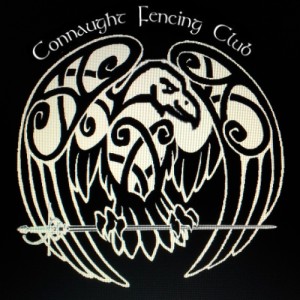 There are two fencing clubs in the county of Galway, the other being the National University of Ireland Galway (N.U.I.G.) club based in the city and catering to students and graduates. Membership of the Connaught Fencing Club is steadily rising from small beginnings, originating when Rainer began coaching a young Irish enthusiast who later went on to train in the famous TSV Bayer Leverkusen in Germany. From there a club developed to include members of Irish, German, Moldovan and Hungarian extraction, concentrating primarily on the épée as the weapon of choice.
Training sessions at present take place on Thursday evenings in the Kingfisher Club in Tuam and on Sunday mornings in the Community Centre at Milltown, north of Tuam, but may be subject to alteration on occasion, with up to date information available on the club's website.
The following images include a number taken at the All-Ireland Epée Team Championship in the University of Limerick in which members of the club were engaged last year. The club entered two teams, both of whom reached the semi-finals and joint third place. Rainer, Igor and I formed one team, but I have to admit that our team's reaching third place may be primarily attributed to Rainer and Igor, with Rainer as captain making a dramatic contribution in the final bout to ensure our placement.
I'd heartily recommend fencing as a sport to anyone. If I was to measure my progress over the years in bruises obtained at the end of each evening's session, then from the gradually lessening amount I've incurred over time I could claim to have come a long way, but in terms of skill and fitness I have significantly less on which to base any claim.
I'm not sufficiently proficient or skilled to offer advice to others but one lesson I have learned is the need for absolute concentration and focus in a fight or bout. When I began fencing, just as I did when I took up Argentine Tango, I felt an overwhelming need to apologise on any occasion where I may have overreached myself or, in the case of fencing, hit my opponent forcefully. I gradually weaned myself off this as I simultaneously realised that one can't hold back when fencing, no matter how pleasant the opponent (and the Connaught Club members are a likeable bunch!) if one wants to either win or improve.
Conrad wrote that a duel 'demands perfect singleness of intention', which I've come to appreciate applies also to the sport of fencing. He went on to define that required singleness of intention as nothing short of 'a homicidal austerity of mood,' a fine phrase that I think comes close to the mindset of the focussed fencer in the throes of a bout.
For further details on duelling in the website, refer to 'duelling in east Galway.'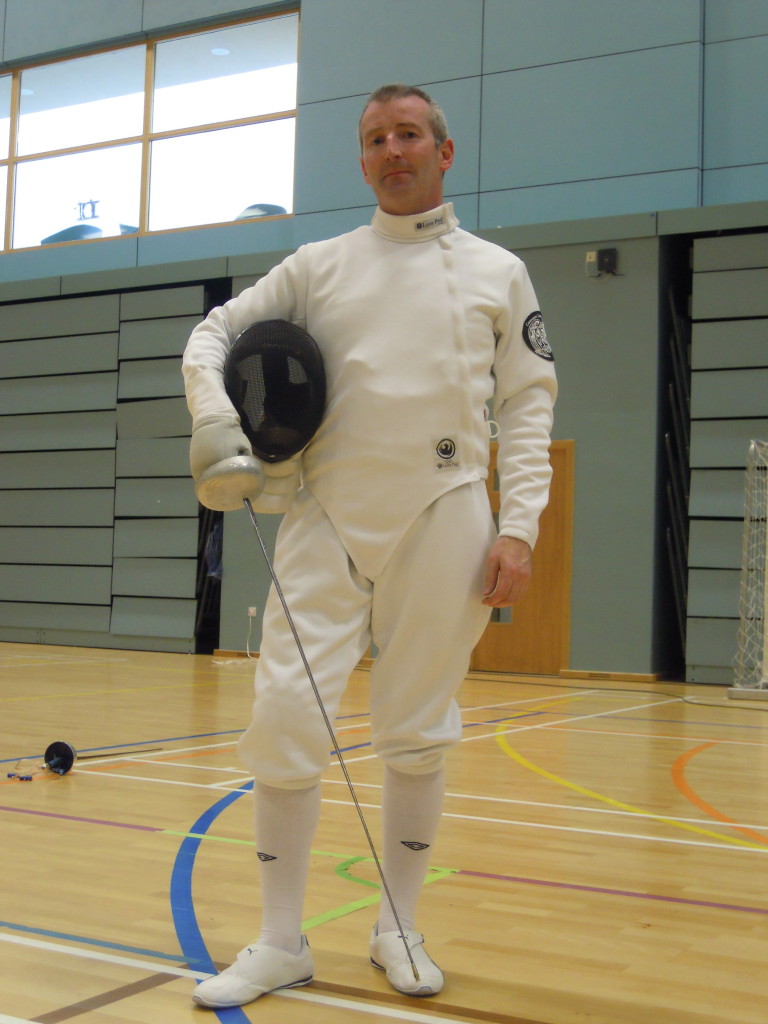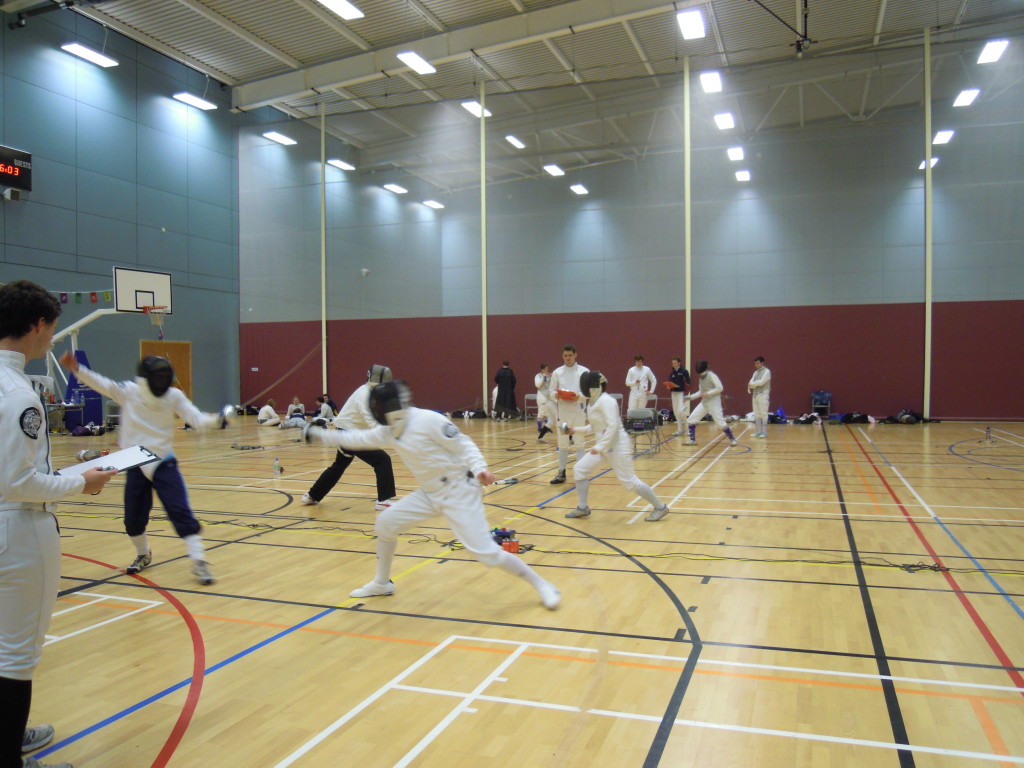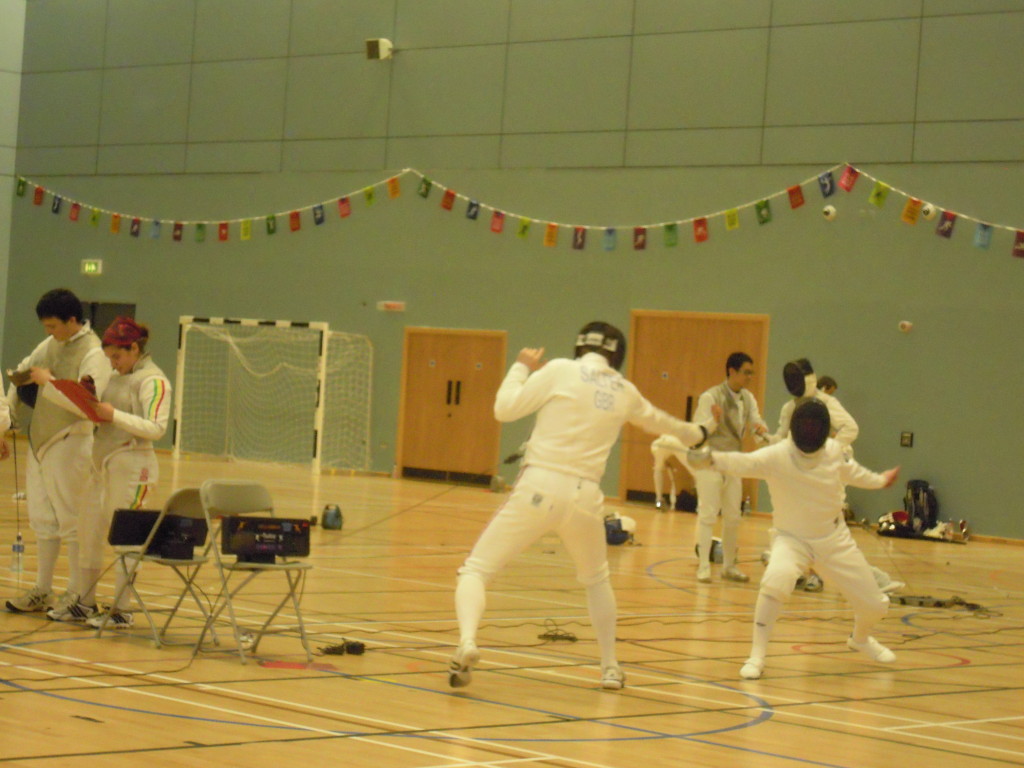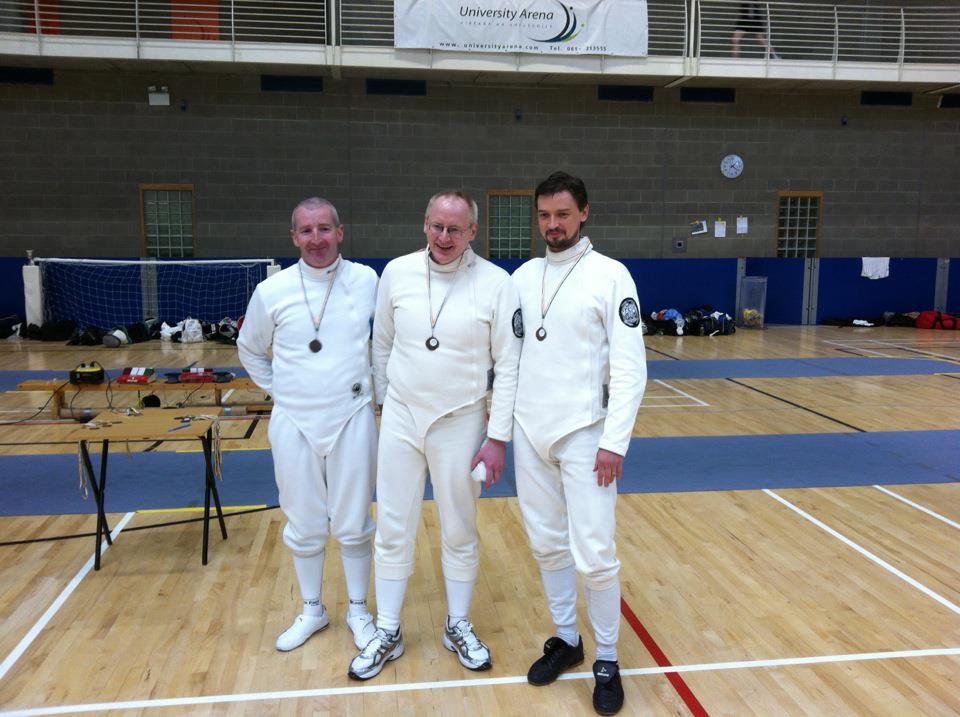 From left to right; myself, Rainer Bolte (captain) and Igor Barkowski.