© Donal G. Burke 2013
The Blake family were established in the west of Ireland in the Anglo-Norman period and reputed to be of Welsh origin. The name derives from Richard Cadell (or Caddle), progenitor of the family, who was also known by his cognomen 'Niger,' ie. 'Blak' or 'Black.' (Members of the wider family would still be identified as 'Blake alias Caddle' in documents in the late sixteenth century). About 1277 this Richard Cadell alias Blake acquired lands of Kiltorroge (modern townland of Kiltroge, parish of Lackagh, near Claregalway) and Ballymacroe (modern townland of Carnmore), near Galway and was portreeve or 'port warden' of the town of Galway in 1290. In 1303 he was appointed Sheriff of Connacht by the King and appears to have been the same 'Richard le Blake' who contributed, alongside other prominent Anglo-Normans of the de Burgh lordship of Connacht, to an expedition led by Sir William de Burgh against the Irish of Leinster about 1308.
He held the office of portreeve again in 1312 and acquired a grant of lands at Kiltullagh in the parish of Oranmore, near his lands at Kiltorroge and Ballymacroe in 1315. A number of his descendants flourished in trade and were involved in the governance of the towns of Galway and Athenry, in particular that of Galway, where they were counted among the most senior of the fourteen 'tribes' of that town.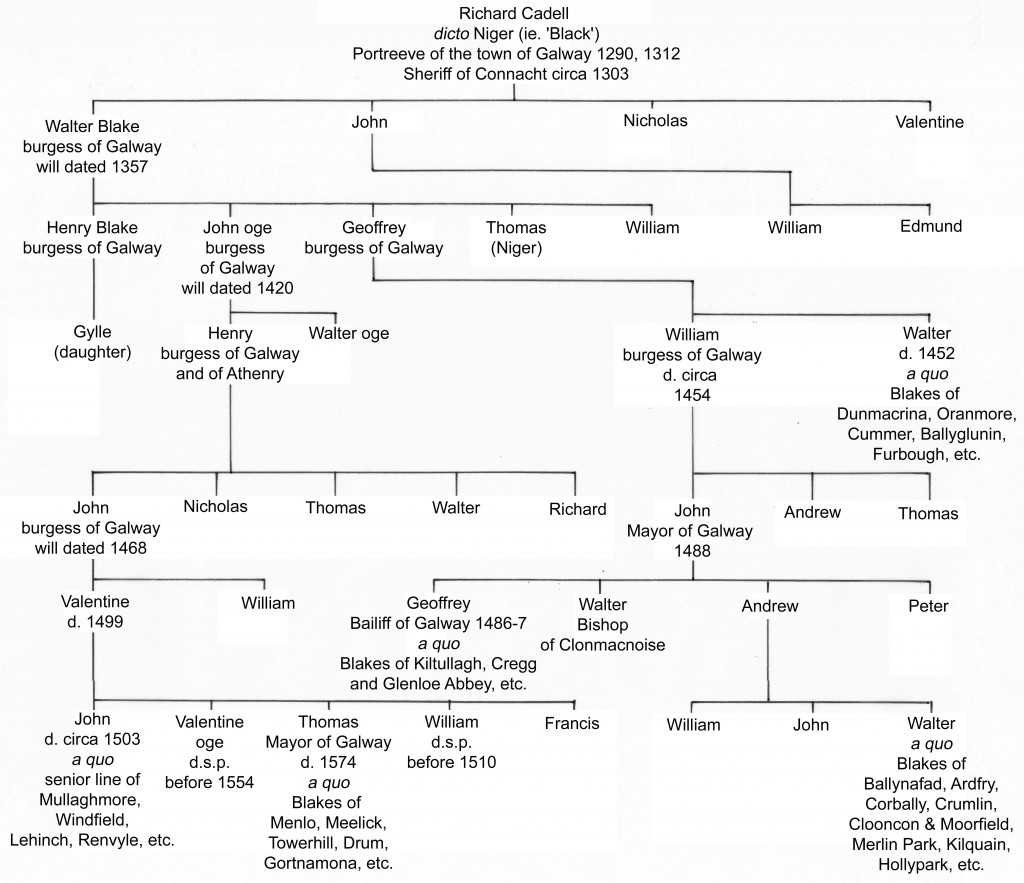 Select pedigree showing the relationship between a number of the principal branches of the Blake family, descended from Richard Cadell alias Blake, compiled from Martin J. Blake's 'Blake Family Records 1600-1700.' 
Acquisition of property in O Madden's Country
The Patent Rolls of the reign of King James I show a small number of individuals of long-established families from Galway town or Athenry, such as the Blakes, Bodkins, French or Browne, having acquired tracts of estates in the heart of what were formerly Gaelic or Gaelicized territories across County Galway by the early years of the seventeenth century. By the first half of the seventeenth century Richard Blake, the elder of at least two sons of Martin, third son of Walter fitzAndrew Blake was seated at Kilquain in the parish of the same name (a parish later also known as Quansborough) in the heart of the ancestral lands of the O Maddens.[i] His uncle, Robert fitzWalter Blake, a wealthy merchant of Galway, had held mortgages and rent-charges over a large number of landholders of old families across County Galway and had acquired considerable property in the county in his lifetime.[ii] This Robert Blake died in 1615 and left all his property that lay in the barony of Longford in east Galway, including the castle he acquired at Castletown in Abbeygormacan, to his fifth son John, first cousin of Richard of Kilquain.
The castle and lands of Kilquain were lost to the O Maddens following their part in the rebellion during the Nine Years War. In 1618 the castle and associated lands in the barony of Longford were granted by the king to Sir Roger O Shaughnessy of Gortinseguaire, a significant landholder in the west of County Galway.[iii] At that time the grant included a recognition of the castle of Kilquain and the lands of 'Culkerry, Lismoile, Gortclare, Lisseshellagh, Cloonamore, Gortasanvally, Gortnanty, Gortmaddin, Lissenan and Triananskeragh' as the Manor of Kilquain. Some time thereafter Richard Blake acquired the castle and certain, if not all, of the lands of the manor.
In the years immediately preceding the 1641 Insurrection, Richard Blake of Kilquain held an estate in the barony of Longford in east Galway comprised of almost the entire four quarters of Kilquain in the parish of Kilquain.[iv] He also held lands in that parish in Cloonmore and Lisselight alias Lisselighter and in the nearby parish of Tiranascragh he was also proprietor of the two quarters of that name and lands in Lisdoonyne.[v]
Under the Cromwellian government that followed the 1641 Insurrection many estates of Roman Catholic landholders were to be confiscated and allocated to those loyal to the authorities. Estates in Connacht were confiscated in whole or in part for the benefit of new Cromwellian landowners and to provide for the transplantation of those Catholics whose lands had been taken by the government.
Acquisition of property at Loughrea
Richard Blake of Kilquain was dispossessed of his lands in 1655 by the Cromwellian Commissioners.[vi] In the years after the restoration of the monarchy, he acquired property about Loughrea. In May of 1682 he obtained a lease for the lives of himself and his two sons Martin and Francis of several houses, gardens and plots of land in the town and suburbs of Loughrea from William 7th Earl of Clanricarde and a park of forty-four acres in the quarter of Cosmona near the town and a tenement, cabin and garden on the west street of Loughrea in 1693 from Richard 8th Earl of Clanricarde.[vii]
Richard Blake had at least two sons; Martin, the elder, and Francis and was still alive in 1696. In March of that year it was claimed that he assigned the lands about Cosmona and on the west street of Loughrea to his son Martin who resided at Loughrea. The same Martin, as his father's heir, inherited the properties in Loughrea leased by his father in 1682. Following the Williamite defeat of the followers of the Roman Catholic King James II in the late seventeenth century and the subsequent forfeiture of certain Jacobite estates, Martin Blake petitioned the Trustees for the Sale of Forfeited Estates about 1700, seeking to have his interest in the 1682 and 1693 leases saved from forfeiture. His concern in relation to the possible forfeiture of his leases appears to have arisen from the fact that the premises concerned had been settled in remainder upon a younger brother of the 8th Earl of Clanricarde; John Burke, Lord Bophin, who was attainted and outlawed by the new Williamite monarchy for the leading role he had played in the province in support of the deposed King James II.[viii]
While Martin Blake's claim was dismissed by the Trustees, he appears to have retained property within the town of Loughrea. The situation with regard to the forfeited estates of John Lord Bophin was eventually regularised and he was reconciled with the new ruling house of England when, on payment of a substantial fine and upon his agreeing to send his two eldest sons to be educated at Eton as Protestants, an Act of Parliament was passed in 1702 reversing his attainder and making provision for his Protestant children. He then succeeded his elder brother to the earldom as John, 9th Earl of Clanricarde.[ix]
Another of the same Blake family had acquired interests in property in the barony of Longford in east Galway in the late seventeenth century. One Francis Blake, by a deed of May 1679, extended monies to Murtagh Hannin of Corballymore, parish of Abbeygormican, gentleman, who in turn mortgaged a half quarter of land of Sunnagh in the same parish to Blake for forty pounds, subject to redemption.[x] Francis Blake appears to have settled at some time at Sunnagh but removed, or was removed, from there later, as he was described as 'late of Sunnagh, Co. Galway, gentleman,' when he also presented his petition the Trustees for the Sale of Forfeited Estates about 1700. He feared that the lands of Sunnagh, 'by reason of the attainder of some person deriving any benefit from the same, may have been forfeited' and requested that his mortgage might be preserved from forfeiture. His claim was dismissed. The historian M.J. Blake gives this Francis Blake as of the same family as Richard of Kilquain but it is unclear if he is the younger brother or son of Richard.
Burial Place at Loughrea Abbey
Martin Blake of Loughrea, son of Richard of Kilquain, married Julian Power and had at least four sons; Richard, Pierce, Martin and Joseph. Julian Blake predeceased her husband, dying in the 1720s.[xi] Martin of Loughrea died on 6th May 1731.  A memorial tablet bearing the family arms was set into the north wall of the choir at Loughrea Abbey church the following year, erected by his four sons. Richard, the eldest, does not appear to have long survived thereafter or to have died without male issue, as his second son Pierce was later given as his son and heir.[xii]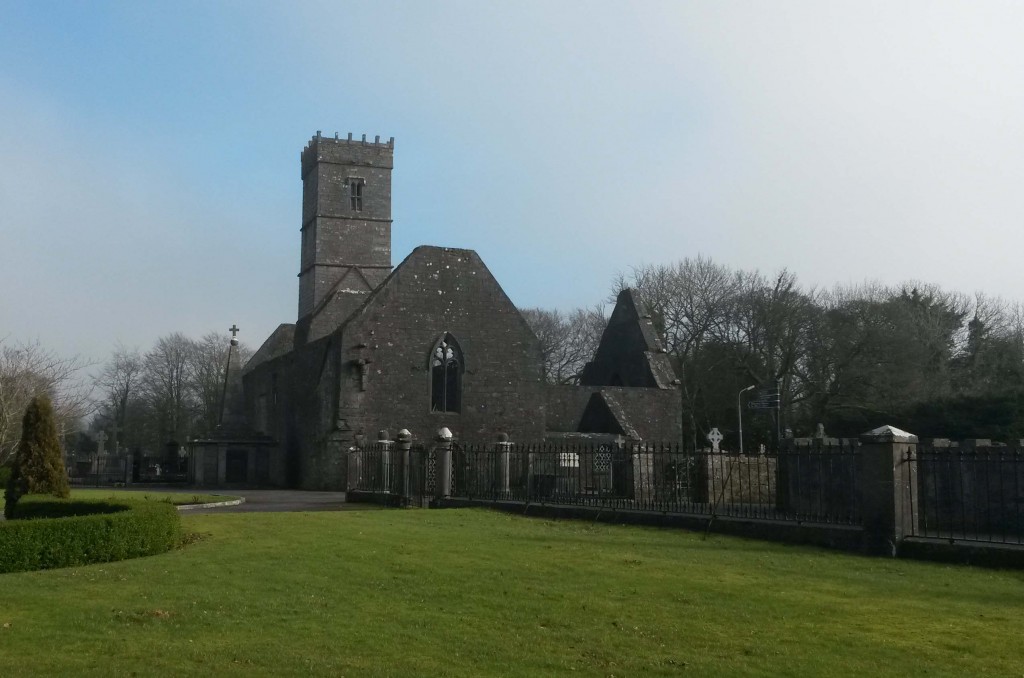 The ruins of Loughrea Abbey viewed from the north west
Hollypark House
Pierce, son and heir of Martin Blake married Elinor, sister of Thomas Lynch of Levally, Co. Galway, by whom he had three sons and two daughters; Martin, Richard, Peter, Margaret and Juliane. Pierce Blake was described in his will as a merchant of Loughrea.[xiii] He died in 1762 and was succeeded by his eldest son and heir Martin Blake who resided at Hollypark, in the parish of Kilconierin, between Loughrea and Athenry.[xiv] Martin Blake appears to have maintained part of the family interests in the town of Loughrea as one Martin Blake in 1791 held a sizeable plot on West Street and another on High Street in the town and six acres of East Coscarrig about the town.[xv] He in turn had at least two sons, Pierce and Anthony Richard Blake and was succeeded at Hollypark by the eldest, Pierce Blake.
Anthony Richard Blake, born in 1776, went on to become Chief Remembrancer of the Court of Exchequer of Ireland in 1837, married one Sarah James and died without issue. His elder brother Pierce of Hollypark married Anne, daughter of Peter Connellan of Coolamber, County Kilkenny by whom he had three sons and four daughters; Martin, Peter, Anthony, Margaret, Agnes, Harriet, Anne and Celia.[xvi]
Burke versus Blake duel
In 1823 it was reported that, 'a meeting took place a few days since, between Mr. P. Blake of Hollypark and Mr. W. Burke of Strangford, of Galway county; having been bound over to keep the peace in this county, they proceeded to the county of Tipperary, one mile beyond Portumna, where they fought on Thursday; at the first shot Mr. Blake was wounded in the hip, but strange to say, they were still allowed to pursue the game of death; and obtaining fresh pistols, Mr. Burke was shot dead on the spot the next fire.'[xvii]
Monsignor Jerome Fahey, writing in the late 1800s, gave further details of the duel as he understood them. He gave this Burke as Ulick Burke of Strongfort, near Craughwell, a nearby landowner who 'loved the hunting field and felt strongly that the manly sport should be reserved exclusively for those who could boast of patrician blood.'[xviii] He reputedly insulted Blake, whom Monsignor Fahey described as a gentleman 'connected with some profitable business and, forgetting his plebeian origin', attended a meet of the hunt. A duel was arranged as a result of Burke's insult and the combatants first met at Loughrea, according to the Monsignor, on Christmas morning 1822. 'The interference of the authorities prevented the encounter there. They then proceeded to Portumna, and, passing over to the Tipperary side of the river, they exchanged shots, with the result that Burke fell mortally wounded.'[xix] While Monsignor Fahey described this as the last such incident of a duel occurring in County Galway, duels continued in the county for a number of decades thereafter.
On the death of Pierce of Hollypark about 1833, he was succeeded by his eldest son Martin, an officer in the civil service in India. While serving as Commissioner at Delhi he was killed in 1835 and, as he was unmarried at his death and had no son and heir, he was succeeded at Hollypark by his younger brother Peter.[xx]
Peter Blake of Hollypark married Catherine, daughter of John Boyle Kernan of Capra, Co. Monaghan and Earne Lodge, Co. Fermanagh and had three sons and an only daughter; Martin Pierce, Richard and John Hubert Blake and Maria. Peter Blake died in 1884 and was succeeded by his eldest son, Martin Pierce, who pursued a military career and served as Colonel of the 6th Dragoon Guards and then as Colonel commanding the 88th Regimental District in Ireland. All three brothers, Martin Pierce, Richard and John Hubert died unmarried while their sister Maria had married Helenus White of Shannon Dale and Mount Sion in County Limerick. As Martin Pierce was the last of the brothers to die, he named as his heir in his will Helenus Peter White, second son of his sister Maria Christina White.
Upon the death of Martin Pierce Blake of Hollypark in 1900 and his inheriting the estate of his mother's family Helenus Peter White assumed the name of Blake.[xxi]
The family closed the old family burial vault in the abbey at Loughrea about the end of the nineteenth century and the remains of some of the family were removed to a grave outside of the medieval church walls. Maria White had a new headstone erected over the new grave in 1902, dedicated to 'the memory of her brother Colonel Martin Pierce Blake, late 6th Dragoon Guards', and to the memory of her father Peter, mother Kate and granduncle the Rt. Hon. Anthony Richard Blake. On the opposite side of the headstone base the inscription originally carved on the eighteenth century family memorial tablet was replicated.[xxii]
For further details relating to the arms of this family, refer to 'Blake' under 'Heraldry.'
---