© Donal G. Burke 2013
Given in the medieval period variously as De St. Maure, Seimor or Seymor, the arms of Seymour appear at this time as variations on a field Argent with a number of chevronels Gules. Sir Lawrence and Sir Nichols St. Maur of Glouchestershire bore Argent two chevronels Gules. Sir John de St. Maure at the siege of Calais in 1348 bore Ermine two chevronels Gules. Thomas Seymour at a tournament in 1334 bore for arms Argent three chevrons Gules, differenced with a label and another Sir Thomas Seymour bore Argent with only one chevron Gules, again with a label.[i]
A family of the name Seymour or Seymore bearing different arms to those medieval bearings rose to prominence in England in the early sixteenth century and owed their fortune to the marriage of Jane Seymour to King Henry VIII. From this family it was reputed derived a family of the name Seymour who established themselves in East Galway in the latter half of the seventeenth century in the person of one Charles Seymour and came to be seated at the former Lawrence castle of Ballymore in the then parish of Clonfert and at Somerset in the parish of Clontuskert. This Charles Seymour was reputed to have been closely related to Sir Edward Seymour of Berry Pomeroy in Devon and his brother Colonel John Seymour of Ballyknockan in King's County, Ireland, both descendants of Edward Seymour, 1st Duke of Somerset and Lord Protector of England during the minority of his nephew King Edward VI.[ii] Colonel Seymour of Ballyknockan married the widow of Captain John Eyre of Eyrecourt following the latter's death in 1685.[iii] In the naming of their eighteenth century seat in the parish of Clontuskert as 'Somerset', they associated themselves with a senior line of that name in England from whom came Jane, wife of King Henry VIII and came the Dukes of Somerset. No direct connection was proven, however, between John Seymour of Ballyknockan (who appears to have had no children by either of his two wives) and the Seymours who came to be seated at Ballymore and Somerset in east Galway.
Lady Jane Seymour
The arms of Sir John Seymour, who flourished about the early sixteenth century, ancestor of the Dukes of Somerset, were described in Harleian Manuscript No. 6163 as 'Gules a pair of wings Or' and blazoned as two separate wings, tips downward.[iv] Other contemporary or near contemporary illustrations give the same basic arms as 'Gules', but with the wings 'conjoined in lure, tips downwards Or.'[v] On the marriage of Jane Seymour to King Henry VIII of England a new coat of arms, quarterly of six, was granted her. The new arms included her paternal arms and among others, an augmented Seymour coat of arms containing elements associated with the arms of England and France; 'Or, on a pile Gules, between six fleur de lis Azure, three lions of England.'[vi]
Arms of 'Sir John Seymore,' after his tricked arms in 'A Tudor Book of Arms, Harleian Ms. No. 6163,' ed. by Joseph Foster.'
The Phoenix
A personal badge associated with this Queen Jane comprised a tree (said to be a hawthorn bush) Vert flowered and crowned Or atop an arched and fortified castle gatehouse with circular curtain walls Argent encircling a mound Vert atop of which lay a second circular curtain wall Argent encircling a second mound Vert.[vii] Atop the second mound lay a phoenix crowned Or in flames Proper. Emitting from the uppermost mound on the dexter side of the phoenix a daisy (or carnation) Argent and a rose Gules and on the sinister side a rose Argent and a daisy (or carnation) Gules.[viii] This emblem was emblazoned on a grant of land to her in 1536 by King Henry VIII.[ix]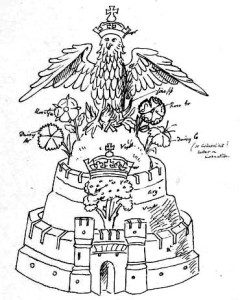 Badge of Queen Jane Seymour, from 'Banners, Standards and Badges from a Tudor Manuscript in the College of Arms,' 1904.)
In October 1537 Jane Seymour died after giving birth to a son, Edward, male heir to King Henry VIII. Buried in The Garter Chapel at Windsor, her epitaph likened her to the phoenix; 'Here lies Jane, a phoenix, who died in giving another phoenix birth. Let her be mourned, as birds like these are rare indeed.'
The phoenix, strongly associated with this Queen, was thereafter granted as a crest to her brother Edward Seymour by King Henry VIII 'in reference to the death of Jane Seymour in giving birth to King Edward VI.[x] The two-tiered castle and phoenix badge associated with the Queen was granted as a badge by King Edward VI to his maternal relatives, the Seymours.[xi]
Dukes of Somerset
The arms of Jane Seymour's immediate family was at that time also augmented to reflect the coat associated with that Queen of England. Edward, brother of Jane Seymour, was created 1st Duke of Somerset in 1546. His descendent Edward Seymour, 9th Duke of Somerset, who succeeded to the title of Duke of Somerset in 1757, bore for arms 'quarterly, first and fourth, Or, on a pile Gules, between six fleur de lis Azure, three lions of England, second and third, the paternal arms of Seymour; 'Gules, two wings conjoined in lure, tips downwards Or.' He bore for crest 'out of a ducal coronet Or, a phoenix in flames Proper with wings expanded Or'.[xii] (The original crest, on a wreath, was said to be 'a pair of wings conjoined in lure, tips downwards and crowned, Or.') For supporters he carried 'on the dexter side a unicorn Argent, maned Or, gorged with a ducal coronet Azure, to which was affixed a chain Or. On the sinister side, a bull Azure, maned, collared, chained and hoofed as that on the dexter.'[xiii] For motto they bore 'Foy pour devoir.'
Seymours of east Galway
The properties whereupon the earliest representatives of the name came to reside in east Galway  in the early eighteenth century; Feaghmore in the parish of Fahy, Ballymore in the parish of Clonfert and Crow's Nest and Somerset in Clontuskert parish were all leased from the Eyre family of Eyrecourt. Their descendants in east Galway bore arms similar to those of the original Seymour arms but the phoenix crest borne by the Somerset family.
Charles Somerset Seymour, born in July 1905, second son of Charles Seymour of Somerset House, Clontuskert, County Galway by his wife Minella Rose, inherited Somerset House and estate.[xiv] In 1945 he availed of an offer made to him by the Irish land Commission, whereby he surrendered the Somerset Estate to the Land Commission in exchange for a property at Rock Lodge, near Trim and the Somerset estate was thereafter divided and allocated in many cases to local smallholders. He married Patricia Audrey of Monkstown, County Dublin and died in September of 1983, leaving issue.[xv]
Charles Somerset Seymour of Rock Lodge, Trim, County Meath, bore for arms in the mid twentieth century 'Azure, a pair of wings conjoined in lure, surmounted by a mural crown Or.' For crest he bore out of a crown a phoenix Or in flames Proper.[xvi]
This Charles was the senior-most member of his immediate family in Ireland formerly seated at Somerset House, his elder and only brother Brigadier William Seymour C.B.E., having died without issue in 1957. Their father, Charles of Somerset House, who died in 1925, was the eldest of three brothers and one daughter and his younger brother William had died unmarried in 1939.[xvii]
William Conway Fitzroy Somerset Seymour the father of Charles and Brigadier William and fourth son of Colonel Charles Seymour of Somerset House by his wife Margaret Wade of Carrowmore, had inherited Somerset House and estate as his eldest brother Simeon Robert Eyre Seymour emigrated to Canada and his two elder brothers Samuel Wade Seymour and Charles both died unmarried.[xviii]
The eldest brother, Simeon Robert Eyre Seymour had originally inherited Somerset and married one Mary Ann Lalor in 1831. Financial difficulties forced his relinquishing the estate, the administration of which was later undertaken by his youngest brother William Conway Fitzroy Seymour. The senior-most member of the family in descent, he and his family emigrated to Canada about 1839.[xix]
The family mausoleum erected in the nineteenth century by the Seymours on the site of what is known locally as an old lisheen, within view, and to the north-west, of Ballymore castle, near the village of Lawrencetown, exhibits no surviving armorial features.
For further details on this family, refer to 'Seymour' under 'Families.'
---