© Donal G. Burke 2013
The Blake family of Gortnamona in the parish of Clontuskert in east Galway is not to be confused with another branch of the wider Blake family established earlier at Moorfield, also known as Gortnamona, in the nearby parish of Fahy.
The family of Clontuskert descend from Captain James Blake, who died in 1635, second son of Walter son of Thomas Blake and younger brother of Sir Valentine Blake, 1st baronet, of Menlo, County Galway.[i] The family of Blake had a long association with the town of Galway. Captain Blake's grandfather Thomas, third son of Valentine Blake who died in 1499, had held the castle and lands of Ballimacroe (later Carnmore), near the town which had been granted in 1277 to his ancestor Richard Cadell alias Niger (ie 'Black' or 'Blak', from whom the name Blake derived) and served on two occasions as Mayor of Galway, dying in 1574.[ii]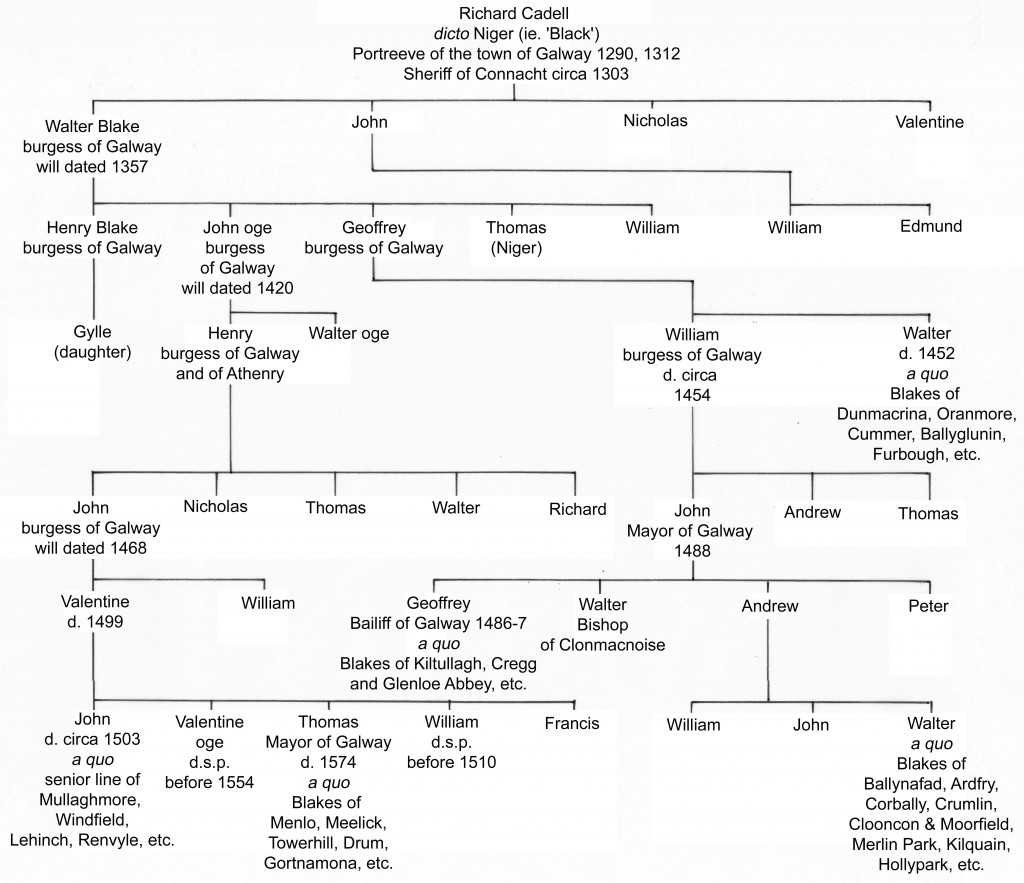 Select pedigree showing the relationship between a number of the principal branches of the Blake family, descended from Richard Cadell alias Blake, compiled from Martin J. Blake's 'Blake Family Records 1600-1700.' 
Captain James Blake's only grandson Walter Blake of Drum, County Galway was confirmed in possession of Drum and other lands in the barony of Moycullen, north of the town of Galway in the late seventeenth century, following the upheavals in land ownership in the Cromwellian period and the restoration of the monarchy in 1660. He married Christiane, daughter of Sir Richard Blake of Ardfry and had by her two sons and two daughters; Jeffry, Valentine, Mary and Juliane. He married secondly and by his second marriage had a third son, Peter.[iii]
Jacobite-Williamite War
Alarmed by the increasing Catholic influence during the reign of the Roman Catholic King James II and at the birth of an heir to the king, the still powerful Protestant interest in England deposed King James. The English Parliament declared James' throne vacated in December 1688 and his Protestant daughter and son-in-law were jointly crowned King William III and Queen Mary II. The Irish Catholics rose up in support of King James, and an army was sent by the French King to reinforce James' Irish supporters, the Jacobites.
In March 1689 James landed in Ireland, hoping to regain his throne through Ireland and a Catholic-dominated Parliament was set up in Dublin. The Irish Catholics hoped to recover much of their former lands that they were denied under the settlements after Charles II had been restored and the Irish Parliament declared many of the Williamites, supporters of William of Orange, outlaws and their lands were to be confiscated as such. King William arrived early in the following year with his Dutch and English army, and so began the war of the two kings.
The leading Roman Catholic families responded enthusiastically to the cause of James II and the officer's ranks in the Galway regiments were swelled with members of the most prominent Catholic county families. Walter Blake of Drum supported the Jacobite cause while Valentine, his second son was among the numerous Blakes who served in the Jacobite army and held the rank of Lieutenant at the end of the war.
The war concluded with the defeat of the Jacobite army and the signing in October 1691 of the Treaty of Limerick. Many prominent Irish Jacobites faced the prospect of losing their lands under the new government of King William and Queen Mary. The estates of those deemed outlaws and traitors in February 1688 were to be vested in thirteen Trustees and the same estates to be sold.[iv]  A large number, however, were eligible to benefit from the 'articles of Limerick and Galway' that formed part of the Treaty. The terms of the treaty allowed the Jacobite soldiers and people holding out at Limerick and at Galway to either sail for France or remain in Ireland and submit to the new King. Those who submitted to the new Protestant King and Queen and were eligible to benefit from the articles were to be allowed to keep their estates intact and, if outlawed, pardoned. The hearing of cases of those seeking to avail of the articles was a prolonged affair, extending into 1699.[v]
Lieutenant Valentine Blake of Drum applied for benefit under the articles of the treaty and his case was adjudicated in December 1698.[vi] His father, Alderman Walter Blake's claim for admission to benefit under the articles of Galway was adjudicated in August 1699.[vii] Like the majority of cases, they appear to have successful and retained his lands, which may have been assisted by the conversion to Protestantism of Walter's eldest son and heir Jeffry about 1694.[viii]
Conversions to Protestantism
Jeffry Blake inherited the family estates after his father's death in 1704.[ix] His only son Walter died in infancy and when Jeffry died in 1733 without surviving male issue, his younger brother Valentine inherited the Drum estates. Valentine married about 1702 Mary, daughter of Thomas Lynch of Cregmore, County Galway and died on 17th July 1752. He in turn was succeeded by son Anthony.
Anthony Blake, first of Cregmore, county Galway and later of Drum, converted to Protestantism in 1743 and again in 1753.[x] As he officially conformed to Protestantism twice, the second occasion within a short time of his father's death, it is likely that he did so to facilitate his inheritance of the family property. Six years later, he fell from his horse while out riding from Carnmore to Galway and was killed, leaving two infant sons; Valentine and Patrick.[xi] Valentine, as the eldest son, was his heir but died in infancy the following year and the estate was inherited by Patrick. In 1766, while still of young age, Patrick Blake of Drum, and at that time more recently of Dublin, conformed to Protestantism.[xii] In 1771 he was appointed Mayor of the town of Galway and in 1774 Patrick married Maria Nagle and by her had two sons and three daughters. [xiii] He appears to have pursued a legal career, being admitted to the Middle Temple in 1777. Three years later, in 1780, his eldest son, Valentine, was born. He died in 1782 and was succeeded by Valentine who, at his father's death, was aged about two years.
The Gortnamona estate of the Arcedeckne Burkes
In 1797 Valentine Blake, eldest son of Patrick Blake of Drum, married Anne Burke, third daughter of Redmond Arcedeckne Burke of Gortnamona, in the parish of Clontuskert in east Galway.[xiv]
The Burkes had previously acquired the Gortnamona estate from the Arcedeckne or Archdeacon family, who had been transplanted from Cloghala in County Kilkenny to Clontuskert in the Cromwellian period.[xv] Robert Burke married Mary Arcedeckne and in his will of 1775 Nicholas Arcedeckne of Gortnamona, after making provision for financial bequests to the younger sons of Robert Burke and to Helen, the eldest daughter of Robert Burke, 'gave the residue of his real and personal estate to Robert Burke, afterwards Robert Arcedeckne Burke, and appointed said Robert Burke, D'Arcy French and John Pilley his executors.'[xvi] The Arcedeckne estate at that time comprised property in counties Galway, Clare and Kilkenny.
Robert Arcedeckne Burke had at least nine children, four sons and five daughters; in order of seniority, Nicholas Arcedeckne Burke, Walter Arcedeckne Burke, Redmond Arcedeckne Burke, James Arcedeckne Burke, Helen, Jane, Anne, Mary and Eleanor Burke.[xvii] His eldest son, Nicholas Arcedeckne Burke inherited Gortnamona and its estates.[xviii]  None of the four sons of Robert Arcedeckne Burke appear to have left legitimate male heirs and through the marriage of Robert Arcedeckne Burke's third daughter Anne Burke in 1797 to Valentine Blake the Blake family eventually inherited the estate of Robert Arcedeckne Burke in Gortnamona, wherein the Blake family would be seated throughout the nineteenth century.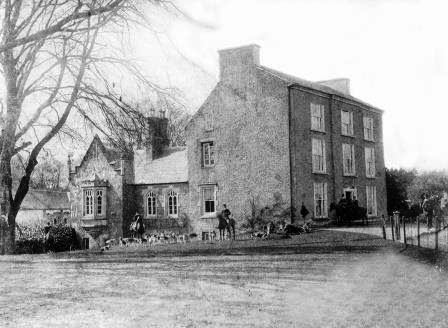 Gortnamona, parish of Clontuskert, acquired by the Blakes through their intermarriage with the Arcedeckne Burke family
Inheritance of Gortnamona
Valentine Blake 'of Tully and Gortnamona' had by Anne Burke one son and two daughters and died about 1819, his widow Anne Blake surviving him.[xix] Anne Burke's brother, Nicholas Arcedeckne Burke died in September 1823.[xx] He died without leaving a legitimate son and in his will left the estate at Gortnamona to his nephew James Fitzpatrick and his heirs and in default to his other nephew Patrick Blake and his heirs, with remainder to other nephews and others.[xxi] James Fitzpatrick died before 1832, it would appear, without male heirs and, in accordance with the will of Nicholas Arcedeckne Burke, the estate at Gortnamona passed to Patrick Blake, as his sister Anne's son and next nephew in line of inheritance. The Blakes thereby acquired what had formerly been the Arcedeckne estate at Gortnamona in the parish of Clontuskert.
Patrick Blake married Ellen Mary Roberts, by whom he had two sons and four daughters; Frances, Rosa, Eleanor and Mary Ann.[xxii] His second son Walter Henry died in infancy in 1842. Patrick Blake died on 24th July 1857.
The Blakes continued at Gortnamona in the person of Patrick's son Valentine Fitzpatrick Blake of Gortnamona.[xxiii] Born in 1831, Valentine Fitzpatrick Blake of Gortnamona J.P. married Ellen Smith about 1865 and died at Bray in 1870, his will proved in December of that year.[xxiv] His estate about that time comprised of 17,335 acres in County Galway.
Among his children was Valentine Alexander Blake of Gortnamona, born at Dublin in 1869 or 1870. Valentine Alexander Blake pursued a military career, serving in the South African War as a captain in the 4th Scottish Rifles and eventually attaining the honorary rank of major. He married in Picadilly in 1902 Alison, eldest daughter of Robert Skeet of Windmill House, Bishop's Stortford in Hertfordshire.[xxv] While his seat was given as Gortnamona, he maintained his residence at 'Warwick Road, Hockerhill, Bishops Stortford', near the home of his wife's family.
The Blakes do not appear to have occupied their residence at Gortnamona by the late 1870s but the representatives of Valentine Blake remained as landlords over the Clontuskert estate. In 1908 the Irish Land Commission acquired much of the estate and divided lands among the local tenantry, while the house at Gortnamona was sold in 1917.[xxvi]
He and his wife were buried at Deansgrange in Dublin and commemorated by a memorial bearing the inscription 'In Loving memory of Valentine Alexander Blake, Major Scottish Rifles, of Gortnamona, Co. Galway and Killiney, Co. Dublin, died 12th December 1923. Also his wife Alison Ann Josephine, who died 16th May 1955.'[xxvii]
---