© Donal G. Burke 2017
Richard Monck, the old friend and former Latin and Irish tutor of the antiquary John O Donovan visited the house of Laurence Madden of Fahy in March of 1843.[i] Monck was permitted to browse through Madden's family papers and from that source Monck described him as the son of John Madden and the grandson of Brasil Madden. O Donovan, writing about 1843 in his 'Tribes and Customs of Hy Many' described Laurence of Fahy as the owner in fee simple of about three hundred acres in the barony of Longford but his pedigree on his father's side had not been traced. His mother was a sister of Brasil Madden and daughter of Ambrose Madden, who was considered to have been senior-most male descendant of the last O Madden chieftain and as such the head of the O Maddens. From the same papers Monck was in a position to inform O Donovan that Laurence Madden's grandfather Brasil had a brother who married a 'Miss Broadstreet, daughter of Sir Samuel Broadstreet.'[ii]
Laurence Madden's grandfather was evidently Brasil Madden of Coroughboy in the parish of Killimorbologue, gentleman, who, with his wife Dorothy, flourished about the mid eighteenth century. The majority of his estate appears to have comprised lands in Coroughboy and Annagh, both part of the larger townland of Ballinaheskreagh in the parish of Killimorbologue, lands in Tullynalicky in the parish of Fahy and Derrymcfinola in Meelick parish, together with lands in Doneen in the barony of Boyle in Roscommon.[iii]
Curraghboy appears to have formed part of the inheritance of a branch of the Maddens early in the seventeenth century. Of the four quarters of Ballynahiskeragh in the parish of Killimorbologue two thirds of a quarter in Carroghbay of the said four quarters of Ballynahiskeragh, composed of 129 profitable Irish acres, were the property before the 1641 Insurrection of John Ichalla McMurrogh McDermott O Maddin. John Ichalla O Madden lost direct ownership of his Curroghboy lands in the mid 1650s as a result of the Cromwellian confiscations and transplantation. He appears to be that same John O Madden transplanted from Curraghboy and allocated forty two profitable Irish acres in the parish of Tynagh in the barony of Leitrim by the Cromwellian authorities.
Following the restoration of the monarchy, John O Madden's lands of Curroghboy were confirmed in the ownership of one John Eagan under the Act of Settlement.[iv] Despite this, John Ichalla appears to have at least maintained his presence at Curroghboy, possibly renting those same lands from the new owners. He may have died sometime in the early or mid 1670s as he made his will in June 1673. In that will he was described as 'John Calla Maddin of Curraghboy in the County of Gallway, gentleman'.[v] Appointing John oge Hearne as his executor, he directed his body to be buried in his tomb in St. Dominick's Abbey, Portumna and bequeathed to his son Morragh and his daughter Mary all of his goods and chattels and household stuff and fourteen shillings sterling out of his lands in Cranagh (parish of Tynagh) 'and fiveteen shillings of the fourtie foure shillings due of the fiveteen pounds mor on (his) lands in Cranagh'. To his daughter Margrett he bequeathed one pound sterling to be received out of his lands in Cranagh.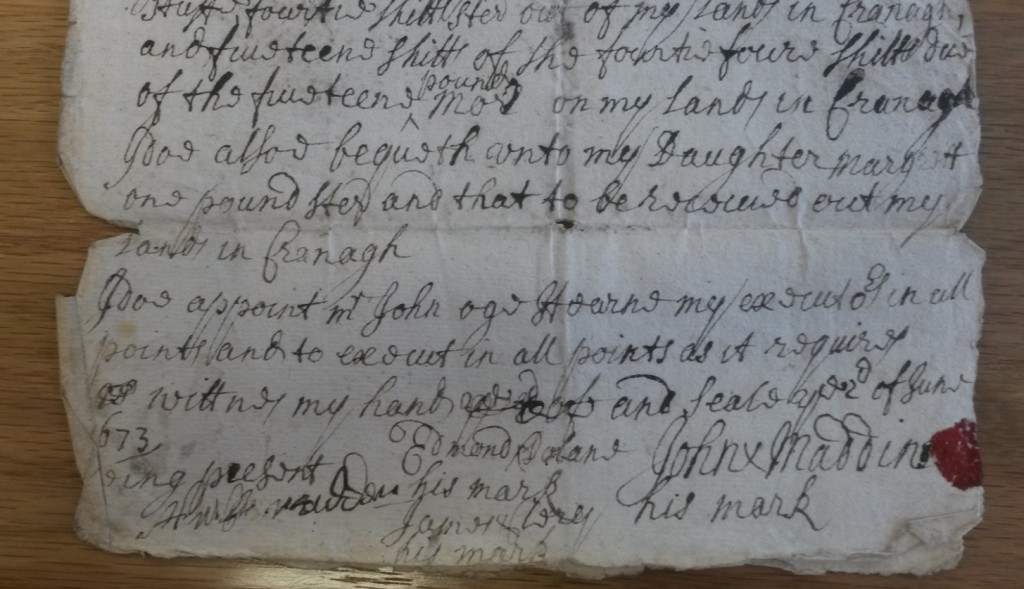 Detail from the will dated 1673 of John Calla Maddin of Curraghboy in the County of Gallway, gentleman. © NUI, Galway, Hardiman Library.
The pedigree of the Curraghboy family has not survived intact and a lacuna occurs at the end of the seventeenth and beginning of the eighteenth century, making the definitive identification of family members and their inter-relationships difficult. The identification of one Brasil Madden resident at Curraghboy in 1734 as a descendant or near relative of John Calla or Ichalla Maddin, while conjectural, is based then upon their both having been seated in the same location within a short period of one another. In 1734 Brasil Madden 'of Curraghboy, Co. Galway' converted to Protestantism.[vi] The brief biographical notes in the 'Convert Rolls' erroneously describe him as 'son and heir of Daniel Madden, chief of his name.' However, Brasil Madden, son and heir of Daniel Madden, Chief of his Name, was more correctly a different individual of the same name; Brasil Madden 'of Ballinamranagh' (also known as Walshtown, in the parish of Killoran) whose will was proved in 1747.
In 1747 Brasil Madden leased the lands of Prospect, County Galway to one Luke Usher. The lands in question comprised the modern townland of Prospect Demesne, near the village of Eyrecourt.[vii] The lessor in question was evidently Brasil of Coroughboy, given that the latter's estate included lands in Derrymcfinola and the townland of Prospect Demesne in the mid nineteenth century was still known as 'Derrymacfennela otherwise Prospect'. The initial lease of 1747 was 'for lives renewable forever' and dated 7th October of that year. The Usher's would retain their interest in that property for over one hundred and ten years, until it's sale in 1863.[viii] Of a family originally resident at Birr, King's County, the initial lessee, Luke Usher, converted to Protestantism about 1737. The son-in-law of Benjamin Bloomfield, tanner of Eyrecourt, he was described three years later as 'of Killlmcshane, (parish of Clonfert), Co. Galway, gentleman and six years thereafter as 'of Mount Usher, Co. Galway, Chirurgeon'. He in turn conveyed the lands to his son Benjamin who conveyed the same to his daughters and they would later convey the property to their uncle Rev. Hemsworth Usher. Succeeding generations of Ushers leased the lands and the substantial residence thereon, known as Prospect, to others, at various times, such as the Frenches of Aggard, O Malleys and Cowans. Brasil Madden, his heirs or assigns were due an annual rent from the property from the Ushers based on the original lease for lives but when the Renewable Leasehold Conversion Act was introduced in the mid nineteenth century the tenure was altered and the Ushers came to hold the property under a Fee Farm Grant from Brasil's nineteenth century heirs Peter Madden and his wife Jane Madden subject to a yearly Fee Farm rent.
In 1750 Brasil of Coroughboy borrowed from Sir Simon Bradstreet a large sum of money on a mortgage of his lands and in doing so released to Bradstreet lands at Doneen in Boyle, Roscommon and lands in the barony of Longford in east Galway at Annagh, Tullynalicky and at Derrymcfinola. In February of 1767 he set lands at Annagh, Tullynalicky, Derrymcfinola and the lands in Doneen in Roscommon to his eldest son Laughlin with the condition that he would discharge the mortgage which had by then been assigned to one Lieutenant Colonel Samuel Gabell and allowing a sum to be allocated for the maintenance of Brasil and his wife Dorothy, wages sufficient for a servant and that allowance be made for Laughlin's three younger siblings John, Thomas and Honoria to reside with Laughlin for as long as they deemed proper.[ix]
Brasil died on 20th January 1768 and was succeeded by his eldest son and heir Laughlin.[x] There appears to have been an issue as to the repayment of monies and the possession of the relevant lands as Laughlin, not long thereafter was the subject of a bill of complaint brought by Gabell before the Chancery Court in 1773, claiming that, while the deceased Brasil Madden had borrowed five hundred pounds from Bradstreet the mortgaged lands were still in the possession of Laughlin Madden and his under-tenants. Pursuant to this, following a Court of Exchequer Decree of 1774, the lands at Annagh in Killmorbologue were sold in 1777 at a public auction in Dublin and purchased by Walter Lambert, Esq. for Charles Lambert of Cregclare.[xi]
In 1775 Laughlin Madden leased lands in Killmorbologue to Thomas Madden of Maddenstown and in the following year the same Laughlin was described in a deed as 'late of Madden's Grove and then of Dublin.'[xii] He was living there in 1780 when he, as 'Laughlin Madden of Dublin, gent.' leased lands in the parish of Fahy to Peter Hamilton.[xiii]
While this family appear to have been seated in the parish of Killimorbologue in the mid eighteenth century, the family in the following century were seated in the parish of Fahy. In arranging the marriage of Brasil Madden of Fahy, gent. to Susannah, daughter of George Moore of Carrick on Shannon in County Roscommon, Brasil entered into a marriage settlement dated 1801 involving lands of Fahy and Tullynalicky and his part of the lands of Doneen and Lismore in the  barony of Boyle, County Roscommon. Given that these lands appear to be those previously held in the previous century by Brasil of Coroughboy and other familial relationships, it is evident that Brasil of Fahy was descended from his namesake. Brasil Madden of Fahy died on 29th December 1805, with his will dated that same December of the previous year proved in March of 1806.[xiv]
Arrangements were put in place for the letting of part of the lands of Brasil of Fahy immediately following his death. The Dublin Evening Post dated 22nd March of 1806 carried a notice that approximately forty acres of the lands of Fahy, 'with dwelling-house, offices, and garden, an excellent farm-yard and haggard well walled in, with very sufficient and convenient turbary', 'being part of the Estate of Brasil Madden, decd.' were to be set for a term of five years from 25th March or 1st April of that same year. The house and lands were described as 'lying immediately on the post-road, 2 miles from Eyrecourt and 6 to Portumna, but 11 from the great fairs of Ballinasloe'. Also advertised to be let for the same term but as another division of the same estate was about twenty acres of land 'with an excellent grist mill and constant supply of water through the year, with a very beneficial bog'. Applications were to be addressed to Robert Seymour, Esq., of Clonfert, (Brasil's cousin) who was acting as executor and trustee of the will of Brasil of Fahy.
In his will Brasil named Laurence Madden, then serving in the regiment of Colonel Burke as his cousin and heir to his estate, subject to a lease granted to one Patrick Madden. While Brasil's will made reference to his cousin Mary Madden and his wife Susannah Madden alias Moore, being only recently married, he does not appear to have had any male children and Laurence Madden would therefore appear to have been the next male relative.
Monck described Laurence Madden of Fahy as the son of John Madden and the grandson of that Brasil Madden whose brother married the daughter of 'Sir Samuel Broadstreet'.[xiv] This implies that not only was Laurence's father John a younger son of that Brasil of Corroughboy who died in 1768 but that the previous occupant of Fahy, Brasil who died in 1806, was uncle of Laurence and a younger brother of Laughlin Madden. Laurence's mother was a sister of Brasil Madden of Walshtown in the parish of Killoran, who although considerably reduced in means, was the senior-most descendant in the male line of Donal O Madden of Longford castle, the last chieftain of Sil Anmchadha.[xvi]
Laurence Madden of Fahy appears to have been Roman Catholic. He was reported to have been at Mass on Easter Sunday of 1833 when his house was broken into by a party of men 'in search of arms and robbed of two cases of valuable pistols'.[xvii] Laurence Madden's wife Jane died in November 1833 and was buried at Meelick, commemorated by a mural tablet therein.[xviii] He appears to have had a number of daughters, with his daughter Jane marrying Peter Madden of Galway about September of 1837.[xix] Three years later his second daughter Dorah married James Smyth, Esq. of Dublin in Fahy Church on 26th October 1840.[xx]
Laurence Madden appears to have regarded himself with some pride as the head of the O Maddens, despite the position of his mother's nephew Ambrose, son of Brasil of Walshtown. The seniority of both the Walshtown and Fahy families was noted not only by Monck and O Donovan but corroborated by Malachy Kelly of Bettyville, a senior member of a branch of the Kellys established at Kiltormer since the seventeenth century. Kelly wrote to Ambrose Madden, 112 Talbot Place, Dublin on the last day of January 1843 in response to a query put to him by the latter regarding the Maddens. Kelly wrote; 'My enquiry finds that the Walshtown and Fahy Maddens were the most respectable Maddens in this quarter of the country and whos (sic) ancestors possessed the greater part of the Barony of Longford in the County of Galway, A remnant of which now only remains in their possession and considers the Walshtown and Fahy Maddens one and the same family, which any person versed in Irish history can easily ascertain.'[xxi] Their 'one and the same' nature, however, may have been confused through their close connection but would appear to be based more correctly on the marriage of Laurence's father with Brasil of Walshtown's sister than through the lineal paternal line of the Fahy family.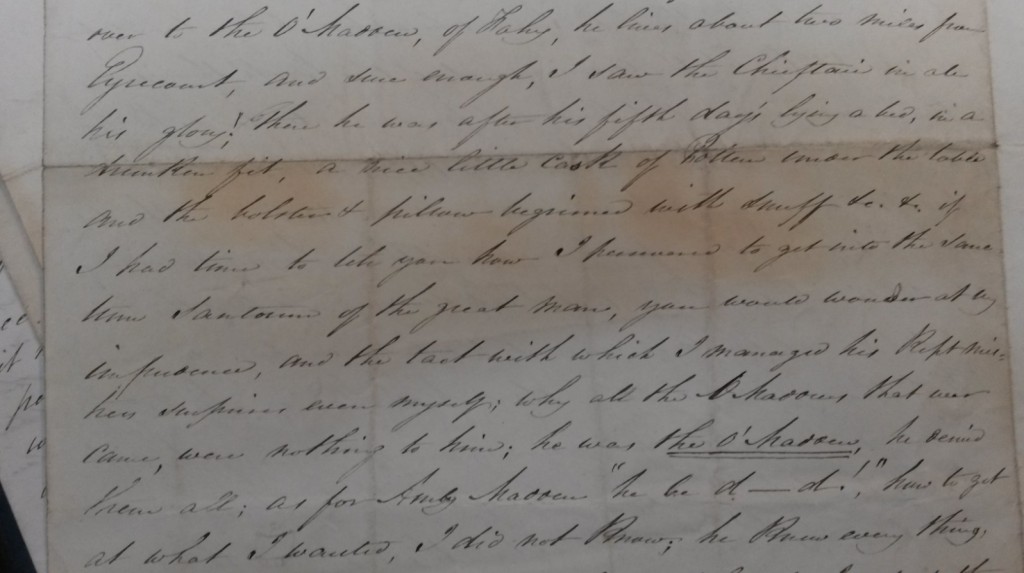 Detail from Richard Monck's letter to John O Donovan dated March 1843 describing the former's visit to Laurence Madden of Fahy. © RIA Library, Dublin.
An insight into the character of Laurence Madden (and that of his interviewer) was provided by Richard Monck in his letter dated 20th March 1843 to John O Donovan. Having paid a visit to the ruins of Meelick friary, he decided to pay a visit to Laurence Madden with a view providing additional information to O Donovan on the Madden family. It is worth giving a full account of that part of the letter in detail: 'As I was on foot (visiting Meelick, from Banagher), I took a stroll over to the O'Madden of Fahy, he lives about two miles from Eyrecourt, and sure enough, I saw the Chieftain in all his Glory! There he was after his fifth days lying a bed, in a drunken fit, a nice little cask of Poiteen under the table and the bolster and pillow begrimed with snuff, etc etc. if I had time tell you how I persevered to get into the same …santorum of the great man, you would wonder at my impudence, and the tact with which I managed his ….surprises even myself, why all the O'Maddens that ever came, were nothing to him; he was the O'Madden, he denied them all; as for Amby Madden "he be d____d!" how to get at what I wanted, I did not know; he knew everything, but would tell nothing, nothing; at length I got at the Old fellow's weak side, and taking up my hat, with as much contempt as I could concentrate in my countenance, I exclaimed, "You the head of the O'Maddens, a pretty head indeed! Why man, I doubt whether you are an O'Madden at all." This roused him; he flung the clothes off, and roared out like a Bull, "I'll convince you child," and gave me his papers to look over which he had in a small writing desk in his bedroom but indeed my trouble was scarcely compensated the information i got; he had no papers worth looking at except his Grandfather's ….; his name was Brasil Madden , his son John married a Miss Madden, sister to Ambrose Madden's father, consequently Ambrose Madden is his cousin german, Brasil Madden's brother was married to a Miss Broadstreet, daughter of Sir Samuel Broadstreet (by the bye) a ……..name) And I think it was through Broadstreet's Money the nice little Fodin proedium Laurence O'Madden has now in his possession  was kept as he says out of the deep,- He had the Arms displayed over his Mantel piece, but he ordered his spoons to be shewn me, the Crest, a hawk displayed with a cross, recrossed, in its beak this (and here Monck drew what appears to have been a cross crosslet fitchee), Before we parted we were right good friends, and he wept like a child at his inability to entertain me, in that he was Irish all over! He has two daughters married, but no children either of them, one of them is married to a man of the name of Smith an Attorney in Dublin and the other in Galway; his wife died about eleven years ago, but the life he leads is indeed a brutal one, though I am sure he has some noble traits of character, but want of cultivation has completely paralyzed him'.[xxii]
In another letter, undated but apparently not long thereafter, Monck informed O Donovan in passing of the death of 'Larry Madden of Fahy'. He appears to have been the last of the male line of this branch of the Maddens of Curraghboy to have resided at Fahy.
---