© Donal G. Burke 2015
The graveyard known in the twentieth century as the old graveyard at Kiltormer in east Galway pre-dated the nineteenth century as a burial ground, with its earliest surviving headstones dating from the eighteenth century. In 1838 it was referred to as the 'old grave-yard still in use.'[i]
The old graveyard appears to have been the site of a medieval or late medieval church, originally in use as a Roman Catholic church and which was later used for Protestant services into about the early nineteenth century. Surviving headstones appear to commemorate the burials of Roman Catholics for the most part and, after the construction of a new Protestant church at Kiltormer about 1815, members of the local Anglican Church of Ireland community were buried about the new church.[ii]
With insufficient space for new burial plots in the old graveyard by the twentieth century, a new graveyard was laid out in a field on higher ground in close proximity to and to the north-east of the old graveyard. Burials continued into the twenty-first century at the old graveyard, however, to accommodate deceased members of families who held burial plots in the old graveyard prior to the construction of the new graveyard.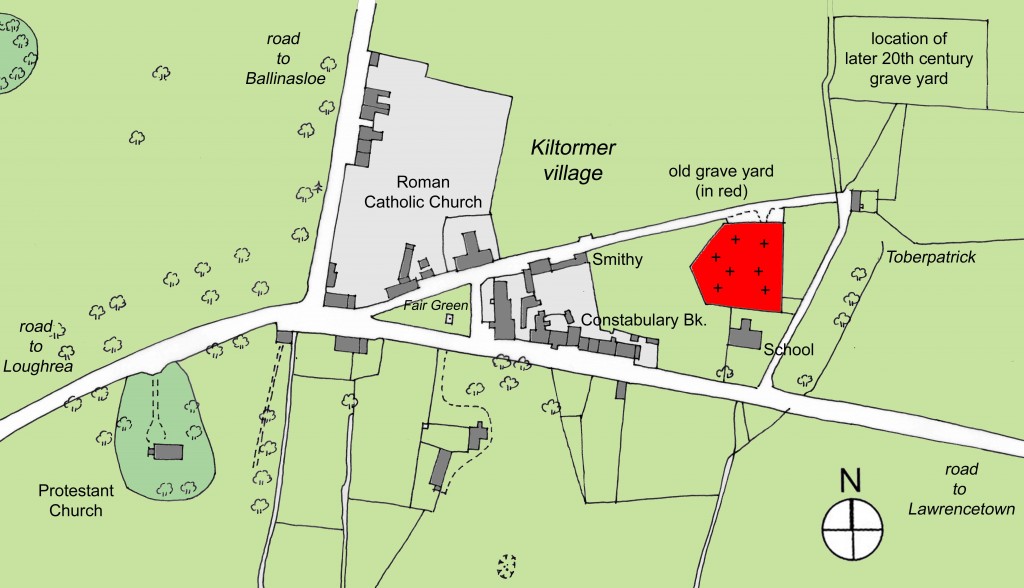 Map by the author showing the location of the old graveyard at the village of Kiltormer (in red) in the late nineteenth century, with the location of the later twentieth century graveyard shown to its north-east and the location of the early nineteenth century Protestant St. Thomas's Church to the west of the old graveyard and village proper.
The following is a selection of burial inscriptions surviving at the old graveyard at Kiltormer village. Many of the older headstones would appear to have been reset in an upright or more upright position circa 2014.
Pelly of Gortymadden, etc.
Two burial plots were contained within iron railings by the late twentieth century, one of which was that of a Pelly or Pelley family.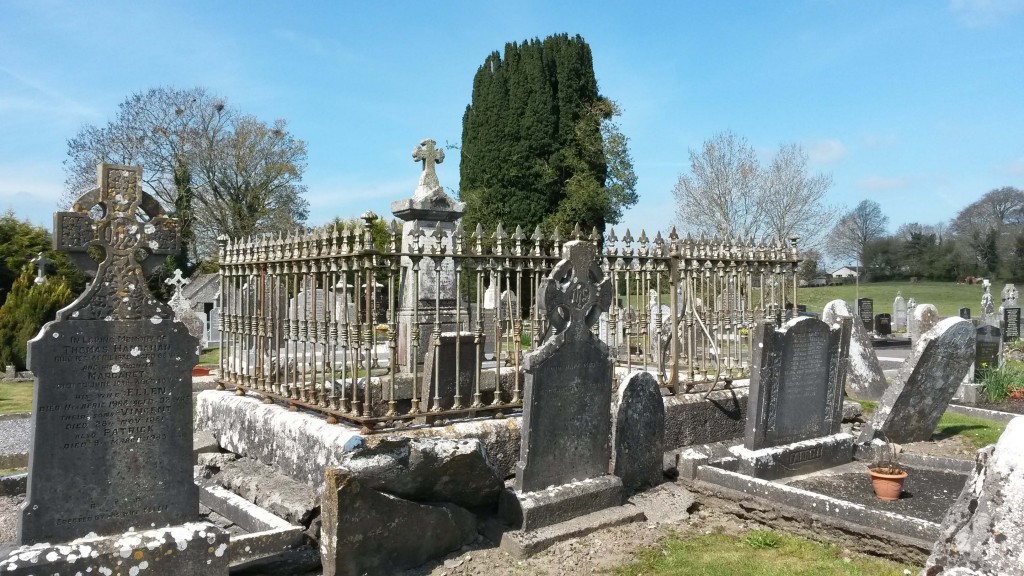 The burial place of the Pelley family in the south-east corner of the old graveyard at Kiltormer.
A small headstone now standing at the base of a cross within the confines of the railings of the Pelley burial place reads; 'Sacred to the memory of Mary Pelley alias Kelly who died the 7th Jan 1859 aged 59 years. Also her affectionate husband Cornelius Pelley who died on the 6th Feb 1863 aged 71 years.' 
A Roman Catholic, this Cornelius Pelly was also known as Connor Pelly and was given in the 1958 edition of 'Burke's Landed Gentry of Ireland' as the son of Thomas of Springfield who died in 1802 and nephew of Peter Pelly of Kill, Co. Galway, sometime Captain in the army of the Elector of Bavaria, who died in 1792 and whose recumbent armorial slab is located in the sacristy of Portumna priory. He was also nephew of John Pelly of Kill, who served at one time in the Austrian army and who died between 1795 and 1797. As such Cornelius was a grandson of  Hyacinth Pelly, only son and heir of Peter Pelly, the latter who died in 1690 or 1691 and whose paternal estate had been subject to confiscation by the Cromwellian authorities in the mid seventeenth century and who was allocated lands thereafter in the parish of Killoran.
In 1676 and 1677, following the restoration of the monarchy, Peter Pelly was confirmed a sizeable estate, including eight hundred acres in the baronies of Longford and Clonmacnowen in east Galway, about the northern fringe of the former medieval O Madden territory, with lands in Attegey in Kiltormer Parish, in Ballyowly in the parish of Killoran, about Clonepreisk and Gortenery near Duniry and in Tristaan and Killerin in Clontuskert parish.[iii] He would appear to be the same Peter Pelly who was also granted at that time almost one thousand acres in County Roscommon and almost six hundred and fifty acres in County Clare.
'Burke's Landed Gentry of Ireland' gave Connor (or Cornelius) Pelly, son of Thomas of Springfield and Elizabeth Jennings of Strawberry Hill, County Galway as resident at Kill, County Galway and married to Mary the daughter of Michael Kelly of Kellys Grove, County Galway and having died in 1863.[iv] Rather than being resident at Kill, the main line of the family in the mid nineteenth century were resident at Gortymadden in the parish of Abbeygormacan and Cornelius was more commonly known as Connor of Gortymadden. By his wife Mary Kelly, Connor, the younger son of Thomas and Elizabeth Pilly, had eight sons and two daughters; Thomas, Michael, Patrick, Cornelius, Joseph, John, James, Martin, Mary and Anne.[v]
Only one individual of the name Cornelius Pelly was recorded in Sir Richard Griffith's 'Primary Valuation of Tenements' as occupying land in County Galway about 1857 and he was the same individual identified as Connor Pelly. As Cornelius Pelly he was given as renting a share of a portion of land in the townland of Ballyfintan in the parish of Abbeygormacan from Lord De Freyne. As Connor Pelly he was given as leasing the largest house in the townland of Gortymadden in the same parish, with outbuildings and thirty acres of land from James Smith.[vi] Also in the same parish Connor Pelly rented approximately sixty acres of land in the townland of Liscoyle from Henry Trench and a herd's house and seventy three acres in the townland of Foxhall from Sir Thomas Redington. In the nearby parish of Kiltormer, in the townland of Coxtown, he rented one hundred and ninety six acres from Michael Fitzmaurice.
Connor and his wife Mary resided at Gortymadden, his house and part of his farm located at a prominent crossroads, across from which stood the local police constabulary barracks and yard, from which Pelly derived a rental income. He appears to have been a comfortable farmer and in 1862, one year before his death, sold more than two hundred cattle at the May Fair at Loughrea.[vii] He died at Gortymadden on the 6th February. One obituary in a provincial newspaper described him as 'Connor Pelly,' of a 'highly respectable family' while another described him as 'Cornelius Pelley, Esq., Poor Law Guardian of the Ballinasloe and Loughrea Unions.'[viii] He was buried beside his wife in the old graveyard at Kiltormer. While one newspaper gave his age as seventy-three years and another as sixty-eight, his headstone carried his name as Cornelius Pelley and aged seventy-one years at his death.[ix]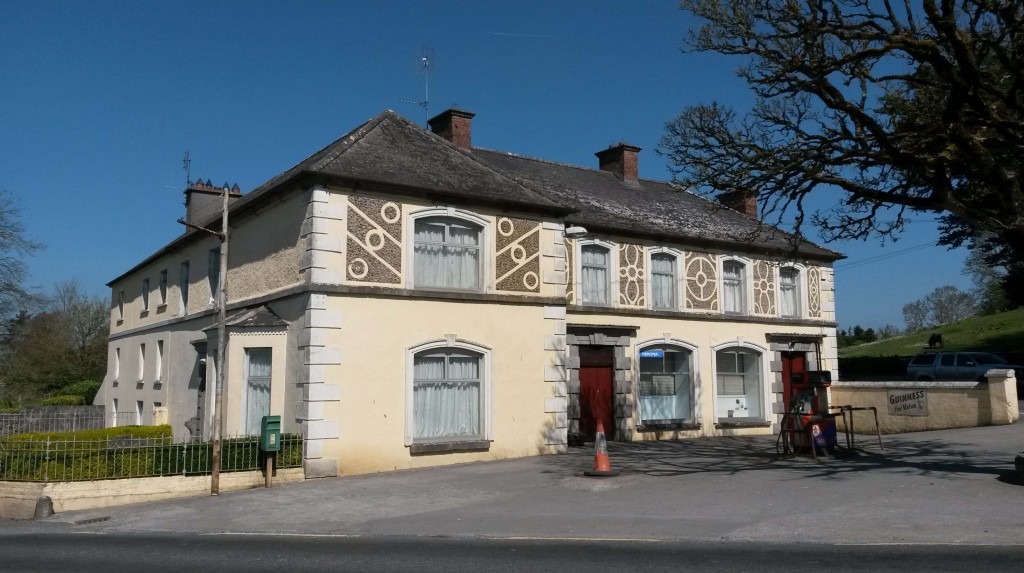 The house occupied in the mid nineteenth century by Connor or Cornelius Pelly at Gortymadden. The oldest part of the building appears to have been the three storey structure now located at the rear of the house. This three storey structure appears to have formed the house in the mid nineteenth century and to which was later added a two storey extension. In later years this extension became a public house.
While Connor Pelly's eldest son Thomas pursued his vocation to the Roman Catholic priesthood his second son Michael was a Poor Law rate collector in the late 1840s and came to reside later in his life at Hearnsbrook in the parish of Killimorbologue, where he died in 1891. Connor's third son Patrick was resident at Gortymadden, where he died in August of 1875 aged forty-eight years 'after a short illness of congestion of the lungs' and where a number of his offspring resided in the early decades of the twentieth century.[x] When Connor's son Dr. James Pelly of Eyrecourt died in 1878 at the age of thirty-three years after contracting fever from a patient three weeks earlier, he was buried at Kiltormer, it being described in his obituary as 'the family burial place of the deceased.'
Also commemorated at the same burial plot are members of a branch of the Pellys resident at Springfield in the parish of Killoran in the early twentieth century. Members of this branch are commemorated on a cross erected above the plot, the inscription thereon reading; 'Sacred to the memory of Joseph Pelly, died 7 March 1934 aged 27 yrs. Cornelius Pelley died 10 Feb. 1945 aged 82 yrs. Thomas Pelley died 28 Nov. 1947 aged 90 yrs. Gertrude Pelley died 21 Sept. 1952 aged 47 yrs. Sarah Pelley (nee Glynn) died 13 June 1958 aged 89 yrs. R.I.P.'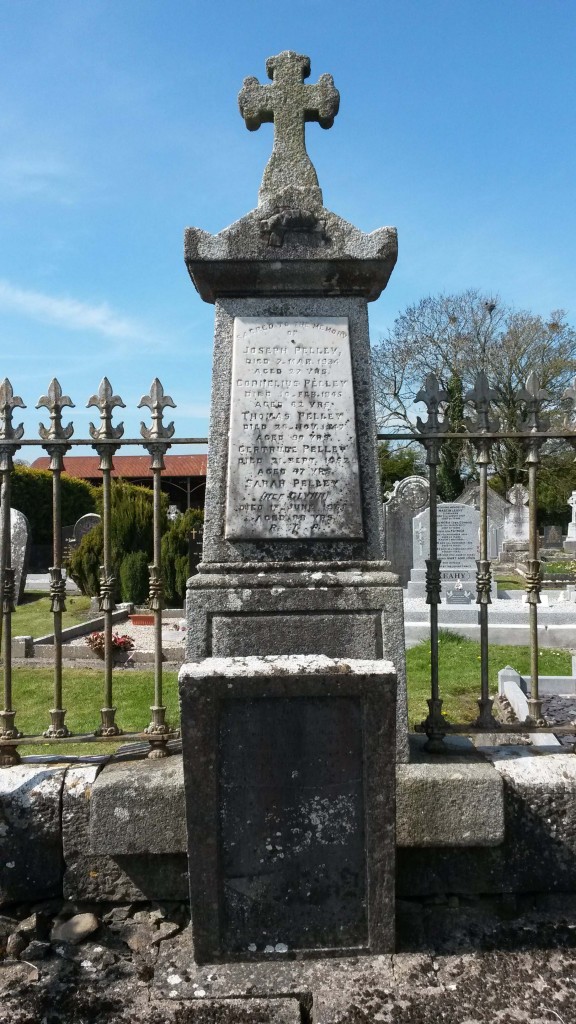 The above-mentioned Sarah Glynn was wife of Thomas Pelly of Springfield and was resident there with her husband and children and her brother-in-law Cornelius at the time of the taking of the 1901 and 1911 census of Ireland. They had at least six children, two sons, Patrick, born circa 1895 and Joseph and four daughters; Kate, Margaret, Gertrude and B. Agnes. Joseph was living at Springfield when he was killed in an accident in 1934.
On the south side of the cross a small stone panel was inserted reading 'In memory of Michael Pelley who departed this life on the 1st Jan 1843 aged 38 years'
For further details on the arms of this family refer to 'Seventeenth century' and 'Pelly' under 'Heraldry.'
Earliest surviving gravestones
Among the earliest surviving headstones and memorials at the old graveyard in Kiltormer, many of which bore heart symbols in their carved imagery, are the following;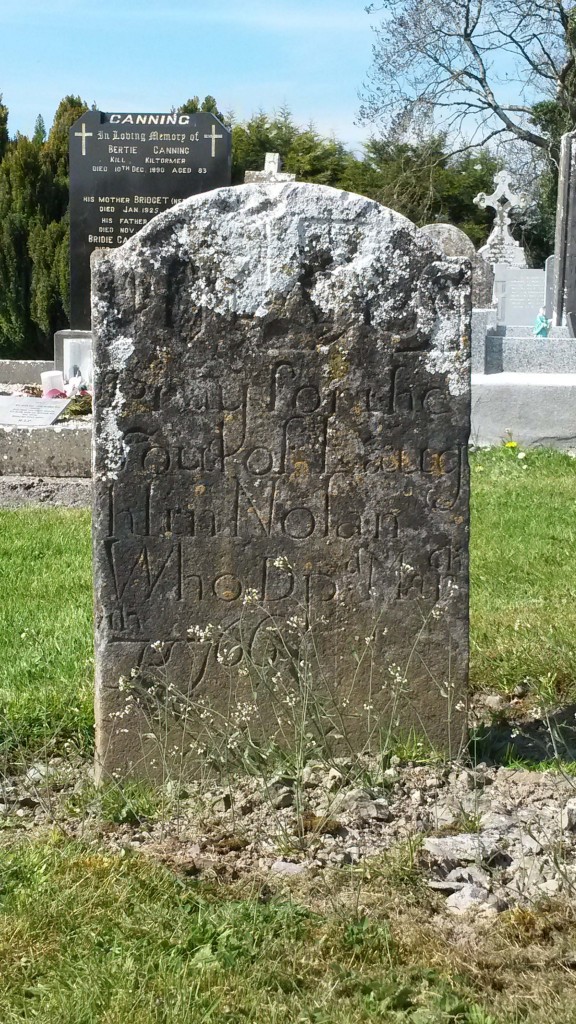 IHS 'Pray for the Soul of Laughlin Nolan Who Dpd March 7th 1766'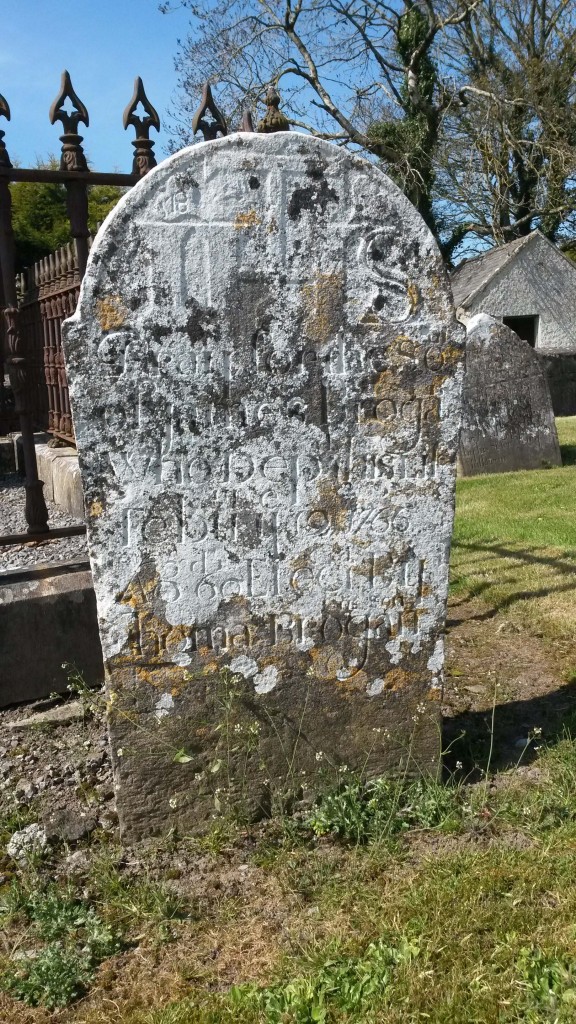 IHS 'Pray for the Soul of james Brogan who Depd this life Feb.uy ye 19 1766 Agd 60 Erectd by Thomas Brogan his son'
A date of what appears to be 1780 or a year in the 1780s was inscribed on a heart atop the headstone and may relate to the date of erection.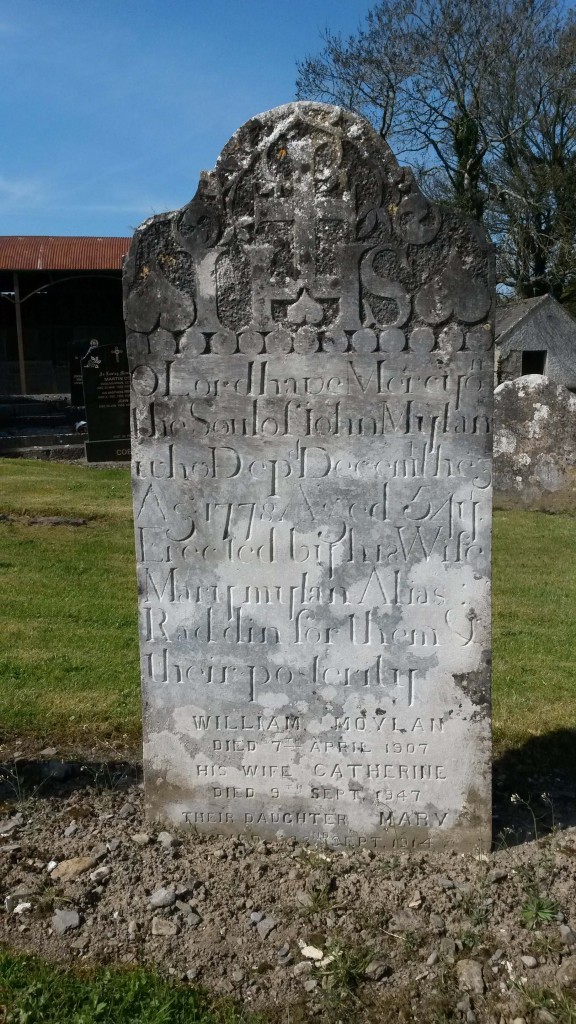 IHS 'O Lord have Mercy on the Soul of John Mylen who Depd Decemr the 3r Ag 1778 Aged 54 y.rs Erected by his Wife Mary mylan Alias: Raddin for them and their posterity'
At a later date the following names were added
'William Moylan died 7th April 1907 His wife Catherine died 9th Sept. 1947 their daughter Mary died 22nd Sept. 1914'
This stone appears to have been reset in an upright position circa 2014 and was cleaned about that same time. The inscription would appear to have carried an initial error with regard to the placing of the word 'Aged' but the headstone was nonetheless used.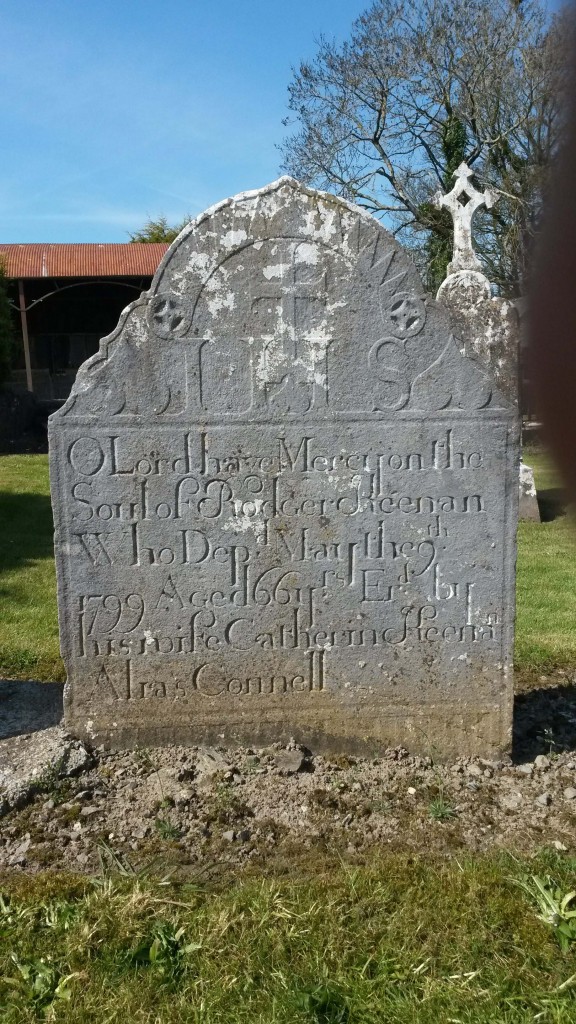 IHS 'O Lord have Mercy on the Soul of Rodger Keenan Who Dep.d May the 9.th 1799 Aged 66 y.rs Er.d by his wife Catherine Keenan Alias Connell'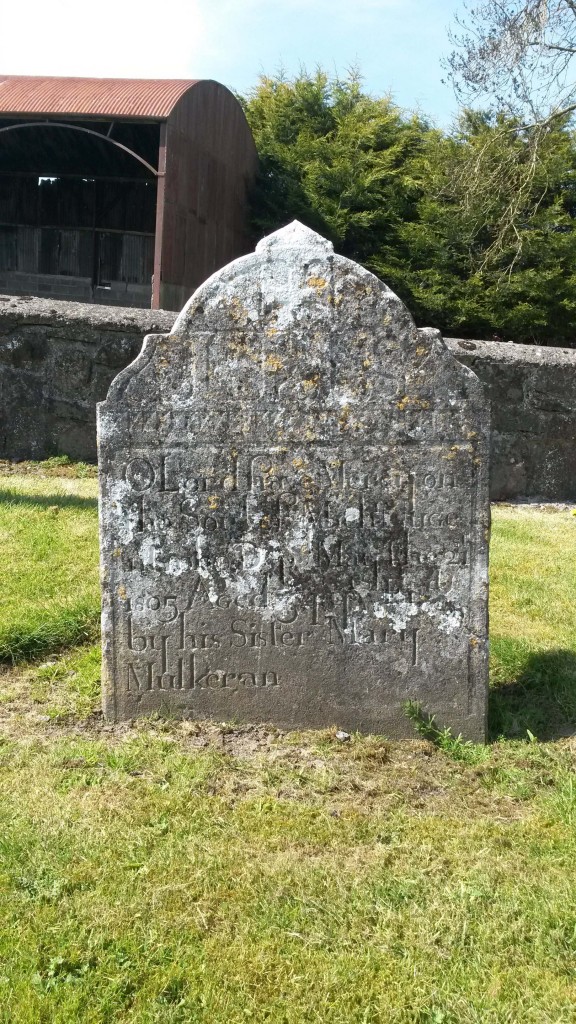 IHS 'O Lord have Mercy on the Soul of Michl Nugent who Depd May the 21st 1805 Aged 34 y.rs Er.d by his Sister Mary Mulkeran'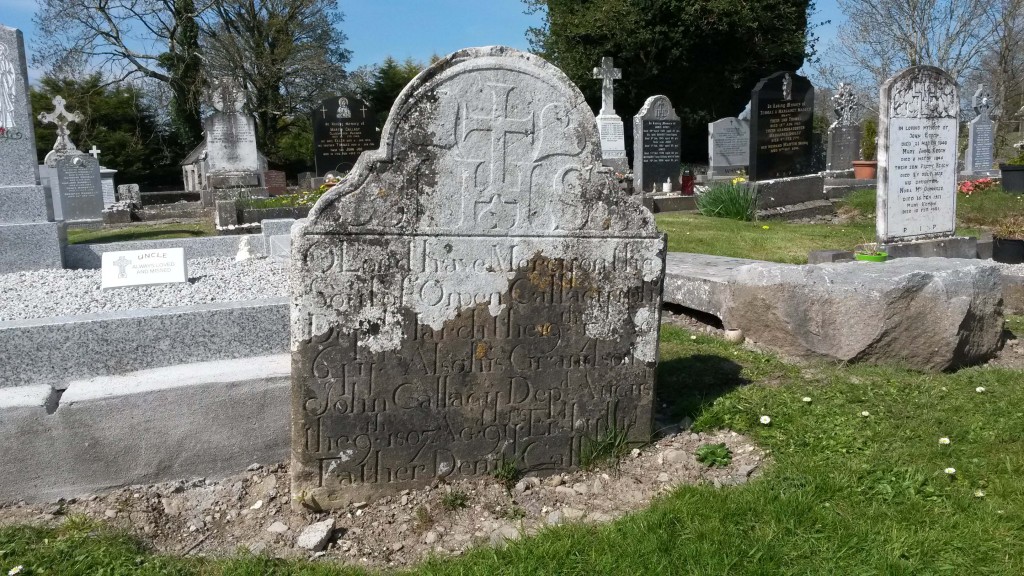 IHS 'O Lord have Mercy on the Soul of Owen Callagy who Dep.d March the 19th 1761 Agd 64 y.rs Also his Grandson John Callagy Dep.d August the 9th 1807 Ag.d 9 y.rs Er.d by his Father Denis Callagy'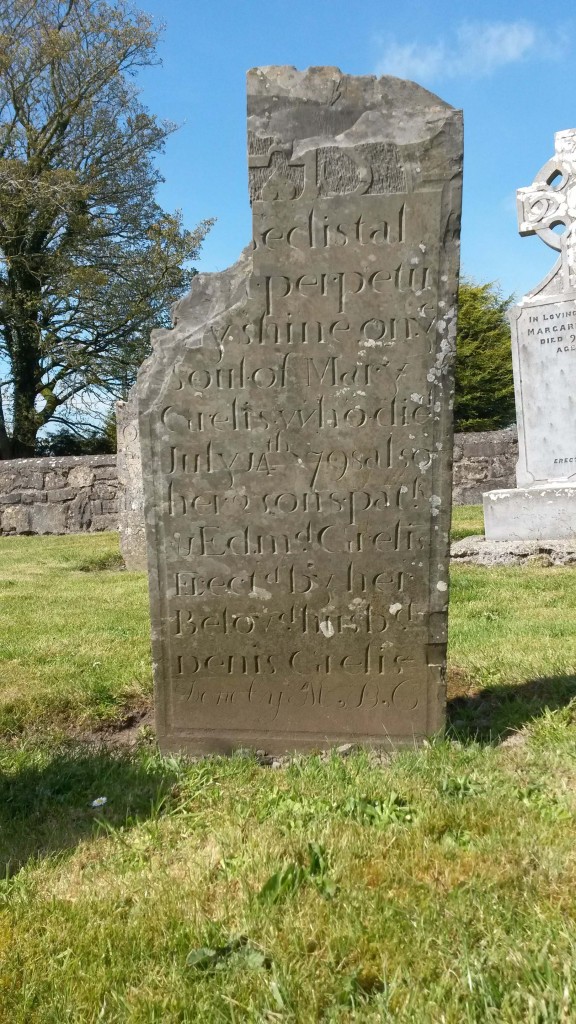 An unusually thin, broken headstone, the surviving inscription upon which reads 'IHS …edistal…perpetu…y shine on ye Soul of Mary Grelis who died July 14th 1798 also her 2 sons pat.k & Ed.m.d Grelis Erectd By her Beloved husb.d Denis Grelis'
In different, cursive, script at the base of the inscription 'Done by M.B.C.' or 'M.B.G.'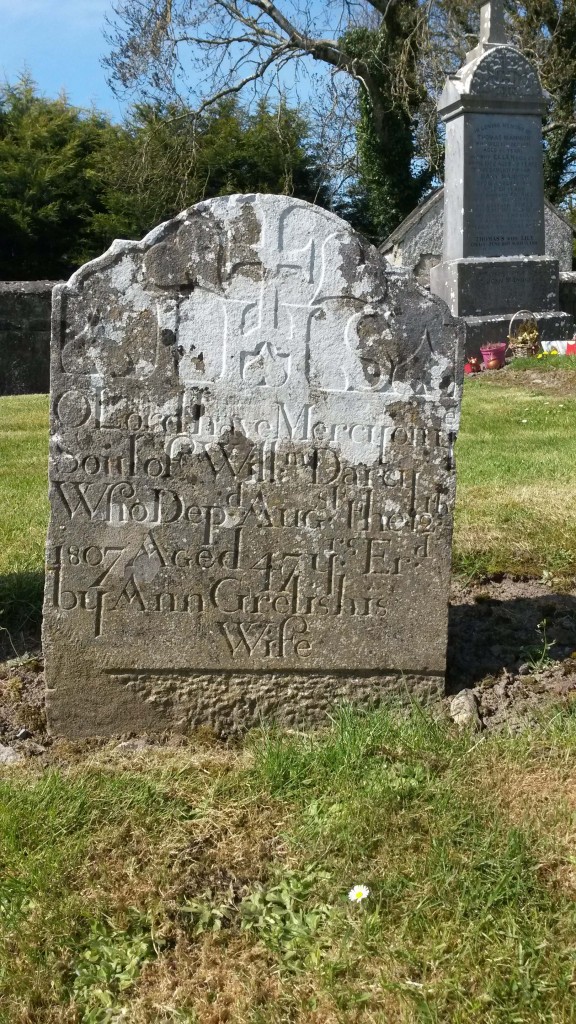 IHS 'O Lord have Mercy on ye Soul of Willm Darcy Who Dep.d Aug.st the 12th 1807 Aged 47 y.rs Er.d by Ann Grealis his Wife'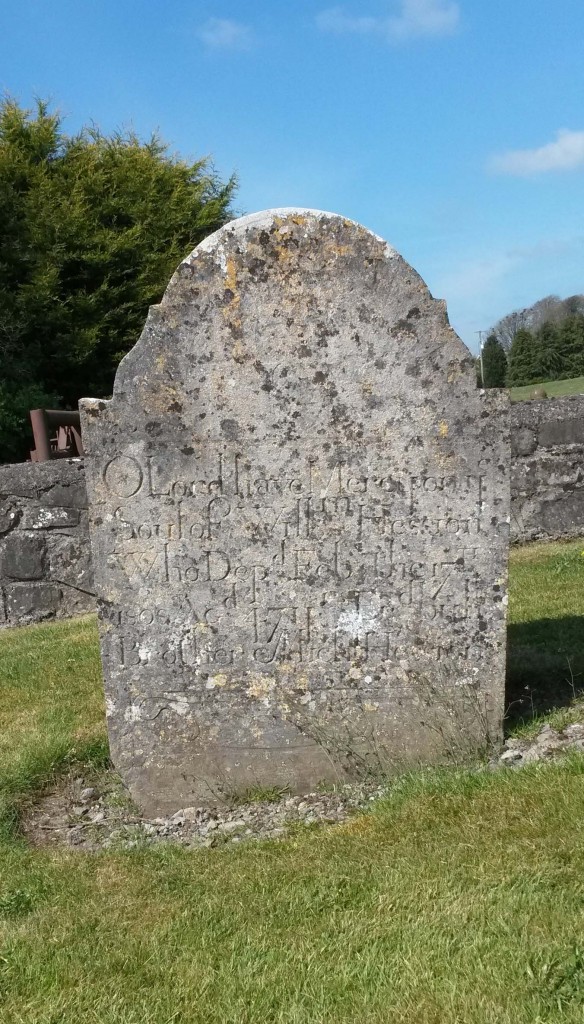 IHS 'O Lord have Mercy on ye Soul of Willm Hession Who Dep.d Feb the 17th 1808 Ag.d 47 y.rs Er.d by his Brother Michl Hession'
At the base of this stone was carved a shepherd's crook and a shears, a likely reference to the employment of William Hession.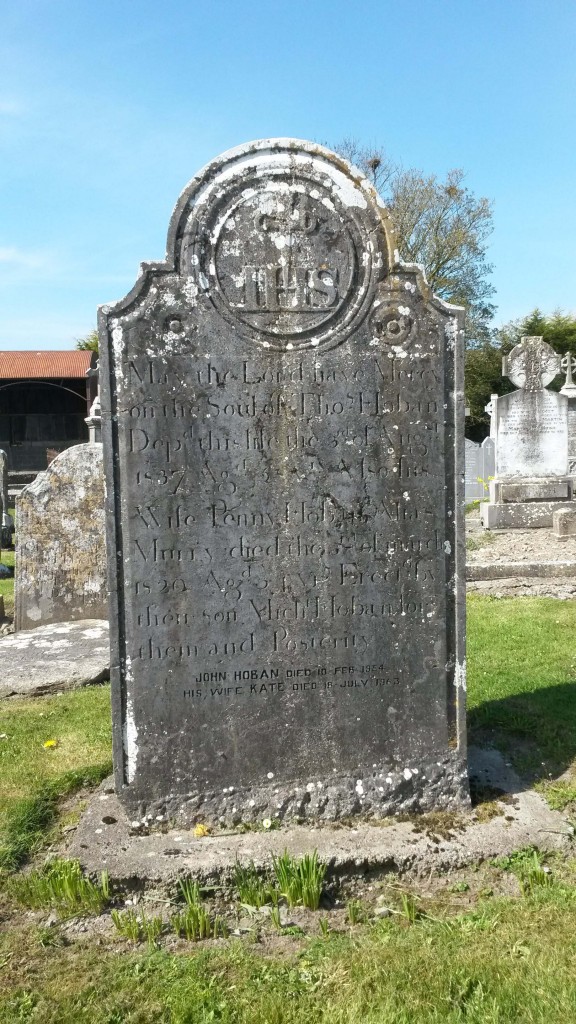 IHS 'May the Lord have Mercy on the Soul of Thos Hoban Depd this life the 3rd of Aug.st 1837 Agd 5_ y.rs Also his Wife Penny Hoban Alias Murry died the 3rd of march 1820 Ag.d 34 y.rs Erect.d by their son Michl Hoban for them and Posterity'
At a later date the following names were added
'John Hoban died 10 Feb 1954 His wife Kate died 18 July 1963'
This stone also appears to have been reset circa 2014 in a concrete base, with a section of its original uncut stone base protruding above ground level.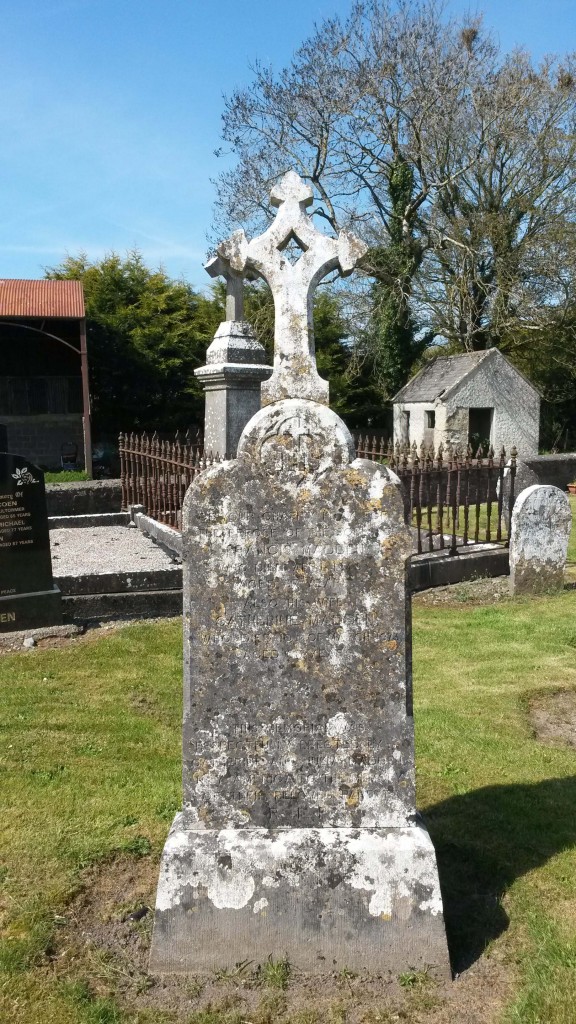 IHS 'Of your charity pray for the repose of the souls of Francis Madden who died April 1845 aged 37 years Also his wife Catherine Madden who died 10th of March 1873 aged 63 years. This memorial was respectfully erected by Catherine and Julia Madden N.Y. America to the memory of their beloved parents R.I.P.'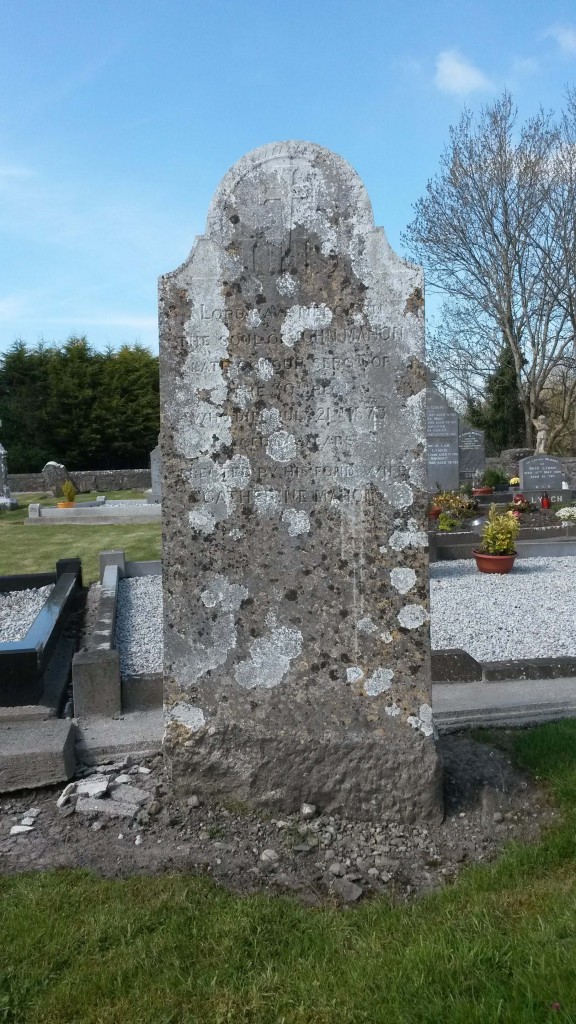 IHS 'Lord have mercy on the soul of John Mahon late colour serg.t of the 30th Reg.t who died July 21st 1873 aged 60 years. Erected by his fond wife Catherine Mahon'
This stone was reset circa 2014 with part of its original unfinished stone base evident above ground level.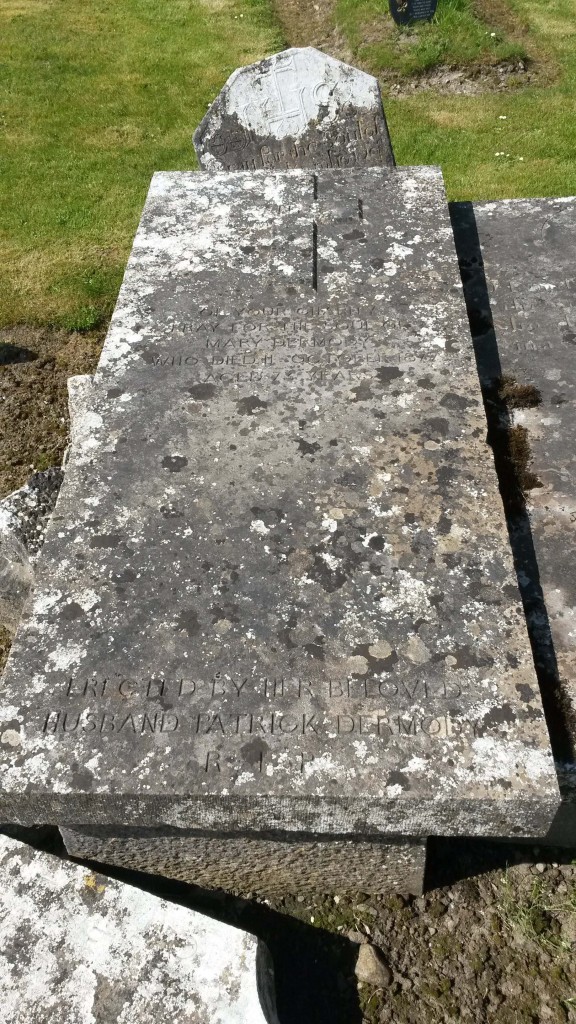 A recumbent slab bearing the inscription 'IHS (on a cross) Of your charity pray for the soul of Mary Dermody who died 11th October 1877 aged 73 years. Erected by her beloved husband Patrick Dermody R.I.P.'
For further details regarding the medieval church at Kiltormer refer to 'Kiltormer church' under 'medieval churches.'
---