© Donal G. Burke 2016
A family of the name Pelly (also given as Pilley or Pilly) was established in east Galway in the early decades of the seventeenth century, with one Thomas Pelly holding lands in the parish of Clonfert about the late 1630s. He appears to have been settled about Coolecartan (the modern townland of Coolcarta, parish of Clonfert), with his lands for the most part grouped together in that vicinity. Evidence would suggest that Thomas Pelly or Pilley, the first of the name to settle in east Galway, may have been a Protestant divine or clerk.
One of the earliest references in the seventeenth century to an individual named Pilley or Pelly occurs in 1611, when one Thomas Pilley was appointed or presented to the vacant rectory of 'Feorte' and the vicarage of 'Dromclife' by the Crown. Both ecclesiastical areas were in the diocese of Elphin but geographically separated from one another, with the latter located in County Sligo and the former, the parish of Fuerty, located south west of Athlone town. He would therefore appear to have been a clergyman or clerk of the Protestant church at a time when that church began to concentrate on appointing English or Scottish-educated clergy to Irish posts, given the previous poor interest shown by native clergy. As many parishes were unable to provide sufficient income for a clergyman in their own right and the widespread vacancies, it was not unusual for ministers to hold various posts. This individual is likely to be the same man as one Thomas Pellie or Pelly, appointed to the office of provost or praecentor (a member of the diocesan Chapter) in the diocese of Killala in September 1611 and described as 'diocesan schoolmaster' in 1615 in the same diocese.[i]
In 1615 one Thomas Pilly or Pilley was found at the Royal Visitation of the dioceses of Clonfert and Kilmacduagh to hold 'by sequestration' the dues to the Protestant church from the vicarage of Kilmackona. This vicarage appears to relate to the parish of Lusmagh, and more specifically to the modern townland of Kilmochona therein, near Cloghan Castle, in which townland are the remains of a church and associated graveyard. Pilley would appear to be withholding the profits of this vicarage despite the presence of a resident curate in the person of Donal O Cormican, but the same O Cormican at the conclusion of the Visitation was deprived of his offices and benefices by the visitators who claimed that he was really 'a mass priest' and 'altogether ignorant.' That Pilley was in a position to do so would suggest that Pilley may have had a clerical background. Such a background would not preclude an individual from holding agricultural estates. (A contemporary of Pilley, one Michael Smyth, an English born and educated Protestant cleric, who was appointed to positions in the dioceses of Elphin, Clonfert and Tuam between 1627 and 1639 and who served in the 1630s as Vicar of Killrickill and Archdeacon of Clonfert, was farming lands about the parish of Tiranascragh in 1641.)
In June of 1633 Downagh Carragh O Maddin of Graygygowne, Co. Galway, gentleman, mortgaged the half quarter of land of Graygygowne in the barony of Longford in east Galway unto Thomas Pilley 'of Clonefertt, County Gallway, cleark' for three score and six pounds sterling. The same land, located in the parish of Lickmolassy, was then redeemed out of the mortgage by John Herne of Gortnafahy, Co. Galway, gentleman 'by the appointment and direction of the said Downagh O Maddin' from Thomas Pilley 'who assigned his owne interest therein unto the said John Herne his heirs and assigns with the assent of Downagh O Maddin.'[ii] The description of Pilley as a 'cleark' would suggest that he may have held a position within the nascent Protestant Church in the west of Ireland.
The Pilleys appear to have been among the early seventeenth century settlers, many of whom were English and Protestant, who suffered persecution at the hands of the long established and disenchanted Roman Catholic landholders when the latter rose in rebellion in late 1641. Many of the settlers in County Galway fled either to Galway town or to those areas under the direct control of the Earl of Clanricarde for protection. One Raph Walmisley, who was established about Birr in the nearby King's County, made his way eventually to Clanricarde's principal seat of Portumna. In a later deposition recounting his experiences he reported that in March of 1645 he travelled to Naas in County Kildare in the company of one Mrs. Pelly of Portumna, whom he described as a 'nere kinswoman or alliance to Mr. Neve of Dublin esquire.' Thomas Pilley was deceased by the mid 1650s as his widow Susanna was directed by the Cromwellian authorities to transplant from Coolcarta in May of 1656 and although it is uncertain, she is likely to have been the relative of Mr. Neve. One Nathanael Neve was among the principal men of the city of Dublin to whom a commission from the Lord Justices of Ireland was addressed for the disarming of all Roman Catholics in 1642, which would suggest that at least this member of the Neve family was a Protestant.It is not clear from Walmisley's reference whether the Mr. Neve to whom he referred was related directly to Mrs. Pelly or to her husband. It is significant, however, that she freely associated with this Walmisley given the violent animosity between the older families in the countryside and those English, Scottish or French setters, both Protestant and those few Roman Catholic, who had arrived in the early decades of the century.
The Pellys associated with east Galway in the generation succeeding Thomas Pilley, however, appear to be Roman Catholic. Peter Pelly, a Roman Catholic and the senior-most member of the family in the mid seventeenth century, was dispossessed of what was described as his 'paternal estate' by the Cromwellians in 1653 and decreed lands amounting to two thirds of his former estate three years later. He married Mary Osbaldeston in 1673 and had by her two daughters. Following her death he married Ursula Lally, by whom he had three daughters and an only son, Hyacinth Pelly, his heir.
After the restoration of the monarchy in the person of King Charles II Peter Pelly was confirmed in possession of a sizeable estate in counties Galway, Roscommon and Clare, including eight hundred acres in the baronies of Longford and Clonmacnowen in east Galway, with lands in the parishes of Kiltormer, Killoran and Clontuskert. In 1682 he was described as seated at Ballagh, County Galway, which appears to have been the denomination of that name in the parish of Clontuskert. (Another reference described him as seated at the nearby townland of Oghil More.) Burke's 'Landed Gentry of Ireland' erroneously described Ursula Lally, widow of Peter Pelly as a daughter of Miles Burke. The error arose as Ursula Pelly alias Lally, following the death of Peter Pelly in 1690 or 1691, married one Burke of Clontuskert, who appears to have been the same Miles Burke.
His son and heir Hyacinth of Kill, County Galway married firstly Anne, daughter of Nicholas Arcedeckne of Gortnamona in Clontuskert parish by whom he had three sons and a daughter and married secondly Honoria, daughter of the nearby landowner Walter Lawrence of Lisreaghan.
Two of Hyacinth's sons, John, given in a contemporary deed as the eldest son and heir of his father, and Peter, pursued military careers on the Continent, the former in the Austrian army and the latter as a captain in the army of the Elector of Bavaria. Both retained landed interests in Ireland and both were described in contemporary documents as resident at Kill, Co. Galway. In 1764 John converted to Protestantism but Peter died a Roman Catholic in 1792 and was buried in the grounds of Portumna priory. Both John and Peter died before their brother Thomas, described in 'Burke's Landed Gentry of Ireland' as 'of Springfield, County Galway,' a reference to the townland of that name in the parish of Killoran in east Galway.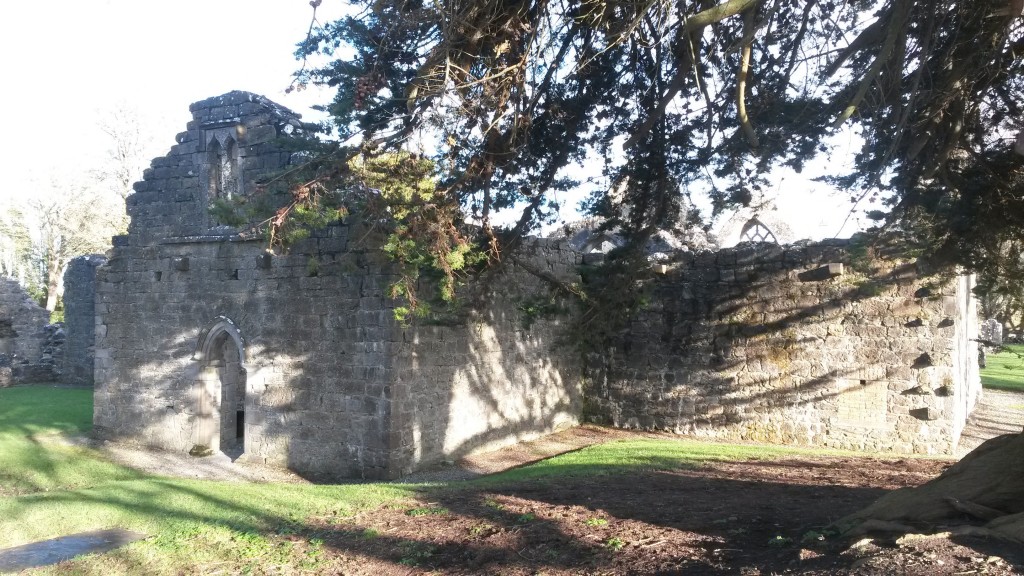 Portumna Priory, County Galway, from the south west, in the sacristy of which Captain Peter Pelly was buried.
A recumbant slab was placed over the grave of Captain Peter Pelly, who died in 1792, 'sometime Captain in the service of His Serene Highness the Elector of Bavaria.' The slab, placed there by his sister Anne Geoghegan alias Pelly, carried a florid heraldic achievement carved above the memorial inscription.
The arms were shown impaled, with that of the armiger's paternal arms on the dexter side and commonly those of the armiger's wife's family on the sinister. In this case the dexter half of the shield shows what appears to have been a slightly undulating fess between three birds displayed, two in chief and one in base. On the sinister side was shown three chevronels and above the wreath the erased head of a dragon or wyvern, discernible from its beaked profile and distinctive tongue. Below the shield a scroll carried the motto 'sola virtus nobilitat.'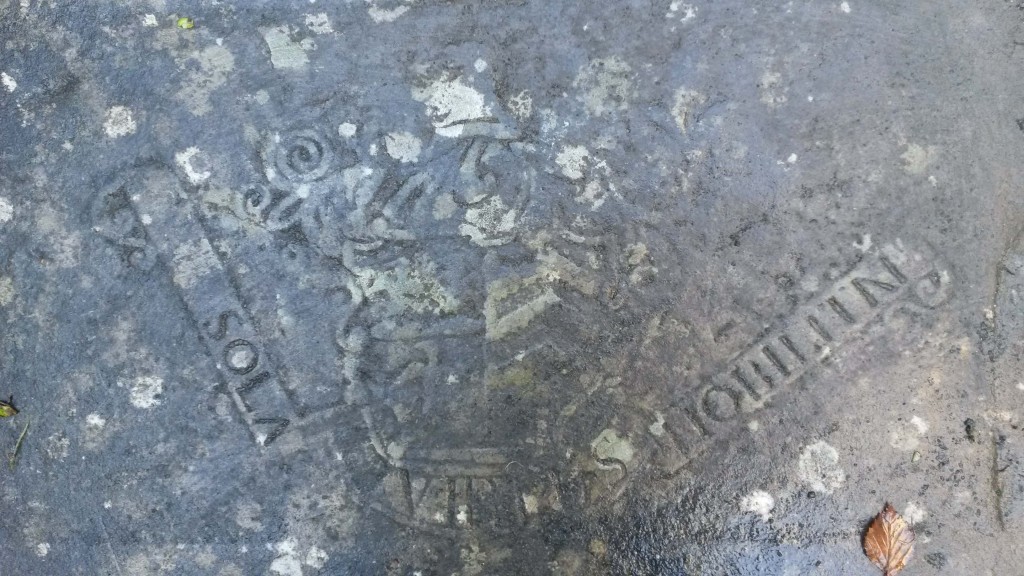 The arms carved upon the Pelly grave-slab at Portumna Priory.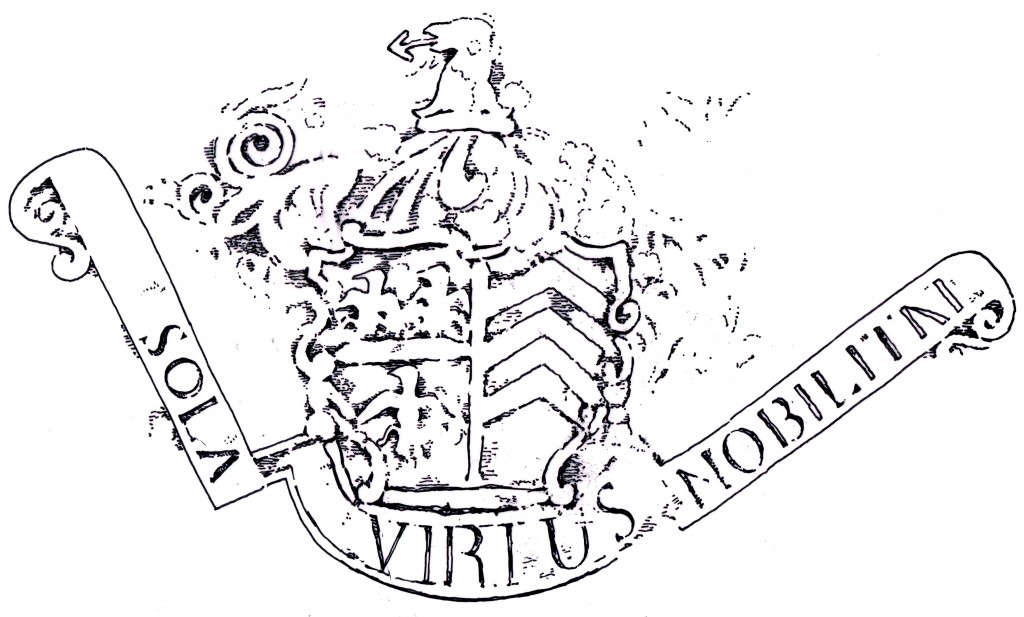 The author's impression of the partially worn arms from the grave-slab of Captain Peter Pelly, located in the sacristy of Portumna Priory.
The impaled arms indicate that the armiger was married but it is uncertain if Peter Pelly was married. It would appear more likely that the arms are more correctly those of his father Hyacinth, who married Anne, daughter of Nicholas Arcedeckne of Gortnamona. While Hyacinth married twice, Anne was his first wife and mother of Peter. The Arcedeckne family bore for arms 'Argent three chevronels Sable' which are in all likelihood the arms shown on the sinister side of the achievement.
Connor (also known as Cornelius) Pelly, younger son of Thomas of Springfield, was described in 'Burke's Landed Gentry of Ireland' as 'of Kill, County Galway' and married to Mary, daughter of Michael Kelly of Kellysgrove near Ballinasloe, by whom he had eight sons and two daughters.[iii] He was, however, more correctly Connor Pelly of Gortymadden, wherein he resided and from where he rented a sizeable farm across a number of townlands in the parishes of Abbeygormacan and Kiltormer prior to his death in February of 1863.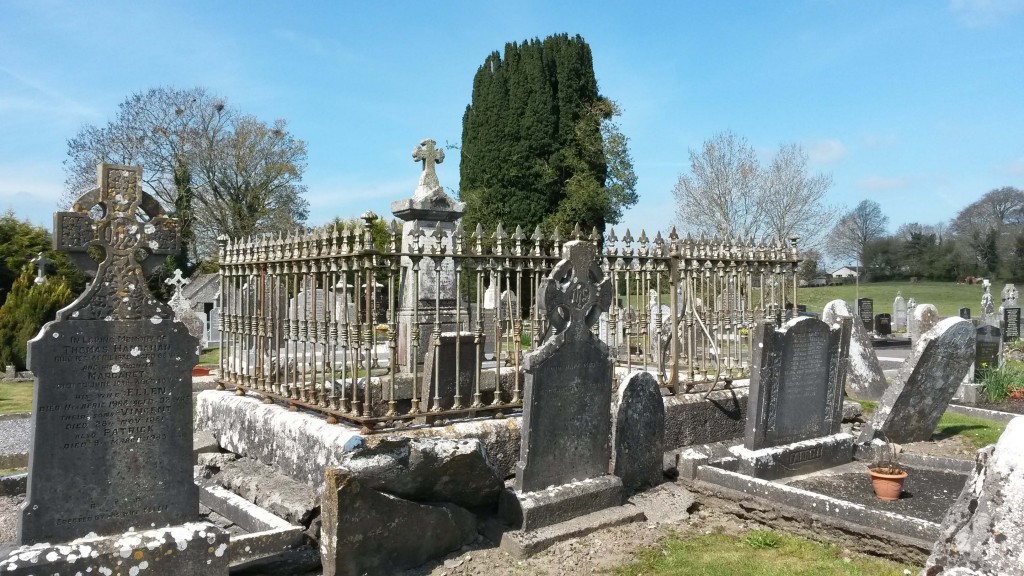 The burial place of Connor Pelly and his wife Mary Pelly alias Kelly of Gortymadden, enclosed within iron railings at Kiltormer graveyard in east Galway. Connor Pelly was buried therein, his headstone bearing his name as Cornelius Pelley. Kiltormer was described as the burial place of the family in the obituary of Connor Pelly's son Dr. James Pelly of Eyrecourt who died at the age of thirty-three years in January of 1878 after contracting fever from a patient three weeks before his death. Among those of the Pelly family buried in the same burial plot were various members of the name resident at Springfield in the parish of Killoran, County Galway in the early twentieth century.
Michael Pelly of Hearnesbrook, who died at his residence in 1891 at the age of sixty-six years, was the second son of Connor Pelly but, as his elder brother Thomas was a Roman Catholic priest, his descendants would provide the mainline of the family descended from Connor of Gortymadden. Hyacinth Albert, born in August 1875, was the youngest son of the twenty children of Michael Pelly and his wife Honoria Guinan of Hearnsbrook. He pursued at career in banking and was serving at the Abbeyleix branch of the Hibernian Bank in 1907 at his marriage to Charity Maria O Ferral, daughter of James Mathews of Killeary House, Slane, County Meath and in 1911 he was working as a bank manager at the Portumna branch of the Hibernian Bank and living at The Fair Green, Portumna with his wife and two eldest children. After four years spent as a bank inspector he was appointed manager of the Cork branch of the Hibernian Bank. He retired in 1940 and thereafter resided in Dublin. His wife Charity or Cherrie died in 1952 at their residence at Marlyn Park, Ballsbridge, survived by her husband and her two sons and two daughters. Six years later Hyacinth Albert Pelly died in a nursing home in Dun Laoghaire, County Dublin.
Cornelius James Pelly, born in 1908, eldest son of Hyacinth Albert Pelly had a distinguished career in the Indian Civil Service and as a diplomat, being created a member of the Order of the British Empire in 1944 and a Companion of the Order of St. Michael and St. George in 1952. In 1940, while serving as a Political Officer at Sharjah Fort in Arabia, and described as 'of a family out of Galway', he was confirmed arms by the office of the Ulster King of Arms.[iv]
A confirmation of arms is issued by the Chief Herald of Ireland where an applicant can show sufficient proof that particular arms have been used by three generations or for at least one hundred years. The arms confirmed unto Cornelius James Pelly reflect the untinctured eighteenth century arms shown on the memorial slab at Portumna of his predecessor Captain Peter Pelly and comprised a shield 'Argent, a fess Gules between three eaglets displayed Sable, two in chief and one in base and on a wreath of the colours, for crest, a dragons head langued Vert and for motto 'sola virtus nobilitat.'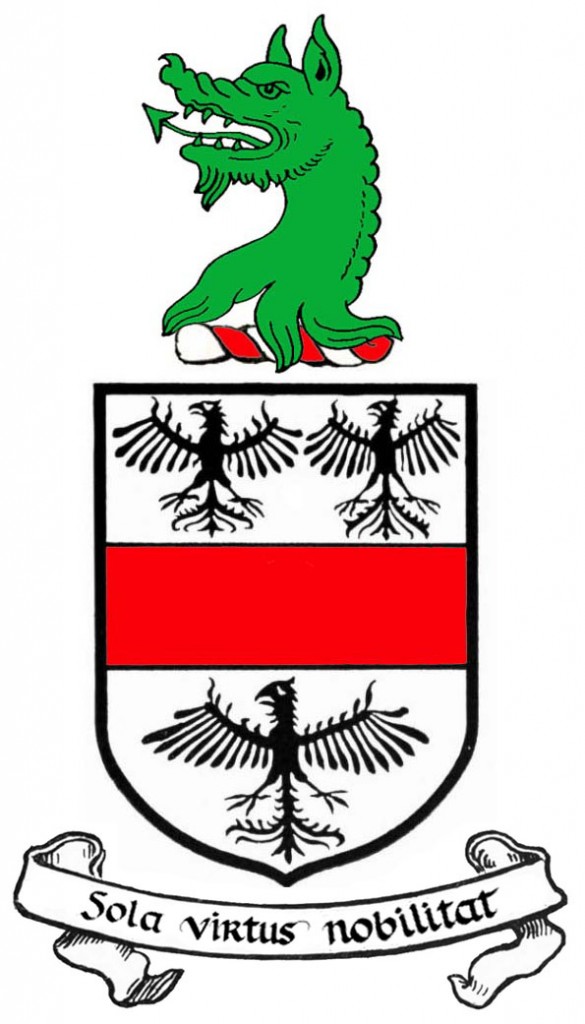 The arms confirmed unto Cornelius James Pelly, Political Officer at Sharjah Fort in Arabia, eldest son of Hyacinth Albert Pelly of City of Dublin 'and of a family out of Galway,' 21st December 1940. N.L.I., Dublin, G.O. Ms. 111F, Folio 231.
The same blazon 'Argent, a fess Gules between three eaglets (a number of eagles when depicted together being referred to as 'eaglets' in heraldic terminology) displayed Sable' was attributed to one Roger Ledye in an English heraldic Roll of Arms, known as Willement's Roll, dated circa 1395. The same also composed the shield of one Rychard Ledes in a late Tudor book of arms, referred to as Harleian Manuscript No. 6163, which would suggest that both may have been believed to have been members of the same family. Lede's shield bore a crescent for difference, to differentiate his arms from those of other branches of his name. No crest was given for Roger Ledye or Rychard Ledes in either source. Similarly, the same shield was given as part of the arms of Englebert Leedes of North Milford in Yorkshire, Esquire, born in 1638, eldest son of Robert Leedes of Moscroft, near Beverley in Yorkshire, who died circa 1655, son of Thomas of Moscroft in the 1666 heraldic Visitation of Yorkshire undertaken by William Dugdale, Norroy King of Arms.
The Pelly arms, as confirmed in the mid twentieth century, however, bore a striking resemblance to the arms of another Ledye or Lyde family. The arms of James, third son of James Lyde of London, gentleman (living in 1634), son of Henry of Westminster in Middlesex, son of George Lyde of Netherton in Worcestershire, appears in the 1634 Visitation of London. While untinctured in the Visitation records, the Lyde arms carried a fess between three eaglets displayed upon a field of ermine or erminois. Most notably, the crest of this James Lyde appears to have been a dragon's head similar to that which occurs in the later representations of the Pelly arms.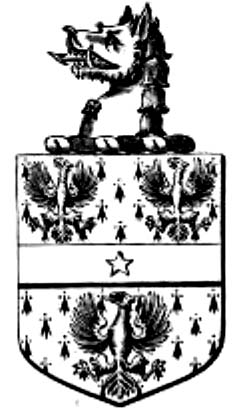 The untinctured and untricked arms of James, third son of James Lyde of London, gentleman, from the 1634 Visitation of London. The fess carried a mullet as a mark of cadency to indicate the position in the immediate family of James as the third son. 
Other than the shield and the occurance of a dragon's head crest in the arms of Lyde of London, there would appear to be no other recorded direct connection between the Pelly family of east Galway and a Ledye or Ledes family.
John Guillam, Pursuivant of Arms, in his 1610 publication 'A Display of Heraldrie,' wrote of the same arms that 'he beareth Argent a fess Gules between three eagles displayed Sable by the name of Leeds and is the Coat-Armour of Mr. Edward Leeds of Lincoln's Inn, Middlesex, only son surviving of Mr. Anthony Leeds of Croxton in Cambridgeshire who is son and heir of Edward Leeds of the said place, Esq., descended from the Family of the Leeds, anciently of Leeds Town and of Leeds Castle in Kynt, from which place this family took its name.'[v]
A senior member of this latter name in the late nineteenth century appears to have been Sir George Augustus Leeds, 4th baronet, of Croxton Park in Cambridgeshire. He succeeded his father in 1876 and bore for arms 'Argent a fess Gules between three eaglets displayed Sable, a bordure wavy of the second.' In addition to the variation of the bordure, his arms also differed from that of the Pellys in his crest of 'a staff raguly fesseways Vert thereon a cock Gules, wings expanded, combed, wattled, beaked and legged Or, debruised by a bendlet sinister wavy Ermine.' For motto he bore 'Vigilate.'
An early eighteenth century seal, likely that of Hyacinth Pilley of Kill
It is likely that another but earlier eighteenth century example of the arms borne by the Pellys of east Galway survives among the family papers of the Eyre family of Eyreville, County Galway. However, this example bears a different fess than that confirmed later upon members of the family in the mid twentieth century. Hyacinth Pelly, who appears to have been that same individual married to Anne Arcedeckne and who spelled his surname 'Pilley', appended his signature as one of two witnesses to an agreement dated 1722 between Margaret Kelly alias Cahan, widow of Hugh Kelly of Co. Sligo and Samuel Eyre of Newtown, Co. Galway relating to lands in Kiltormer.[vi] (The other witness being Edmond Fallon.) Margaret made her mark upon the same deed and appended thereto a seal. The seal, however, was different to the non-armorial seal used by her husband on at least two surviving prior legal agreements over the previous forty years and given its armorial composition it appears likely that, on the day, she used the seal of Hyacinth Pilley.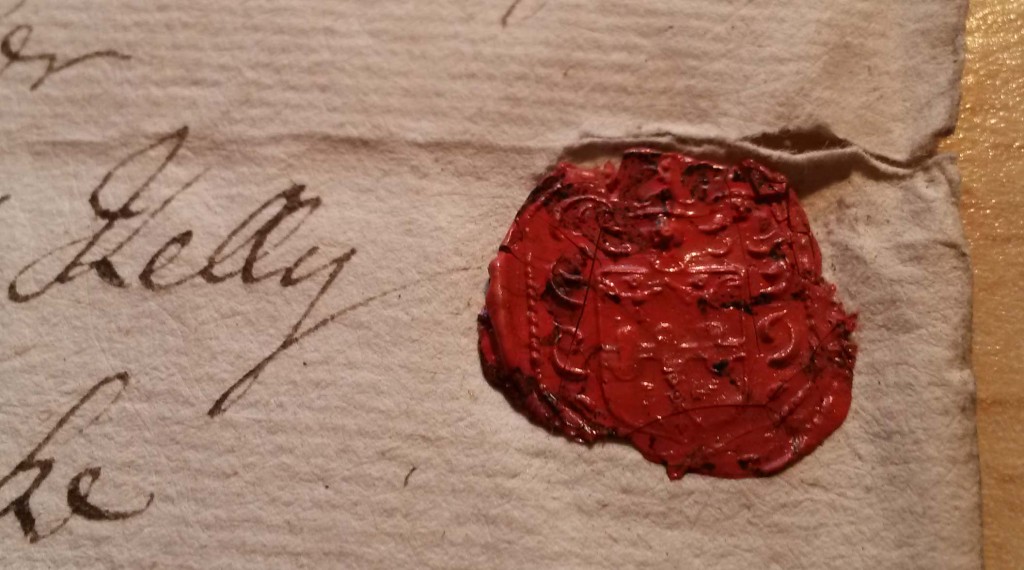 Seal utilised by Margaret Kelly alias Cahan, widow of Hugh Kelly, in a 1722 deed relating to lands at Kiltormer to which Hyacinth Pilley was one of two witnesses present.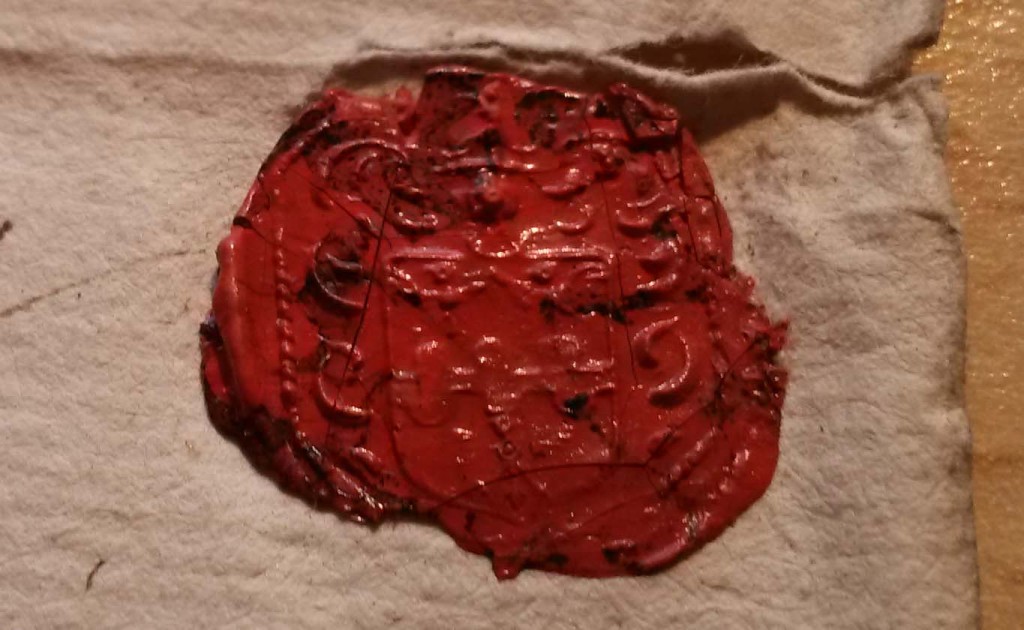 Enlarged image of seal utilised by Margaret, widow of Hugh Kelly, in a 1722 deed relating to lands at Kiltormer.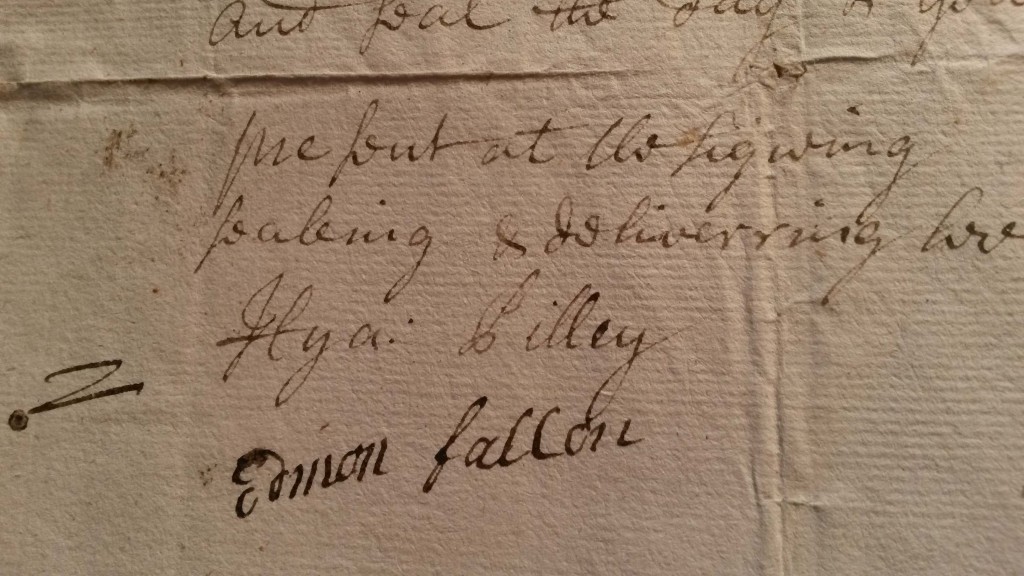 Signature of Hyacinth Pilley and Edmond Fallon, witnesses to the 1722 indenture involving Margaret Kelly and Samuel Eyre.
The Eyreville estate papers provide copious examples of individuals in the eighteenth century utilising the seals of others, for the most part those of other parties to the same deed, for expediency. The similarity of the arms on the seal used by Margaret Kelly to those on the 1792 Pelly grave-slab at Portumna would point to their being the arms of the one family. The fess on the seal is defined in a finer manner than that on the grave-slab and is depicted as a fess wavy or undy rather than a simple fess. The eaglets are depicted in a manner similar to those at Portumna but the crest, although unclear, appears more akin to an open-beaked bird than a dragon, with no tongue evident. A comparison of the seal's fess with the fess carved upon the Portumna grave-slab, while taking into account the somewhat primitive carving of the latter, the contracted nature at either end of the grave-slab's fess and its slightly wavy form, would suggest the likelihood that the original intention of the sculptor may have been to represent a fess wavy as occurs on the seal.
For further details relating to this family, refer to 'Pelly' under 'families.'
---
[i] Calendar of the Patent Rolls of Chancery of Ireland, 9 James I, p. 212, XXIII, 'Presentation of Thomas Pilley to Feorte rect. and Dromclife vic. vacant, and in the King's gift, 'pleno jure devoluto', by lapse or otherwise. 25 Sept. 9th.' By a deed dated 9th August 1605 John, Bishop of Elphin demised unto Henry Lynch of Galway, gent. lands in County Roscommon that included 'the town and lands of Feortie' and lands in County Sligo that included 'Drumclive.' (Calendar of the Patent Rolls of Chancery of Ireland, 12 James I, p. 277, CVI.); Cotton, H., Fasti Ecclesiae Hibernicae, the succession of the prelates and members of the Cathedral bodies in Ireland, Vol. IV, The province of Connaught, Dublin, Hodges and Smith, 1850, p. 83. He is given as Diocesan Schoolmaster by the same author in 'Fasti Ecclesiae Hibernicae, Illustrations, Corrections and Additions, Vol. V, Dublin, Hodges, Smith & Co., 1860, p. 281. The identity of this individual is uncertain, but it is noteworthy that one Thomas son of Peter Pilley of Towthorpe, Yorkshire, a scholar at Gonville and Caius College in England, qualified with a Masters Degree in Arts in 1605. (J. Venn, Biographical History of Gonville and Caius College, 1349-1897, Cambridge University Press, 1897, p. 167.)
[ii] James Hardiman Library, University College Galway, Special Collections, Hearne of Hearnesbrook Papers, LE26/20. The Books of Survey and Distribution give Donnogh mcDermot O Maddin as proprietor of the half quarter of Graigegowen in the parish of Lickmolassy in 1641.
[iii] Pine, L.G. (ed.), Burke's Genealogical and Heraldic History of the Landed Gentry of Ireland, 4th edition, London, Burke's Peerage Ltd., 1958, pp. 566-7; The Kelly of Kellysgrove pedigree in NLI, Dublin, G.O., Ms. 205 (Will Pedigrees, Vol. 3, pp. 278-9) does not give any Michael Kelly in that family's pedigree.
[iv] National Library of Ireland, G.O., Ms. 111f. folio 231. 'Copy of confirmation of arms to Cornelius James Pelly, Political Officer at Sharjah Fort in Arabia, eldest son of Hyacinth Albert Pelly of City of Dublin and of a family out of Galway, December 21st 1940.'
[v] Guillim, J., A Display of Heraldrie, 6th edition, London, R. & J. Bondwiche and R. Wilkin and J. Walthoe and Thomas Ward, 1724, Chapter XX, p. 213.
[vi] Estate papers of the Eyre family of Eyreville, Co. Galway, in possession of author. Indenture made the ninth day of November 1722 between Margaret Kelly of Ballioneaghane in the County of Sligoe, widdow, of the one part and Samuel Eyre of Newtown in the County of Gallway, Esqr. of the other parte.'