© Donal G. Burke 2013
H.E. Lieutenant General Sir Charles Henry Gairdner KCMG, KCVO, CB, CBE, of The Hare Island, Athlone, County Westmeath and Government House, Perth, Western Australia, one-time Governor of Western Australia and thereafter Governor of Tasmania from 1963 to 1968, son of Charles Arthur Gairdner of Lisbeg House in east Galway, bore for arms 'Argent, on a fret Gules eight hearts Or and, in every interstice, a rose Or. For crest, above a helm borne affrontee, he bore 'a dove holding in its beak an olive branch Proper and for motto; 'Jovi confido.'[i]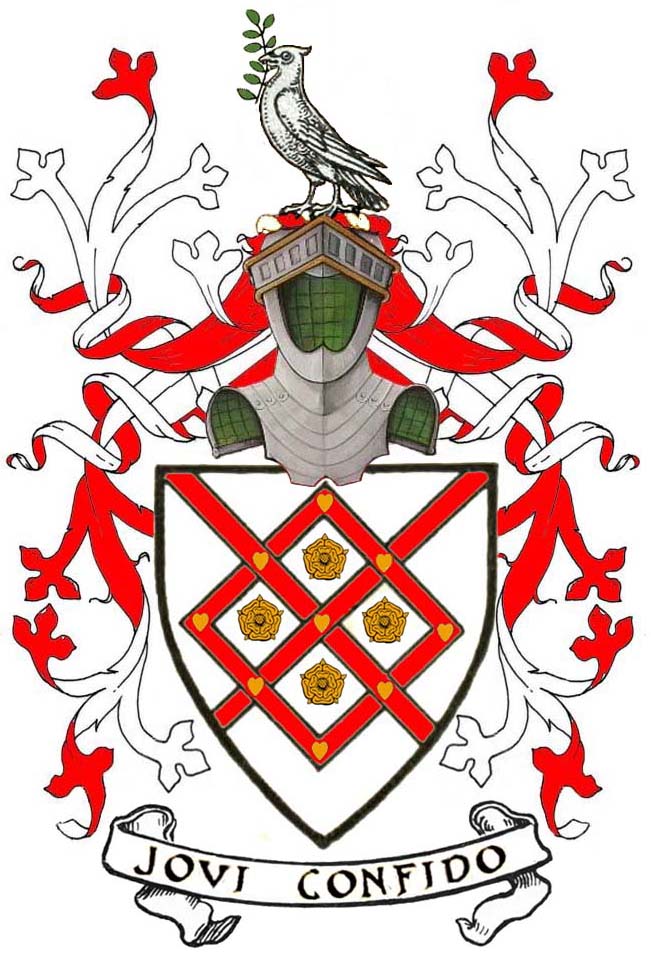 The arms of H.E. Lt.-Gen. Sir Charles Gairdner, K.C.M.G., K.C.V.O., C.B., C.B.E. after 'Burke's Landed Gentry of Ireland.' The achievement displayed therein omitted the insignia of the various orders of knighthood borne by the armiger.
Sir Charles Henry Gairdner, born in March 1898, was the second but eldest surviving son of the three sons and two daughters of Charles Arthur Gairdner of Lisbeg House, his eldest brother, John Allen Gairdner, dying as an infant in 1896.[ii] Following a distinguished military career and his retirement from office in Tasmania he settled at Perth and died in February 1983 in Australia.
This family came to Ireland in the person of John Gairdner, fourth son of Charles Dalrymple Gairdner of Auchans House, near Kilmarnock in Ayrshire, Scotland.[iii] John Gairdner was born in 1825 and came to Ireland in the mid nineteenth century, serving as a land steward for Allan Pollok of Lismanny, a Scotsman who acquired large estates in east Galway of financially distressed landholders through the Encumbered Estates Court in the wake of the Great Famine.[iv]  Gairdner's family originated in Ayrshire and were descended from one John Gairdner, born in 1720, eldest son of one Robert Gairdner, a merchant of Ayr, Scotland who appears to have flourished about the beginning of the eighteenth century.[v]
John Gairdner was present in March of 1856 at the ceremony to mark the start of construction of a new mansion at Lismanny by Pollok for John Algie, his estate manager and which would serve as Pollock's principal seat when in Ireland. Three years later, in 1859, Gairdner married Pollok's nineteen-year old eldest daughter Barbara Thompson Pollok.
Pollok let several principal farms that formed the Lismanny estate to tenants and let a large farm, composed of approximately one thousand five hundred acres located about the townlands of Coolcarta and Lisbeg in the parish of Clonfert, to John Gairdner.[vi] Gairdner, his wife and their ten children came to reside at Lisbeg, in a house built by Allan Pollok, described in the mid nineteenth century as 'a handsome villa', 'one of the neatest buildings of the kind in the west of Ireland.'[vii] The couple had ten children, the eldest of whom was Charles Arthur Gairdner of Lisbeg House, born in 1865, who married Johanna Theodora, daughter of Hendrik Bregsma of The Hague, Holland.[viii] This Charles Arthur was described as 'an Anglo-Irish merchant' and his second son Charles Henry, later Sir Charles Henry Gairdner, was born in the Dutch East Indies in 1898.[ix]
Charges common to various arms
The arms of Sir Charles Henry Gairdner share similar compositional elements with those of other families of the name Gardner, those being the roses, hearts and fretty pattern. In the mid twentieth century, one Eric Gardner, born in 1892, late Deputy General Manager in Bombay of the Baroda and Central Indian Railway, a position from which he retired in 1947. This Eric Gardner was son of John Gardner of Trenton, Ballsbridge in Dublin City, who died in 1926 and great grandson of John Gardner of Ballymoney, County Antrim, of a family of English origin established in Ireland since the seventeenth century. He bore for arms 'Gules, fretty and six roses, three, two and one Argent, on a chief Argent three hearts Azure.' He bore for crest, however, a gryphon's head erased Vert, charged with a fret Or and for motto 'in virtute et fortuna.'[x]
Another individual of the name Gardner in the twentieth century, one Major Laurie Gardner of Ballina, County Mayo, born in 1914, son of Sir Ernest Gardner, Knight Bachelor, of Spencers, Maidenhead, Berkshire in England bore for arms 'Argent, on a fess between two griffin's heads erased Sable, a bugle-horn stringed between two roses Or.' The rose again appear in his crest, given as 'in front of a rock, thereon a dolphin embowed Proper, two roses Or. He bore for motto 'Nec invideo.[xi]
---