© Donal G. Burke 2013
The family of Moore of Cloghan castle, parish of Lusmagh, once part of County Galway and from about the mid seventeenth century part of King's County or County Offaly, descend from John More or Moore, who was active in the service of the English Elizabethan administration in Ireland at the end of the sixteenth century.
Descended from the Anglo-Norman Mores or Moores of Barmeath, near Drogheda in County Louth, John Moore was the younger brother of Patrick Moore of Carblagh, Co. Meath and second son of Bartholomew Moore who was living at Athcarne about 1550, the second son of Richard More of Barmeath in County Louth, who succeeded to the Barmeath estate after the death of his elder brother Thomas about 1534. The Barmeath property remained for some time thereafter in the line of Edward Moore, the elder brother of Bartholomew of Athcarne.[i]
John More
In the early 1580s John Moore served among the horsemen of Sir Nicholas Malby, Colonel or Governor of Connacht and Thomond, and acquired lands in Roscommon.[ii] In 1581 he was appointed to the office of Clerk of the pleas of the Crown in the Province of Connacht and Thomond, an office he held until at least 1596. In that year two Elizabethan officials were commissioned to administer the Oath of Supremacy to both Gerald Dillon and John Moore, Clerks of the Crown, which they had previously refused to take. Dillon acquiesced but Moore, a Roman Catholic' 'although on several occasions admonished, peremptorily refused to take the oath required.'[iii] In the 1585 Composition of Connacht he was described as seated at Cloonbigny in the Roscommon parish of Taughmaconnell.[iv]
More married Lady Mary Burke, daughter of Richard 'Sassanach', 2nd Earl of Clanricarde. Her first husband, Sir Brian O Rourke, was beheaded by the Crown in 1591 and by her second marriage More came to be intimately connected with the politics of the Clanricarde lordship. More would go on to found a family that would, like the O Maddens and Burkes, be inextricably linked to O Madden's country and east Galway.
Internal rivalries within the ruling house of Clanricarde were acrimonious as Ulick and John Burke, sons of the 2nd Earl by different mothers, contested the inheritance from a young age and were at odds with the English administration of the province on various occasions. More's future wife, Mary Burke, both as a sister and half sister of the rebellious Burkes and then wife of the rebel O Rourke was embroiled in the conflicts and at one point escaped from loyalist custody in the town of Galway to join her brother John, then at war with the Crown.[v] Her five years old son by O Rourke was killed when English soldiers out of Galway attacked an encampment of rebels in 1581[vi] and at one stage a marriage was being considered for the same Mary Burke to the rebel Sir John Fitzgerald of Desmond, despite the fact that both were married to other people at the time, in an attempt to unify some of the principal rebels of Connacht and Munster.[vii]
The rivalry over the succession to the Clanricarde lands and title was intense between Mary's brothers Ulick and John following the death of Mary Burke's father, the 2nd Earl, in 1582. The resolution settled upon by the English administration, whereby Ulick was recognised as the 3rd Earl of Clanricarde and John being granted certain lands and the lesser title of Baron of Leitrim in South East Galway failed to resolve the rivalry. Within a year Ulick, to consolidate his position, had his uncle Redmond na scuab Burke of Clontuskert and Redmond the illegitimate son of Bishop Roland Burke invite his brother John to a meeting with them,[viii] where he and a number of his associates were fallen upon and murdered by the Earl's men. Mary Burke at this time blamed Ulick for the murder and charged him with such before the English administration.[ix] She, in turn, was accused, in all likelihood by Ulick, the new Earl of Clanricarde, of incest.[x]
John Moore's own relationship with the new earl was also fraught with tension at times, as was that of his wife the Earl's own sister. Despite this, by as early as 1587, John Moore, gentleman, held the castle of Meelick on the River Shannon of the 3rd Earl of Clanricarde, being given as 'of Meelick' in a legal dispute with the Protestant Bishop of Kilmacdaugh at that time.[xi]
The sons of the murdered Baron of Leitrim, led by the most senior, Redmond Burke, made common cause with the Crown's enemies Hugh O Neill and Hugh O Donnell and remained at strife with their uncle the Earl of Clanricarde throughout this period. John Moore's loyalty appears to have been in question for a time, as he and his wife Lady Mary, harboured her nephew Redmond, son of the murdered Baron of Leitrim, at Meelick in 1599. Redmond and his troops were retreating before the Earls forces and withdrew into Sil Anmchadha and towards Meelick, where they found temporary refuge facilitated by the Moores. In a letter sent in August of that year to the Lord Deputy Essex from his castle of Leitrim, the Earl described his having pursued them to Meelick 'to the fort, which was fortified by them on the Shannon, in an island, which ten men might keep against a thousand. And upon my coming, my son,[xii]with certain of our companies, entered into the island in cots and, upon his entrance where the fort stood, the ward, with the rest of the traitors which fled thither for refuge when they were broken, made all the shift they could to fly away, as well in their cots as by swimming, having left a prey behind them in the island. And certain of themselves lost, and the fort destroyed by us, understanding that the said Redmond and his men were fostered at Mylycke by a base sister of mine, which is married to one John More, my son has dispossessed him of the house and left a ward therein, being the fittest place of service betwixt Athlone and the city of Limerick upon the Shannon, and one of the principallest places in this province to annoy Her Majestys subjects, if it were left for want of looking to it. If it had come to the enemies hands, it would be hard to recover it, …and in my opinion is most necessary to be kept for Her Majestys service, during the wars for the safety of this province.'[xiii]
Although the Earl removed Moore as ward, the Moores appear to have regained their position at Meelick some time after. Meelick had evidently suffered considerably during the Nine Years War and in 1605, its ward, John More, described as 'of Meelick', petitioned the king, complaining that while several of his neighbours, less deserving and with less land, had some freedom from composition rent on their lands, most of his were subject to this rent.[xiv]The king replied early in 1606, stating that 'understanding his good desert by many services done by him against the arch-traitor O Donnell and others his confederates in the late wars, and that he was for that service robbed and spoiled of all his goods and chattels, his castles broken, his people slain, and all his lands wasted', the king confirmed 'an earlier grant' and granted 'further to him and his heirs the freedom from composition rent' in six quarters in any part of his lands he should nominate.[xv]
Acquisition of Cloghan Castle
More benefited considerably by the discomfiture of one of the leading O Maddens opposed to the Crown, whose lands lay directly across the Shannon from Meelick in the parish of Lusmagh. Following the death in rebellion in early 1599 of Owen balbh O Madden, Owen's principal residence, Cloghan castle and extensive estate about both sides of the Shannon were acquired by John More after 1606 and Cloghan would become his descendants seat for two and a half centuries. In the confirmation of lands to 'John Moore of Cloghan in Galway Co., Esq.' in the sixteenth year of the reign of King James I, his lands are given as 'two quarters of Glasdarragh (the modern townland of Gloster in Lusmagh), one quarter of Fedane; the castle, town and lands of Cloghan six and a half quarters, three eighths of a quarter in Carowmeanagh and one third of a quarter in Cullnetrump in Longford barony.'[xvi]  In addition to his Roscommon, Tipperary and Galway lands, he also acquired a large estate in the barony of Clanmorris in Mayo, about Ball and Brize. This Mayo estate More purchased in 1593 from Sir Francis Shane, who in turn had acquired it from another to whom in 1585 it had been sold by Riccard MacMorris, chieftain of the Prendergasts or MacMorrises. (National Archives of Ireland, Dublin, Chancery Bills F-Q, I, pp. 29-30, No. 196.) Brize (also given as Bries or variants thereof) would serve as an alternative seat for More and his immediate family.
John More and Lady Mary Burke had at least five sons, John the younger, Garrett, William, James and Henry and daughters, Jane, Cecily and Mary.[xvii] John the younger married in 1611 one Anny Ny Mahown and was, in a deed of that year, given as John the elders principal heir.[xviii] John Moore the younger, the first cousin of Richard Burke, 4th Earl of Clanricarde, became Clanricarde's tenant at Meelick at some point, but the Earl eventually became dissatisfied with him as a tenant, as he failed to pay rental arrears long due. 'I have been at great charge with the untowardly ward', Clanricarde complained of Moore in a letter dating from about 1618-1619. He was 'the untowardliest young fellow that I have known full of wild and ill conditions and I fear it will be his ruin, and for myself I have rid my lands of him'. His arrears were still outstanding at that time and the Earl planned to have him answer for his debts in England, where the Earl himself was living at the time, if the rent was not soon paid. 'I wonder such a man as he would take himself to be, would deal so ungratefully and so unworthily, but', the Earl determined, 'I will make him pay it to his greater cost and shame.'[xix] Not long thereafter, from Clanricardes letter, Moore appears to have been replaced as ward of Meelick castle.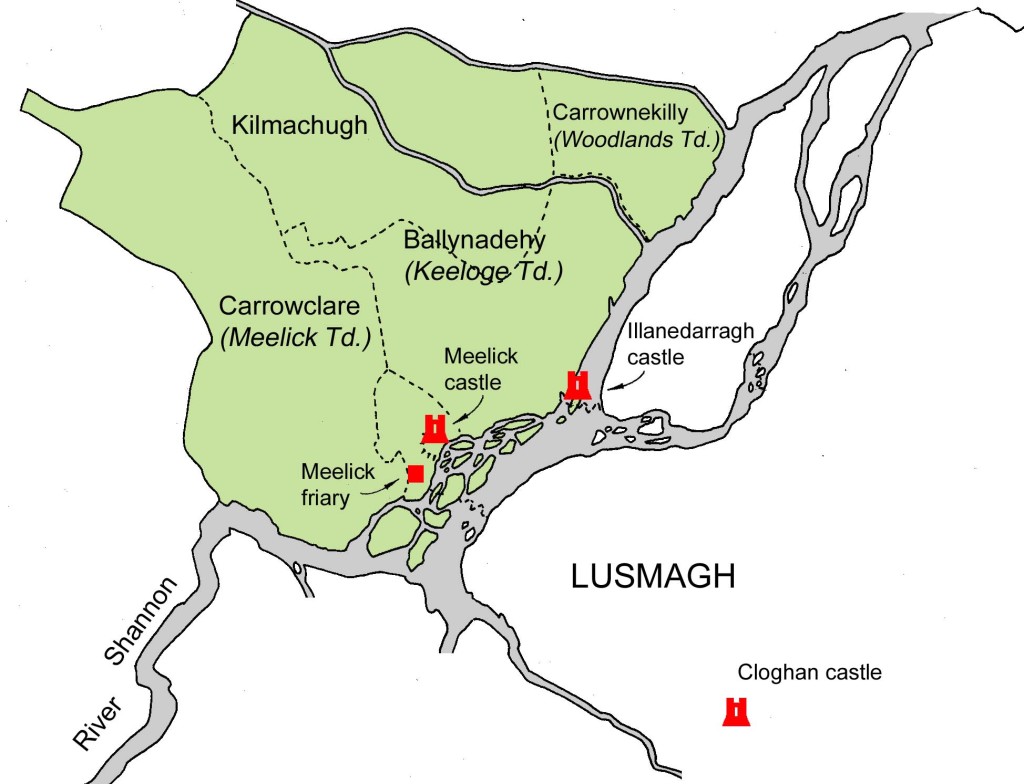 The approximate extent of the Manor of Meelick in the early seventeenth century, comprising the four quarters of Carrowclare, Kilmachugh, Ballynedehy and Carrownekilly and its islands on the River Shannon.
Meelick castle was in a dilapidated condition in the early seventeenth century, but still standing in 1614 when it was described as one of two fortifications of Clanricardes (the other being Portumna) commanding passages on the Shannon. It would appear to have been still inhabited as late as 1623 or 1624, when Clanricarde, believing war with Spain imminent, identified it as one of 'the three special places that for the present I have most desired should be forthwith without any delay be repaired and made defensible.'[xx] The Earl had confidence in the then ward of Meelick to execute the necessary works as soon as possible, and would not willingly remove him. Given the Earls previous difficulties with John Moore it is unlikely that the then ward was Moore and one Thomas Leicester, a trusted captain who served Clanricarde during the Nine Years war, appears to have occupied the position of ward by 1621.[xxi]
One Gerald Moore of Annaghcorba, gentleman, is given as holding lands in the barony of Longford about 1618 in Annaghcorba, Leire, Camgort, Lisgara, Lismoyfadda and Knockanhaitty.[xxii] As John More the elder had no brother of that name, this Gerald of Annaghcorba would appear to have been his second son Garret Moore.
John More the elder's wife, Lady Mary Burke died in 1624 after an eventful and turbulent life and was buried about the family's Mayo estate, at the abbey of Ballinasmale.[xxiii]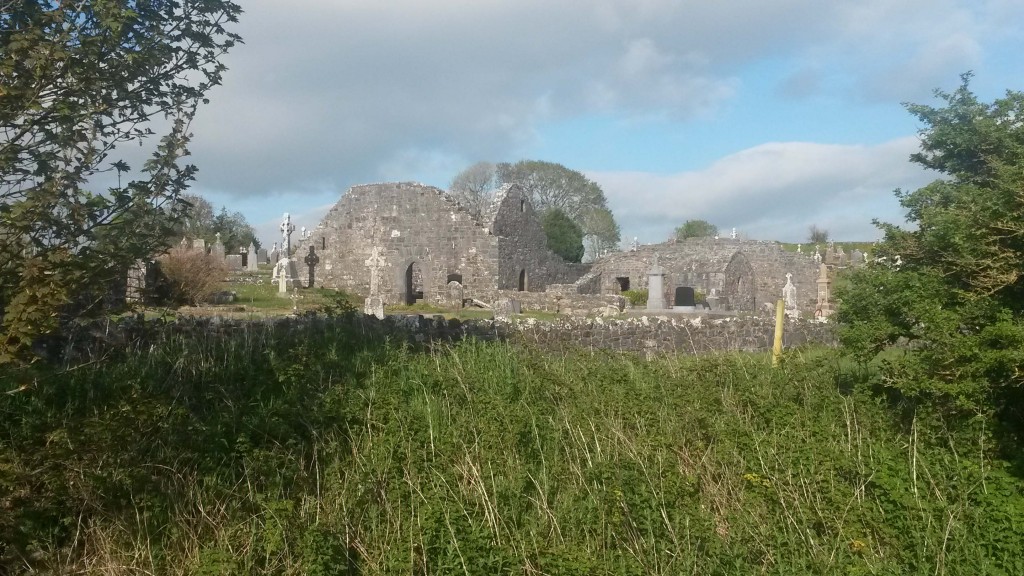 The ruins of the Carmelite abbey at Ballinasmale, near Claremorris in County Mayo, burial place of Mary More, daughter of Richard, 2nd Earl of Clanricarde and three of her sons; John, Garrett and James More.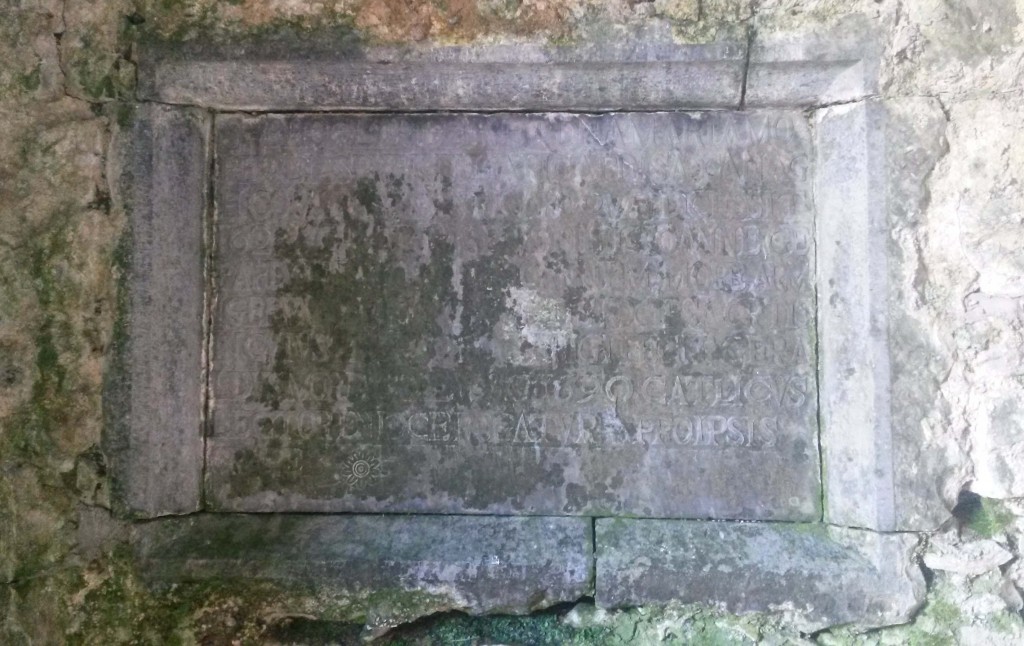 The memorial tablet commemorating Mary More alias Burke, widow of John More the elder, located in the small stone-vaulted Moore chapel at Ballinasmale abbey.
Seven years after the death of his wife, John More of Cloghan castle, Ball and Brize died in May of 1631 and, it would appear, was buried at Meelick friary in what would become the family tomb on the south side of the church altar. Johns intended heir, his son, John the younger, had predeceased him, having died before 1625, leaving an only son, John, born in 1616, who would marry Hon. Margaret Bourke, daughter of Miles, 2nd Viscount Bourke of Mayo and would later die without issue.[xxiv] Upon this latter John's death, the more senior line of John the younger and his wife Anny Ny Mahown became extinct and Garrett the second son of John the elder and Lady Mary Burke became seized of the estates sometime before the late 1630s.[xxv]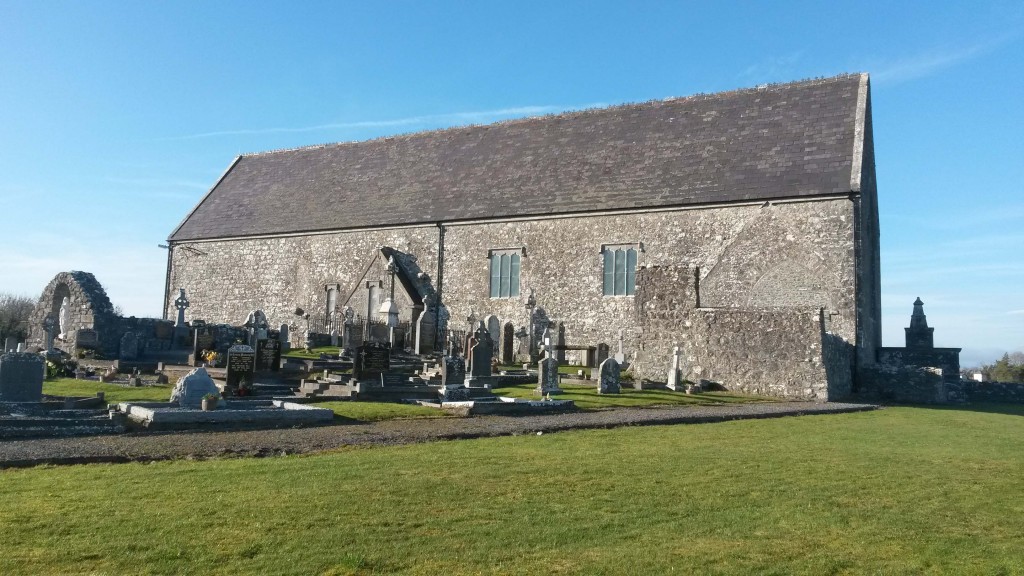 South elevation of the former church of the Franciscan friary at Meelick, County Galway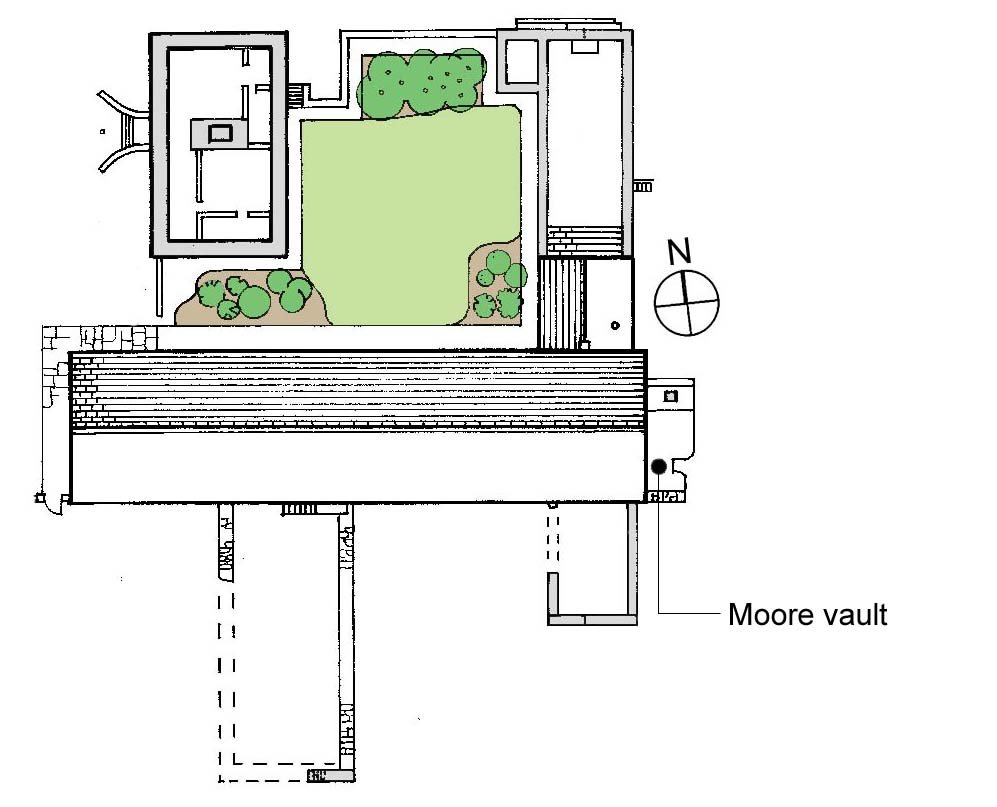 Location of the Moore burial vault at Meelick Church, parish of Meelick, originally on the south side of the high altar and positioned externally following the later reconstruction of the east gable of the church approximately 1.3 metres to the west of its original position.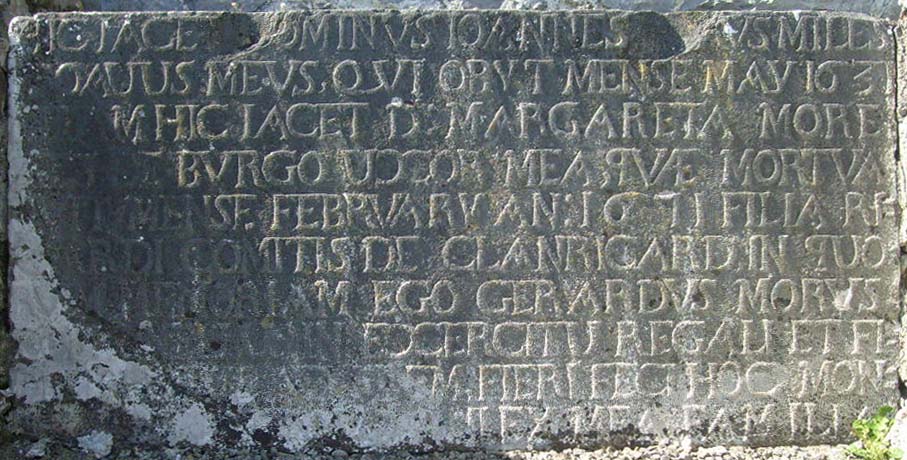 Garrett fitz John Moore
While the Cloonbigny Roscommon estate was inherited by John the elder's third son, William, Garrett the second son of John the elder, or Garrett fitzJohn Moore became proprietor of the family estates of Cloghan and in Mayo prior to the start of the 1641 Rising and Cromwellian Wars. He had at least two sons and two daughters; Garrett, born circa 1620, who pursed a legal education at Lincolns Inns, Peter, who married Anne French of Rahassane, Eleanor Moore who married one Mr. Atkinson and Mary, who married one Francis Garvey.[xxvi]
Garrett fitzJohn's son Garrett Moore, in the years following the 1641 rising and the Irish Catholic Confederacy, served his kinsman, Ulick 5th Earl of Clanricarde, in a variety of capacities, and, being regarded as 'a person of trust' with the Earl, was employed on numerous sensitive occasions as his envoy and messenger.[xxvii] The marked difference in esteem in which Clanricarde held Garrett when compared to the Earls fathers opinion of Garrett's long-deceased uncle John the Younger is evidenced in a letter Ulick sent to Lord Cottingham, the Lord Treasurer as early as May 1644. At that time Garrett was still a young man and in the early days of his service to Clanricarde and the King. In it Clanricarde informed the Lord Treasurer that 'there is now about the Court a young gentleman, my kinsman, Mr. Garrett Moore, of whose disposition and good affection to serve the king I am fully assured of; and if your lordship will vouchsafe him your favour and countenance I shall acknowledge it for a great obligation and when he shall have occasion to mention me, your lordship, I presume, may be assured of his good intentions and that I repose confidence both in his judgement and reservedness.'[xxviii] In the course of his military service for the king he would attain the rank of Colonel or Lieutenant Colonel.[xxix]
The Moore family lands, however, during the Cromwellian period were 'seized and sequestered and continued in the hands of the usurping powers till the restoration of his late Majesty King Charles the Second, and by the Act of Settlement made the 14th and 15th year of his reign, these were declared forfeit and absolutely vested in the Crown for the purposes of the Act.' As 'Colonel Garrett Moore, late of Brees in the County of Mayo,' Garrett Moore was ordered to transplant and allocated 2,993 profitable Irish acres in May of 1656.[xxx]
Colonel Garrett Moore
Following the restoration of the monarchy in the person of King Charles II, Colonel Garrett Moore, as the eldest son of Garrett fitzJohn Moore, laid claim to the Cloghan estates and he, 'having faithfully served his majesty in his army for many years before his exile and afterwards in the wars abroad, and being for that reason an object of his majesty's favour, prevailed upon his majesty to grant to him the estates which had formerly belonged to his ancestors.'[xxxi] Colonel Garrett's claim before the Commissioners for the Adjudication and Claims and Certification had been opposed by a counter claim from his relative William Moore who sought in addition to his own Cloonbigny estate in Roscommon, the Cloghan estate also which he claimed by virtue of a grant of 1625. Although unsuccessful in their suit, the Cloonbigny branch would eventually succeed to the Cloghan estate. In addition to recovering the family estate in and about Lusmagh and being confirmed in possession of approximately 11,000 acres in the barony of Clanmorris in Mayo, Colonel Moore was elevated to the Privy Council.
Jacobite – Williamite War
Alarmed by the increasing Catholic influence during the reign of the Roman Catholic King James II and at the birth of an heir to the king, the still powerful Protestant interest in England deposed King James, and the English Parliament declared James' throne vacated in December 1688 and his Protestant daughter and son-in-law were jointly crowned King William III and Queen Mary II. The Irish Catholics rose up in support of King James, and an army was sent by the French King to reinforce James' Irish supporters, the Jacobites.
In March 1689 James landed in Ireland, hoping to regain his throne through Ireland and a Catholic-dominated Parliament was set up in Dublin. The Irish Catholics hoped to recover much of their former lands that they were denied under the settlements after Charles II had been restored and the Irish Parliament declared many of the Williamites, supporters of William of Orange, outlaws and their lands were to be confiscated as such. King William arrived early in the following year with his Dutch and English army, and so began the war of the two kings.
The leading Roman Catholic families responded enthusiastically to the cause of James II and the officer's ranks in the Galway regiments were swelled with members of the most prominent Catholic county families. Members of both the Cloghan Castle and Cloonbigny branches of the Moores served as officers in the army of King James II. Garrett Moore served as Member of Parliament for County Mayo in James' 1689 Irish Parliament and was still being referred to with the rank of Colonel while his kinsman William of Cloonbigny in County Roscommon held the rank of captain by the end of the war. (The latter was also referred to as 'Major' in certain pedigrees and by at least one contemporary but contemporary records about 1699 gives him as 'Captain' at that time.)
The war concluded with the defeat of the Jacobite army and the signing in October 1691 of the Treaty of Limerick. Many prominent Irish Jacobites faced the prospect of losing their lands under the new government of King William and Queen Mary. The estates of those deemed outlaws and traitors in February 1688 were to be vested in thirteen Trustees and the same estates to be sold.[xxxii]  A large number, however, were eligible to benefit from the 'articles of Limerick and Galway' that formed part of the Treaty. The terms of the treaty allowed the Jacobite soldiers and people holding out at Limerick and at Galway to either sail for France or remain in Ireland and submit to the new King. Those who submitted to the new Protestant King and Queen and were eligible to benefit from the articles were to be allowed to keep their estates intact and, if outlawed, pardoned. The hearing of cases of those seeking to avail of the articles was a prolonged affair, extending into 1699.[xxxiii]
It is possible that Garrett Moore of Cloghan was the same man as that Colonel Garrett Moore with an address of Dublin who applied for benefit under the articles of the treaty, his case being adjudicated in June of 1692. ( Other contemporary sources give his seat and that of his heir as Moate, a reference to the family residence in the barony of Clanmorris in County Mayo.)[xxxiv] The claim of Captain William Moore of Cloonbigny for admission to benefit under the articles of Galway was adjudicated in June 1699.[xxxv] Like the majority of cases, they appear to have successful and retained their lands.
Colonel Garrett Moore maintained the family connection with the Franciscans at Meelick and by the early 1670s, held the lease of the Meelick friary.[xxxvi] It was there that he had erected a stone plaque to the memory of his wife, Margaret, daughter of Richard 6th Earl of Clanricarde, who died on the 14th February 1671, and to the memory of his grandfather, Sir John More. He also at that same time had a similar memorial plaque erected at the abbey of Ballinasmale, near Claremorris, in County Mayo to the memory of his grandmother Lady Mary Burke.
In 1705 Colonel Garrett Moore made his will and an accompanying codicil, in conclusion of which will he declared that he 'lived and was born a member of the Roman Catholick Church according to the Roman communion, tho' an unworthy one'.[xxxvii] While remembering his sisters Ellinor Atkinson alias Moore and Mary Garvey alias Moore and others, he acknowledged and imparted advice to his nephew and heir John Moore, on whom he settled his estate, asking that 'he be just and honest in all his actions' and left him all his 'household stuff, plate and jewels.' He asked that, if it be possible, his body 'be buried decently with my dear wife and the Lady Margtt. Moore alias Burke in the Abbey of Meelick' and if this should not prove convenient, his body be buried with his father and mother 'in the Abbey of Ballismale in the County of Mayo.'[xxxviii] While he was not survived by issue, it would appear that he and his wife Margaret did have children but they died during their parent's lifetime.[xxxix]
John Moore 1705-1707
Colonel Garrett Moore died in 1705 at Smithfield in Dublin and the estate passed to his nephew John, the son of his younger brother Peter by his wife Anne French of Rahassane. A compilation of heraldic arms in the records of the Ulster King of Arms, believed to date from between 1706 and about 1730 and later known as Genealogical Manuscript Number 82 in the National Library of Ireland recorded the arms of Colonel Moore and described him as dying in the 105th year of his age. (Betham's Sketch Pedigrees, which, like G.O. Ms. 82, once formed part of the records of the Ulster King of Arms, gave Colonel Moore as born circa 1620 and so about eighty-five years at his death.) John Moore, Colonel Moore's heir, however, did not live long to enjoy his inheritance, dying in 1707, leaving by his wife Mary, eldest daughter of Denis Daly of Carrownekelly a son Garrett and two daughters, Mary, and Frances. His widow married secondly Peter Browne of Westport and died circa December of 1709.[xl]
Garrett Moore of Balla 1707-1722
Garrett 'of Balla,' son of John, appears to have been young child when his father died. He married in May of 1722 Lady Mary Burke, daughter of the 9th Earl of Clanricarde.[xli] He was still a young man when he died less than three months later, on the 31st August 1722 and described by the friars of Meelick, beside whose high altar, in the family vault, he was buried, as a 'bright youth' and 'an excellent benefactor of this friary.'[xlii] He died without issue and a protracted legal dispute arose as to the inheritance of the estates.
While Garrett's wife survived him by thirteen years and died in Paris in 1735, it was Garrett's two sisters who were the heiresses to his estate.[xliii] His eldest sister Mary, having survived her first husband Marcus French, was married secondly to Sir Henry Lynch 5th Baronet, of Castle Carra in County Mayo while Garrett's younger sister Frances married her kinsman Michael Moore of Clooncoran three years after Garrett's death.
The Cloonbigny and Clooncoran Moores
The Cloonbigny branch of the Moores were a junior line of the Moores, long established on the lands originally held in the late sixteenth century by the common ancestor of the line of Cloghan castle and that of Cloonbigny; John More the elder. In the early decades of the eighteenth century the Cloonbigny line were represented still by Major William Moore, son of Edmund, son of William of Cloncora, third son of John More the elder. Their estate lay in County Roscommon, between the modern town of Ballinasloe and the village of Taghmaconnell. In the townland of Cloonbigny a sizeable house dating from about the seventeenth century was constructed on a height which is likely to have initially served as their principal residence. From their description also from an early period as 'of Cloncora', it would appear that they had another residence in that townland, now known as the modern townland of Clooncoran, in the same parish.[xliv]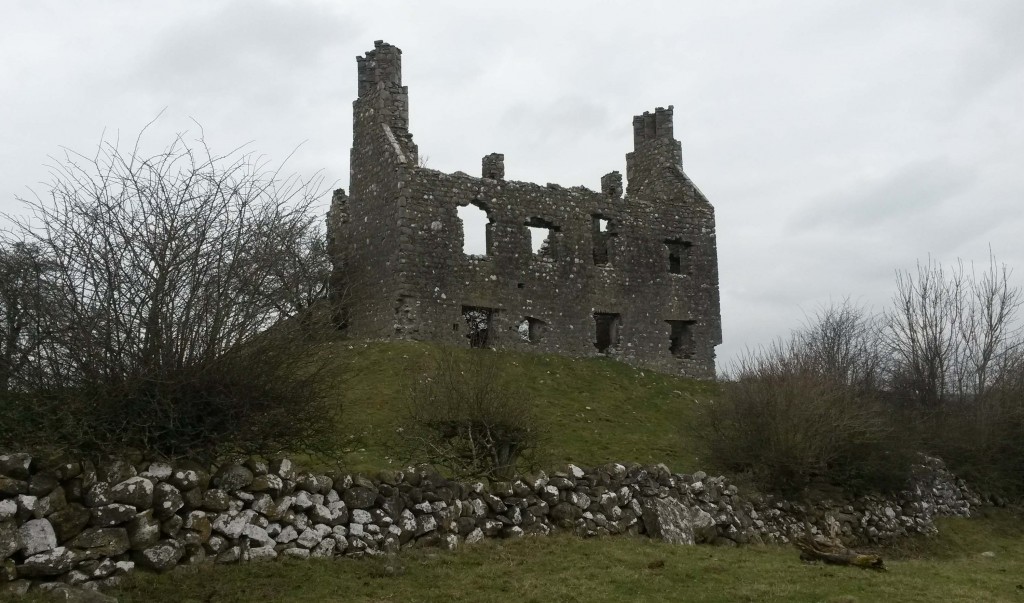 The ruins of the seventeenth century house known as Cloonbigny Castle, in County Roscommon, viewed from the south-east. Initially constructed as a two storey four-bay residence with additional windows and accommodation in the large roof-space and rectangular in plan, a later extension with what may have been a spiral staircase was added to the western corner to create an 'L'-shaped plan. Known as a 'castle' from at least the early 1640s, it had few if any defensive features and its architectural form represented a transition between the vertical tower houses of the late medieval and early modern periods and the classically-designed comfortable country houses of the eighteenth century.
It was claimed by Peter Daly, Esq. at a later date, who had a degree of influence over Frances Moore, after the death of her brother and while she was still an unmarried co-heiress, that he and his wife believed it was unjust 'that the estate of an ancient family should go to daughters and that the Major William Moore, the heir male, should not have it.' They claimed that they prevailed upon Frances to marry the son of Major William Moore of Clooncoran and Cloonbigny, 'that thereby a moiety (ie. a half share) of the estate might be preserved for the family, and they were accordingly married.'[xlv]
It is likely that the Clooncoran Moores may have resided at Cloghan during the dispute in the person of Michael's father Major William Moore. While he had been described as resident at Cloonbigny in 1699 when he applied to benefit from the articles of Limerick and Galway after the war, Major Moore was described as 'of Cloncora and Cloghan' at his death in May of 1736.[xlvi] The Meelick friars recorded William's dying at Dublin on 23rd May of 1736. They recounted his service as 'a military officer who had served King James II with distinction' and his burial 'in the tomb of his predecessors' in Meelick.'[xlvii] The legal case was finally settled in 1745 by a decision of the House of Lords, which found in favour of Sir Henry Lynch, who thereby came into possession of the vast Mayo estates of the Moores. The Cloonbigny and Clooncoran Moores appear to have gained Cloghan castle and part of the estates as a result of Michael's marriage to the co-heiress Frances and eventually Michael's younger brother Garrett Moore, married to Letitia, daughter of the Hon. Joseph Burke, succeeded to the Cloghan estate.[xlviii]
Conversions to Protestantism
A number of senior members of this line of the Moores, who now acquired Cloghan, converted to Protestantism in the eighteenth century. Michael Moore, still described as 'of Cloncora' converted in 1738.[xlix] He was described as 'of Cloghan Castle' in October of 1742 when he settled his estate, with remainder, after his death to his brother Garrett, Edmund, Luke, John and Joseph Moore successively in taile male, with remainder to John Moore of Annaghbeg, and other remainders. (This John of Annaghbeg was first cousin of the brothers, senior-most of their cousins in line of descent, son of their father's younger brother Garrett of Annaghbeg.)[l] Michael died about May 1743, leaving issue two daughters, the eldest, Mary, who married one Nicholas Concannon and secondly one Luke Lennon, and the younger, Frances, who died unmarried.
Michael Moore's brother Garrett inherited the estates after Michael's death. He was married to the Hon. Letitia Burke, daughter of the Hon. James or Joseph Burke and Mary Daly alias Burke and died without issue on the 4th February 1767.[li] Edmund, the next eldest brother, inherited the Moore family estates after Garrett's death and converted to Protestantism. He then made a new settlement, leaving the estate to his youngest brother Joseph, by which he was only to succeed for life, with no remainder to his heirs. He thereafter married Letitia Kelly and died in February 1770 without issue.[lii]
Less than three weeks after Edmund's death, one William Biggar, filed a Bill of Discovery against the next eldest of Edmund's brother's; John Moore. Under an anti-Catholic Act of Parliament of 1709, any Protestant who 'discovered' and informed the authorities of a Roman Catholic being a party to certain legal transaction relating to property was entitled claim a share of the transaction in question. In such cases, the Protestant Discoverer could claim the sizeable estate of a Catholic landed proprietor. Joseph Moore, the youngest of the Moore brothers, before his brother John could return from France, where he was for several years in the service of the French King, had conformed to Protestantism in 1764, at which time he was resident in Dublin[liii] and 'forcibly entered into possession of the King's County estate.' There 'he maintained a lawless gang in arms to support and maintain such forcible possessions and to resist all manners of legal processes.'[liv]
John Moore returned to Ireland and obtained a pardon from the Crown for his service in France, but refused to forsake his Roman Catholic faith. He returned to France, leaving Joseph in possession and died without issue there. The Discoverer, although he obtained a decree in his favour in December of 1770, failed to obtain possession and Joseph remained in possession of the Moore estate as a Protestant landholder. Joseph Moore made his will on 18th June 1779, thereby bequeathing his estate to his nephew, John Moore, son of Joseph's sister and her husband John Moore of Ballentaffy, Co. Mayo, a distant cousin of Joseph Moore and one of those identified as a 'remainder' in the 1742 settlement of the family estates.[lv]
A family pedigree, however, shows Mary as daughter of Joseph Moore who died in 1779 and married to John Moore of Ballintaffy. This pedigree, however, gives John Moore of Ballintaffy as dying in 1756 and Mary dying without issue.[lvi]
It would appear that this John of Ballintaffy was that John of Annaghbeg (parish of Ahascragh, County Galway) who had been specifically mentioned in the 1742 settlement as the next in line for inheritance should the lines of the brothers Michael, Garrett, Edmund, Luke, John and Joseph Moore fail for any reason. 'Fr. Wallace Clare's annotated list of converts,' agrees with this John, husband of Joseph's daughter Mary being Mary's cousin.[lvii]
'O Moore' of Cloghan Castle
The eldest son of John Moore of Annaghbeg, Garrett Moore, born in 1741 inherited the Cloghan Castle estate.[lviii] He came to adopt the Gaelic surname O Moore in the mistaken belief that the family was descended from the O Moores of Leix, while his two younger brothers, Edmund and John Hubert and their descendants retained the more correct rendering of the family name. He married twice, secondly to Jane Foster. While Garrett had no surviving children by his second wife, he had at least one son and one daughter by his first wife; Garrett O Moore, born in October 1784 and Jane, who married one Lieutenant O Hehir of the 60th foot.[lix] He served as High Sheriff of County Galway in 1790. He died in December of 1824 aged 82 years and, although a Protestant, was buried in the family vault at Meelick on the 2nd December 1824, his burial overseen by the Protestant Vicar of Eyrecourt.[lx]
Garrett O Moore was succeeded by his son Garrett, who was forty years of age at the time of his father's death. Educated at Trinity College Dublin, he married Mary, daughter of Colonel John Bateman of Altavilla, County Limerick and in 1819, while in his thirties, served as High Sheriff of Kings County.[lxi] By his wife Mary he had eight sons and three daughters; Garrett, born in 1810, John Edmund, Hubert, born in 1817, Richard, Harry, Robert, Roland, Rory, Elizabeth, Grace Emily and Mary. Mary Bateman died in 1831 and her husband, Garrett O Moore of Cloghan Castle died in November of 1833.[lxii]
John Edmund O Moore, second son of Garrett O Moore of Cloghan Castle and Mary Bateman, born in February 1811, pursued a career in law and in 1830 was admitted as a student at Kings Inns.[lxiii] He married in July 1837 Annie Sophia Lambert, son of Walter Lambert of Castle Lambert, Co. Galway.[lxiv]
The last of the family at Cloghan
The Cloghan estate was inherited by Garrett O Moore as the eldest son. The family at Cloghan appear to have been in financial difficulty early in the nineteenth century, with what was described as 'the splendid stud of Garrett O Moore of Cloghan castle' put up for auction at the Fair in Ballinasloe in 1838, the sale, however, on that occasion cancelled by O Moore as a result of the low prices being offered.[lxv]
The Moore family of Cloghan were one of the many landed families on which the great famine took a heavy financial toll. Most depended heavily on the income from their estates to maintain their lifestyles. The Poor Law rates crippled many and the Famine left their estates decimated and their rental incomes seriously reduced. Many had little choice but to sell their property. The Cloghan Castle estate of Garrett O Moore in Lusmagh was advertised for sale as an Encumbered Estate, put up for auction in 1852 and subsequently passed out of the hands of the Moores, in whose hands the estate had been since the early seventeenth century. Also advertised for auction in that same year, together with other family property, was O Moore's ancestral lands about Cloonbigny in County Roscommon, first acquired in the late sixteenth century by the first of the family to settle in County Galway.
Garrett O Moore, eldest son of Garrett O Moore and Mary Bateman, married a lady of the name Blair in October 1852 and by her had at least two children, both born in Paris, a son, born in 1854 and a daughter, born in 1860.[lxvi] He died on the 30th August 1864 at the age of fifty-two years at Sees, Normandy. His obituary, carried in 'the Gentleman's Magazine' and recording his having served as High Sheriff for the King's County and Roscommon in 1842 and 1846, recognised him as 'the O Moore.'[lxvii]
The Cloghan Castle O Moore's claim to be descended of the Gaelic O Moores was not undisputed at an early stage. The antiquary John O Donovan in the mid nineteenth century questioned the notion that the Moores of Cloghan were of Irish descent, saying that the then representative of the O Moores was unknown and while he claimed that Garrett Moore Esq. of Cloghan Castle called himself 'The O Moore', O Moore 'does not know his pedigree beyond the year 1611 and there is strong evidence to show that his is an offset of the English family of the Moores of Drogheda.'[lxviii]
For the arms of this family, refer to 'heraldry.'
---