© Donal G. Burke 2014
The arms of 'Sable a falcon preying on a mallard Argent between two St. Joseph lilies Proper on a chief arched Azure two crosiers in saltire Or,' together with the motto 'Fide et Fortitudine,' were confirmed by Gerard Slevin, Chief Herald of Ireland as those of St. Joseph's College, Garbally, Ballinasloe, Co. Galway on 2nd March 1959.[i]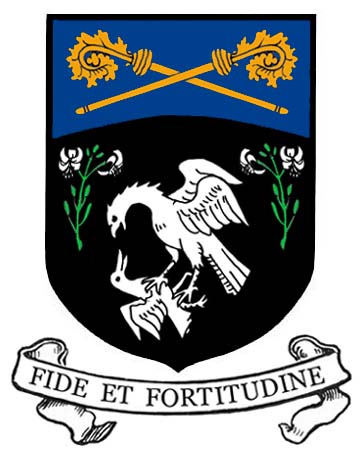 In the mid twentieth century St. Joseph's College served as a residential and day school providing secondary education for boys and was located at Garbally Court, the former residence of the le Poer Trench family on the western outskirts of Ballinasloe town.[ii] Garbally was acquired by the College from the Trustees of the Trench Earl of Clancarty in 1922 and took up residence there in the following year.
St. Joseph's College was established in 1892 as a Roman Catholic diocesan seminary to educate priests of the diocese of Clonfert and was sited at a number of different locations, for the most part at or near Ballinasloe, prior to its removal to Garbally.
The arms confirmed as those of the College were in use for some time prior to 1959 and reflected its origin as a seminary and early patronage rather than its eventual geographical location. The seminary was originally established with funds provided by Monsignor James Madden, Vicar General of the diocese. Monsignor Madden was born in 1831 and died in 1901, a grandson of Stephen Madden of Carrowreagh in the parish of Killoran and younger son of John Madden of Cartron House in the parish of Killallaghtan in east Galway. Two of Monsignor Madden's brothers died in the early 1890s, leaving much of their wealth to the Monsignor. Cartron House, inherited by Monsignor Madden from one of his deceased brothers, served as the first site of the seminary. In 1894 the seminary was moved to Esker, near Athenry, and in 1901 a former Church of Ireland college building in the town of Ballinasloe, known as 'The Pines' was purchased and the seminary relocated there prior to the college's acquisition of Garbally Court.[iii]
The principal charge of the arms, that of a falcon trussing a mallard Argent on a field Sable, reflected the close connection of the Madden family of Carrowreagh and Cartron with the College, the same being the principal charge and tinctures on the arms of many of those of the name Madden. (Two cousins of Monsignor Madden also provided funding towards the College; Dr. George Madden and Fr. John Joseph Madden, the latter of whom served for ten years as President of the college.)[iv] The motto 'Fide et Fortitudine' was likewise borne by certain armigers of the name Madden.
The crosiers in saltire Or on a chief Azure served as a reference to the Bishopric of Clonfert, the same charge and tinctures being those of the arms of the Bishopric, while the lilies Proper, a flower commonly associated with St. Joseph, served as a reference to the patron saint of the seminary and later the college.
---