© Donal G. Burke 2013
The Bellew family were of Anglo-Norman origin and long settled in Leinster. A junior branch of the family of Castletown and Lisrenny were established at Willistown in County Louth in the east of Ireland before their transplantation to County Galway by the Cromwellian authorities in the mid seventeenth century.[i] A junior branch of the family remained seated for several generations thereafter in the parish of Moylough in east Galway, their seat and a village thereabout deriving their name 'Mountbellew' from their association with the family.
The basic arms associated with the Bellew name 'Sable fretty Or' appear in the Jenyn's Roll as borne by John Bellewe.[ii]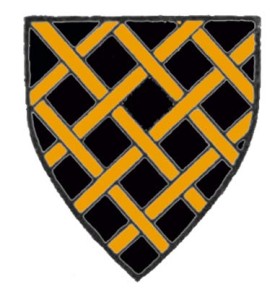 An arched armorial memorial stone was inserted into the fabric of a flourmill, constructed at the behest of members of the Bellew family near the town of Mountbellew in east Galway in 1775. The accompanying inscription summarised the family origins and the history of their association with east Galway.
'Sir John Bellew of Wyllistown in Louth who with his Kinsman Sir Christopher of Bellewstown Represented that county in Parliament in 1639 was exempted from pardon for life or estate by Cromwell's act of Parliam. in 1652 for his inflexible constancy & Zeal in the Cause of his Royal Master against that bloody Parricide & Usurper in 1682 he had a Grant of several Lands and Manors in Louth and Galway under the Act of Settlement—He married Mary daughter of Robert Dillon of Clonbrock Esqr. by whom he was Ancestor to Sir Patrick Bellew of Barmeath Baronet who married Mary daughter & Coheir to Mathew Hore Esquire and to Michael Bellew of Mount Bellew esqr. who married Jane daughter and Coheir to Henry Dillon Esquire. They erected Flour Works in this Building Anno 1775.' [iii]
The arms carved above this inscription composed a simple interlaced fretty shield with a dexter hand apaumée as the badge of a baronet at centrepoint. Above the stylised closed-visored helmet in profile and wreath was carved for crest an arm embowed in armour grasping a sword. Below the shield a scroll carried the motto 'Tout d'en haut.'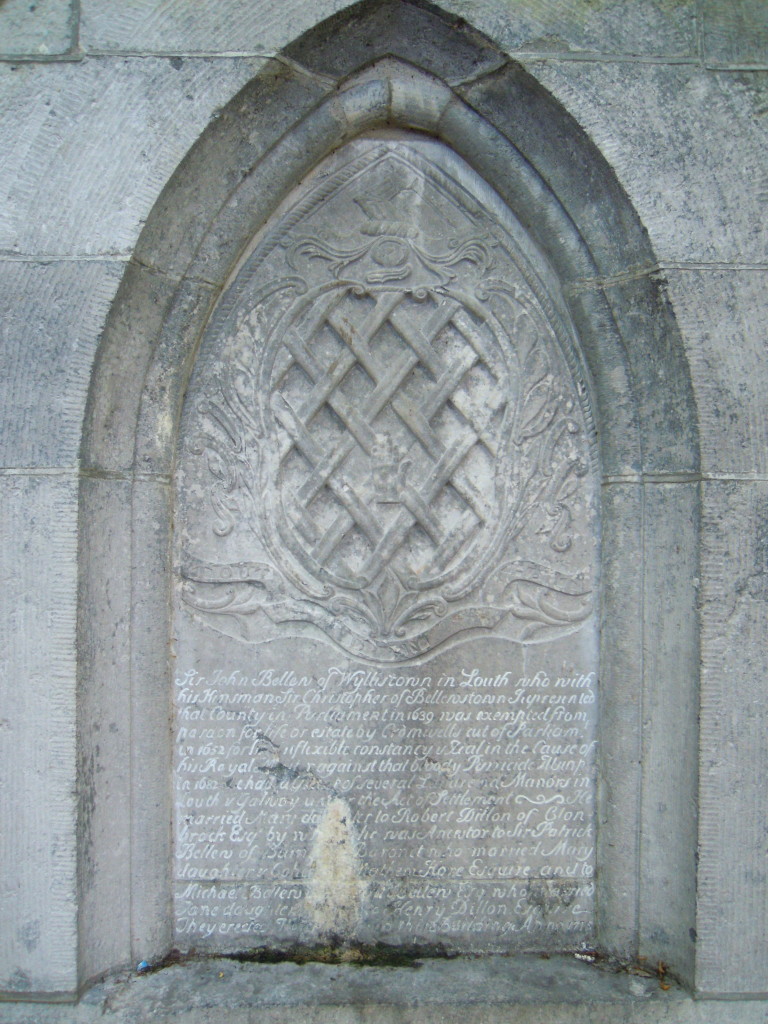 In 1996 the mill building was demolished and the memorial removed to a location closer to the town of Mountbellew, in a green area known as 'Bellew Riverside Park.' In his article on the arms of various branches of the name, Seamus Bellew noted that the inscription had weathered poorly since its relocation, it being placed directly beneath rain descended from branches of trees immediately above.[iv]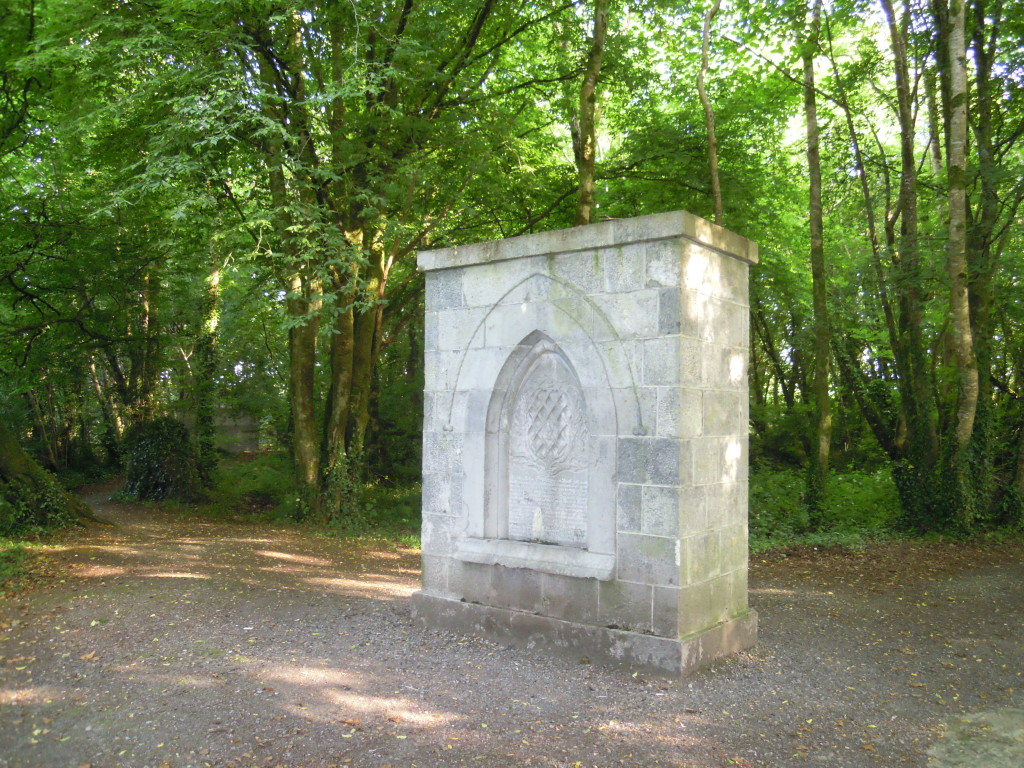 After the restoration of the monarchy John Bellew regained part of his Louth estates with the assistance of influential acquaintances. The lands and manors granted in 1682 to Sir John Bellew under the Act of Settlement included the former estate of the Moore family of Barmeath in County Louth and he also retained lands allocated to him in County Galway by the Cromwellians.[v]
Another armorial stone was inserted over the doorway of the chapel at Barmeath, dating from about the late seventeenth century. The stone commemorated the construction of the chapel by Mary Dillon, widow of John Bellew and displayed the arms of that John Bellew of Williamstown, who died in 1679 and whose career and descendants were later commemorated at Mountbellew. [vi]
The impaled arms on the chapel's stone depicted those of Bellew and Dillon. No tinctures were later evident but the Bellew arms displayed on the dexter half of the shield was that of a simple fretty pattern, suggesting the Sable fretty Or borne by later members of the family. On the sinister half the Dillon arms were composed of a crudely carved lion rampant debruised by a fess, with one distinct crescent with a mullet of five points between its horns and what appears to be a second in chief and another in base. [vii] (If a second crescent was originally carved in chief it became significantly eroded in time.) The mullet between the crescent in base, however, appears to have been of six points and may have been intended as an estoile. On the fess of the Dillon arms was carved a mullet. (It has been suggested that the mullet as a mark of cadency indicating a third son was a reference to the descent of the Dillons of Clonbrock from Sir James, third son of Gerald Dillon of Drumraney.) [viii]
The impaled shield was surmounted by a closed visored helmet in profile, atop of which, on a wreath, was carved an arm embowed for crest. The crest became eroded over time and may originally have been armoured and held a sword as in other examples. From the helmet issued mantling cascading either side of shield in late seventeenth century style.[ix]
On his death his eldest son and heir Patrick of Barmeath inherited the Louth property and the greater part of the County Galway lands, while a lesser portion of his Galway lands was left in trust for his younger son Christopher.[x] This Christopher, from whom descended the Bellews of Mount Bellew in east Galway, married Susan Hill and died in 1709.[xi]
The family remained Roman Catholic despite the Penal Laws enacted to ensure a Protestant social and political ascendancy in Ireland from about the early eighteenth century. About the mid part of that century Christopher, grandson of the Christopher who died in 1709, had a substantial family seat constructed, known as Mount Bellew and in 1786 the representative of this branch purchased from the more senior line of the family the nearby manor of Castle Bellew, which had previously been formed from the senior line's Galway estate. [xii]
In 1830 Michael Dillon Bellew, head of this branch, son of Christopher Dillon Bellew, was appointed as the first Roman Catholic High Sheriff of Galway since the enactment of the Penal Laws and in 1838 he was created a baronet.
His eldest son Rev. Sir Christopher Bellew of Mount Bellew, born in 1818, succeeded his father as 2nd baronet in 1855. A Roman Catholic priest, his heir presumptive during much of his life was his younger brother Thomas Arthur, until the latter's death in 1863. Another brother, Rev. Michael, born in 1825, the third son of their father, also became a priest, while a fourth, John, died in 1848 at the age of about nineteen years and the youngest, William, was killed in the Crimean War in 1855. They had six sisters; Olivia, Jane, Marcella, Barbara, Marianne and Helena.[xiii]
The arms of Rev. Sir Christopher Bellew of Mount Bellew, 2nd Bart. were depicted in Burkes 1865 'Genealogical and Heraldic Dictionary' as simply 'Sable fretty Or, a crescent for difference and bearing the dexter hand badge at the top mid point of a baronet. For crest he bore 'an arm embowed in armour Proper, charged with a crescent for difference grasping in the hand a sword Proper pommel and hilt Or' and for motto 'Tout d'en haut.' [xiv] No clerical heraldic accessories such as the use of the Roman galero to indicate his position within the Roman Catholic clergy were depicted in the publication.
The crescent being the mark of cadency indicating a second son or implying descent from a second son would appear to have been used by the Bellews of Mount Bellew to indicate their descent from that Christopher who died in 1709, at which point this branch diverged from the more senior line of Barmeath.
Grattan-Bellew
Thomas Bellew, second son of Sir Michael Dillon Bellew, baronet, married Pauline, granddaughter of Henry Grattan, heiress to her uncle James Grattan's Vicarstown estate in County Laois.[xv] Upon his marriage he assumed by Royal Licence the surname and arms of Grattan Bellew. The Ulster King of Arms granted arms on 29th March 1859 to 'Thomas Arthur Bellew of Mount Bellew, County Galway and Pauline, his wife, daughter of Henry Grattan on their assuming under Royal Licence the name and arms of Grattan Bellew.
Their arms were composed of a shield divided quarterly; first and fourth; Sable fretty Or a crescent Argent for difference (for Bellew), second and third; per saltire Sable and Ermine a lion rampant Or (for Grattan). Above the shield were two crests, that on the dexter side being that of Bellew, an arm embowed in armour Proper charged with a crescent Or for difference and grasping in the hand a sword Proper pommel and hilt Or. On the sinister side the crest was that of Grattan; a dove Proper holding in the dexter claw a sceptre Or and standing on a tun (ie. a barrel) Or. The motto was that of Bellew 'Tout d'en haut.'
Thomas Grattan Bellew died in July 1863, leaving one son, Henry Christopher Grattan Bellew, born in 1860 and a daughter Mary Helena.[xvi]
Henry Christopher succeeded his uncle in 1867 as Sir Henry Christopher Grattan Bellew, 3rd Baronet of Mount Bellew. He pursued a career in the army, serving as Captain of the 5th Battalion, Connaught Rangers and as High Sheriff of County Galway in 1884. For arms he bore the same quartered shield, crests and motto as his uncle.[xvii]
He married in 1885 Lady Sophia Forbes, daughter of George, 7th Earl of Granard, K.P. and had at least eight children; Herbert Michael Grattan-Bellew, born in 1886, Charles Christopher, William Arthur, Thomas Henry (born in 1901) and Arthur John Grattan-Bellew, Helena, Moira and Angela.[xviii]
The Grattan-Bellews retained ownership of a large estate of land in both Counties Galway and Roscommon until the early twentieth century. The family's remaining estate was acquired by the Irish Land Commission in 1937 and the house demolished about that time.
---