© Donal G. Burke 2013
The Brabazon family who established themselves in Connacht claimed descent from a family of that name of Eastwell in Leicestershire through Sir William Brabazon, who, having been involved in the surveying of the property of dissolved Roman Catholic monasteries in England, attained high office in Ireland in the reign of King Henry VIII. He was knighted and appointed Vice-Treasurer and General Receiver in Ireland in 1534. In 1543 he was appointed Lord Justice of Ireland and served in that capacity again in 1546 and 1549. In addition to his other offices, he was appointed Constable of Athlone in 1547.[i]
Captain Anthony Brabazon
The Brabazon family first appears in the east of county Galway in the person of Captain Anthony Brabazon, second son of Sir William and younger brother of Edward Lord Baron of Ardee, who rose to prominence in Connacht during the term in office of Sir Nicholas Malbie as governor of that province.[ii] From the senior line of Edward descended the later Earls of Meath.
A Protestant, Anthony Brabazon appears to have initially seen service in Munster, as that 'Mr. Brabson, lieutenant to Captain Mackeworth' who conducted the Earl of Desmond's son from Kilkenny to Dublin in 1579.[iii] (The previous year he had received a Crown pardon in the company of Humfrey Mackworth, Esq.)[iv]
In 1576, after the Lord Deputy Sidney moved to quell the rebellion of Ulick and John Burke, the sons of Richard, 2nd Earl of Clanricarde and before departing from county Galway, he took from Clanricarde's control the strategically important castle of Ballinasloe, located on the River Suck in the parish of Creagh.[v] Before departing Connacht, Sidney ensured work was started on the construction of a bridge over the river Suck 'hard by the castle of Balislogh,' with the intention of facilitating greater ease of access for government troops into the province. In the Summer of that year letters arrived from England providing for the appointment of Captain (later Colonel) Nicholas Malbie to take charge of Connacht as governor, a man considered by Sidney to be 'an apt instrument to frame the rude barbarous people of the province.'[vi] (The bridge at Ballinasloe would be completed within about two years by Malbie.)
A constable was thereafter installed at the castle to defend the English interest in the province, with one Thomas Roche serving as constable at Ballinasloe castle about April 1580 and into 1581.[vii]
In or about 1580 Anthony Brabazon married Ursula, daughter of Sir Nicholas Malbie.[viii] That year he was listed among a number of men appointed justices and commissioners of the province of Connacht and Thomond.[ix] Under Malbie, Brabazon would play a leading part in the Elizabethan military presence in Connacht and after the castle of Ballinasloe was granted to Malbie and his heirs, Anthony Brabazon took up residence therein, holding it in fee by knight's service.[x]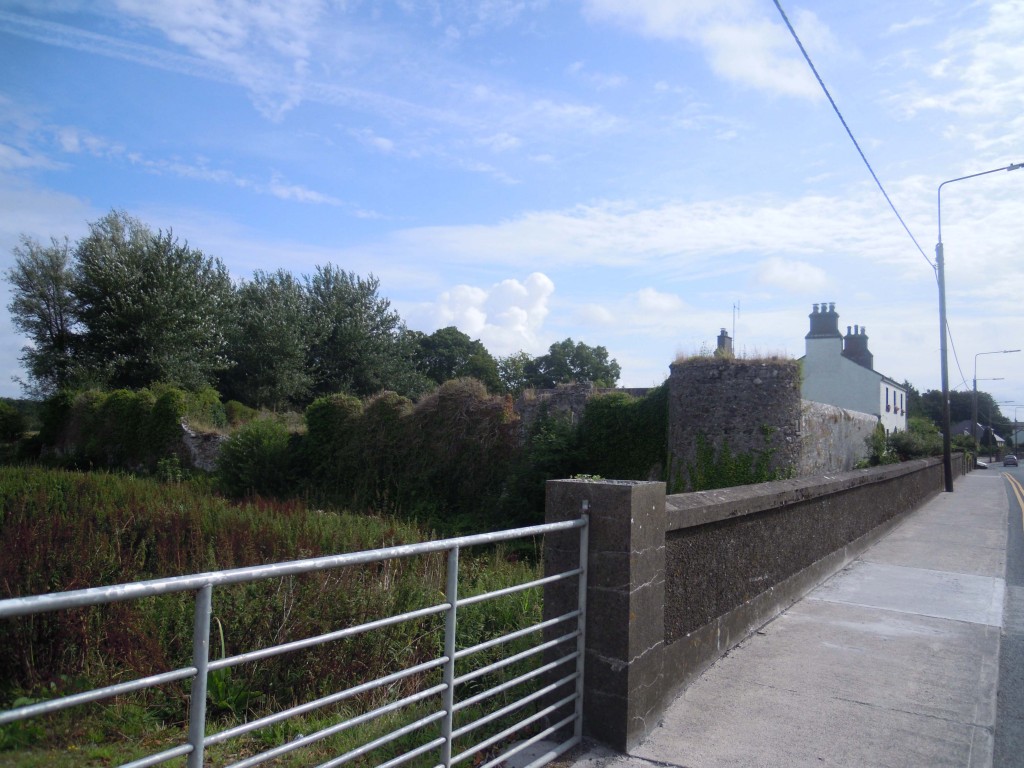 The remains of the surrounding bawn wall and site of Ballinasloe castle seen from the west.
Alongside his father-in-law Brabazon was one of the twelve-man special Commission established in early October 1582 to look into the equitable division of the lands of the recently deceased Richard 2nd Earl of Clanricarde between the Earl's two surviving sons.
A tenant of his father-in-law in Roscommon, Brabazon took charge for a time of the horsemen that served previously under Malbie, where he was listed first among twenty of these horsemen who raided into Mayo, despite having been ordered to discharge. Included among these twenty horsemen were men who would prove to be prominent Elizabethan and Jacobean colonists in Connacht, such as John More of Clonbigney in Roscommon and later of Cloghan. All twenty horsemen received a pardon for their part in the raid in April of 1584.[xi]
Sir Nicolas Malbie was in poor health by the end of 1583, weighed down by great debts and the ill favour in which he was at that time held at Court in England.[xii] By February of the following year he was past hope of recovery and he died at Athlone on 4th March 1584.[xiii] Brabazon served for a time as Lieutenant Governor of Connacht in 1584 and was suggested as Malbie's successor and 'the fittest man to govern Connacht' by some in the provincial administration but, despite his experience in Connacht, the Crown appointed Richard Bingham to the post.
Brabazon had two sons by his wife Ursula, the eldest named Malbie, born about 1580, the younger named Edward and a daughter Catherine.[xiv] He further consolidated his position in Connacht through the marriage of his daughter Catherine to John Burke of Dunsandle (later Viscount Clanmorris), third surviving son of Ulick 3rd Earl of Clanricarde.[xv] His daughter Sarah married John Hamilton of Corronearie in County Cavan, fourth son of Hans Hamilton of Dunlapp in Scotland, the latter a younger brother of James Viscount Clandeboy.
Brabazon acquired an extensive estate centred about his castle at Ballinasloe, extending into many of the surrounding parishes and across the counties of Galway and Roscommon. Much of his lands lay in what had been the ancestral domain of various branches of the O Kellys. One of the branches of that name who suffered considerable loss at this time was that of the Kellys of Ballinasloe, descended from Tadhg O Kelly, a chieftain of Ui Maine who flourished in the latter half of the fourteenth century and to whom had been attributed the construction of a castle at Ballinasloe. He simultaneously acquired the lease of surrounding Church lands from the Protestant Bishop of Clonfert. The 1615 Visitation of the Diocese of Clonfert, conducted after his death, declared that Brabazon and his heirs had recieved a lease in perpetuity from the Bishopric of lands at Kilconnell, Kilcommadan (parish of Aughrim), Killure, Kilclooney, Tuaimsrurra (in the parish of Creagh), Tuamiaghtair (about Poolboy, Moher and Brackernagh in the parish of Kilclooney), Clonburrin and Raghra.
The Brabazon family's right to the lands at Clonburrin, Raghra and also at Cloonfadda was contested in the court by two O Kennys about the early years of the seventeenth century. These lands in the south of County Roscommon lay between Ballinasloe on the Suck and the modern village of Shannonbridge on the Shannon and formed part of the ancestral lands of the O Kennys. These three denominations consisted of three quarters and one cartron and were claimed by the O Kennys to have been the 'ancient inheritance' of Fergil and Hugh O Kenny the elder, both of Cloonburrin, who jointly held the lands in their lifetime. Fergil's son Hugh and Hugh the elder's son Owen claimed that their fathers had held the lands as cousins and co-heirs under the Irish system of inheritance called Gavelkind. The sons claimed that Brabazon took advantage of their fathers situation when both were 'single and illiterate and well stricken in years and he a powerful and potent man in the said Province (of Connacht) in those times.' The case centred about the claim that Brabazon, 'having got his hands on certain escripts and writings supposed by the said Fergil and Hugh to be in safe custody concerning their estate and understanding that there had been a chief rent of 5/= annually payd to the Bishop of Meath, repaired to the said Bishop and obtained from him a lease or some estate in the said lands'. The O Kennys asserted that the lease was easily obtained given that the Bishop had no interest in the lands other than the receipt of the chief rent and that neither that Bishop nor any of his predecessors 'were never seised of the said lands or any part of them'. Once Brabazon acquired the lease he forcibly entered the lands and expelled Fergil and Hugh O Kenny the elder. (National Archives of Ireland, Dublin, Chancery Bills F-Q, F, pp. 2-3, No. 6.)
Anthony Brabazon died on 29th June 1597 and was buried at Christchurch in Dublin.[xvi] Fr. Egan in his 'Parish of Ballinasloe' and the early nineteenth century family pedigree recorded in the office of the Ulster King of Arms gives Anthony's son Edward as older than Malbie, but it appears clear from both Anthony's Funeral Entry and that of his eldest son entered in the office of the Ulster King of Arms that Malbie was the elder.[xvii]
Following his death, his widow Ursula married in 1603 Sir Thomas Burke, second son of Ulick 3rd Earl of Clanricarde, who later, as Sir Thomas Burke of Ballinasloe, claimed to be the rightful heir to his father's title and unsuccessfully disputed his older brother Richard's right to the earldom.[xviii]
An Inquisition Post Mortem into the extent of the property of Anthony Brabazon was taken at two locations seven years after his death. In addition to considerable other lands, he was found to have been seised in fee of 'the castle called Ballyneslo and of the following four quarters, viz. the quarter of Kylgarrowe, the half quarter of Kyllagh, the half quarter called Caryn, the quarter called Clonfadda, the quarter called Umer' and Atyfarry, which castle and quarters he held from the king by knights service.' Kylgarrowe (modern townland of Kilgarve in the parish of Creagh) is elsewhere given as 'Killgarrow alias Ballensloe', while Umer' and Atyfarry, when combined together, were given in the mid seventeenth century as composing half of the two quarters of Creagh proper. It is possible that the four quarters listed with the castle comprise lands attached thereto and may be the same property referred to as comprising 'between three and four quarters' by one Major Despro later in the century. He was also seised of a weekly market held every Monday in Ballinasloe and of a fair and a toll also at Ballinasloe. His right to certain lands held by him were contested by at least eight individuals, including the Earl of Clanricarde, two sons of Sean ne moye O Kelly and two O Dolans.[xix]
Malbie Brabazon 1597 to 1637
Malbie Brabazon succeeded his father and was aged about seventeen years and unmarried at his father's death. He married Sarah, daughter of Thomas Burke of 'Tullaghery', County Galway. He had one son, Anthony, and three daughters and died on 20th May 1637 and was buried at the parish church at Creagh in the following month.[xx] He was succeeded by his son Anthony.
Cromwellian Period
With the prospect of fresh land confiscations and colonisation by an influx of settlers looming large in the background and unable to depend on an unreliable monarch or an increasingly powerful anti-Roman Catholic English Parliament for satisfaction, several of the Ulster Roman Catholic land-owners took advantage of the divisions between the King and English parliamentarians and in 1641 rose up in arms against the colonists. The leading rebels claimed as justification for their actions that they were rising out in support of the King, in his struggle with an English parliament determined to divest him of his powers. As the Ulster rebels, composed mostly of the Gaelic aristocratic families, claimed to be acting in the interest of the Crown, the old Anglo-Norman families or the Old English, found themselves on the same side as the Gaelic lords, facing a common enemy. Many of the Old English joined the insurgents and the rebellion met with considerable initial success. 
Captain Anthony Brabazon of Ballinasloe 1637 to 1654
Anthony, son of Malbie Brabazon, married Ellice, daughter of John Dillon of Killynynen and played an active part in the Civil War of the 1640s. He was accused by his detractors of renouncing the Protestantism of his immediate forebears and embracing the Roman Catholic faith at the outbreak of hostilities in 1641.[xxi] He took an active part in the initial meetings of the Irish in the lead-in to the rebellion and receiving a commission as Captain in the Irish forces, raised a company of foot. In 1641 he served as a captain of foot and thereafter as a captain of horse and was actively involved at the siege of Athlone and of Castlecoote and under Colonel John Burke, commander of the Confederate forces in Connacht, in the taking of the fort at Galway in 1643.
One of those being besieged at Athlone at the outbreak of hostilities identified Brabazon as 'a notorious and bloody rebel' and a convert who, while besieging the town in the company of others, burned the hay and turf thereabout, stole livestock and as being responsible for having 'killed divers English and others that were Protestants, both men and women.'[xxii] He was accused of despoiling the property of an English Protestant named Richard St. George, whose lands he claimed and who had been forced to repair for refuge to the garrison at Athlone and of burning the latter's house at Tulloch in the half-barony of Moycarn.[xxiii] Another, one William Cox of Athlone, accused Brabazon and his soldiers of having robbed him at Athlone of horses and cows of considerable value about the outbreak of the rebellion.[xxiv]
His background as a convert to Roman Catholicism and persecutor of his former co-religionists was noted by many of the Protestant settlers. John Dodwell of Grange in County Roscommon, one of those who suffered at the hands of the rebels, described Anthony Brabazon in 1643 as 'a man descended from English parentage, whose father and grandfather were good protestants, the said Anthonie, uppon the begining of this commotion waved his religion and became a Papist and is turned to be the most spitefullest and wilful rebell towards the English in robing them of all their goods burning all their dwelling places and killing some if not all that he can take of them and for his most unaturall basse and bloodie service done against the English he is closen and appointed by the rebells and their Titulary Bishops one of their Committees and Captains, for the regulating and better encouragment of their kerns.'[xxv]
He was active on both sides of the River Suck and Shannon, being accused by Thomas L'Estrange of the King's County of assisting the McCoughlans at the head of twenty of his own soldiers in their three months siege over the winter of 1641 of L'Estrange's castle of Ragherah.[xxvi]
In 1649, after the forces of the English Parliament had successfully dealt with the forces loyal to the King in England, a Parliamentary army under Oliver Cromwell was sent from England to suppress Ireland. By 1652 the Cromwellians had effectively defeated the various Irish armies and proceeded to redistribute the land ownership in Ireland in part to pay those who had financed and fought their campaigns and in part to install a new landowning class in Ireland favourable to their government.
As governor of Ballinasloe, he held out at his castle at Ballinasloe for the rebels until the castle was taken by the Cromwellian Ludlow in 1651. (Family tradition held that he escaped from the castle at night by swimming across the moat surrounding the castle bawn.)[xxvii] After the final defeat of the Irish forces by the Cromwellians Brabazon was declared by the Cromwellian authorities to be exempt from pardon and his castle at Ballinasloe was garrisoned by men under one Major Despro, a nephew of Oliver Cromwell, who would reside there for a number of years.
In the aftermath of the war various accusations were made regarding the activities of Brabazon in his prosecution of the war, ranging from pillaging of neighbours and others supportive of the Parliamentary forces, to murder, by him or his men, of English Protestants. One case in particular with which he was accused was that of the murder of William Hughes and the wife of one Harry Collier, murdered by Brabazon's soldiers during the siege of Athlone.[xxviii] He was similarly accused of protecting the murderers of an Englishman named Collins.[xxix] In addition it was claimed that 'the Pope's nuncio lay at his house in Ballinasloe.' One of his principal accusers was Owen, of the O Kelly branch of Creagh, while William Moore of Cloonbigny in Roscommon, who also testified against him, claimed that Captain Anthony Brabazon, fled the country and 'was gone beyond the Sea upon a report that a warrant was issued from the High Court of Justice at Athlone' for his apprehension for murder.[xxx] According to family tradition, he died in Spain in 1654 with a monument reputedly erected in a Spanish cathedral to his memory.[xxxi]
Despro remained at Ballinasloe for at least four years, as in 1656 he petitioned Oliver Cromwell, informing him that he held 'an old castle called Ballinasloe' and with it between three and four quarters of land for the previous four years and having made various improvements thereabouts, wished to encourage a Protestant plantation there. He sought a grant of the property in part payment of his arrears, or a lease for forty-one years or compensation for improvements he had undertaken. Cromwell granted to Despro a lease of twenty-one years or compensation but the lands had been also granted to one William Spenser of Cork, who had been among those ordered by the Cromwellian regime to transplant to Connacht.[xxxii]
The Brabazons managed to retain part of their property, while other lands were confiscated to provide for new settlers and those transplanted. Ellis, Anthony Brabazon's wife, 'late of Bellansloe,' was allowed lands in Creagh and Attyfarry, Sara, his daughter allocated lands in Tumsrura and Edward Brabazon lands in Beagh, all in the immediate vicinity of Ballinasloe.[xxxiii]
Edward Brabazon of Attirory 1659
This Edward Brabazon was described as 'of Attirory', parish of Creagh, in 1659 and given as one of the principal men of status in the area at that time. He may have been the same person as 'Edward Brabson of Killmulrung in County Roscommon,' whose decree as a Transplanted Person was dated April of 1656 and who was allocated one hundred and ninety-two profitable Irish acres as such by the Cromwellians.[xxxiv] The identity of this Edward Brabazon is uncertain, but he is likely to have been either the younger brother of Malbie Brabazon, who would have been aged about seventy-seven years in 1659 or an immediate descendant of his. Hercules Sharpe's early nineteenth century pedigree of the Brabazon family erroneously gave Malbie's brother Edward as the elder brother. He was the younger, second son of the original Captain Anthony Brabazon of Ballinasloe but Sharpe described this Edward as unmarried and does not ascribe any issue to him.[xxxv] Fr. Egan noted in connection with this Edward that a junior family of Brabazons remained Roman Catholic and seated at Beagh or 'Birchgrove' (modern townland of Beagh Brabazon, in the parish of Creagh, on the eastern outskirts of Ballinasloe) into the late nineteenth century.[xxxvi] Their existence or origin was not recorded in Sharpe's pedigree but as their estate coincided with the location of the lands allocated by the Cromwellians to Edward of Attirory, it would appear that they were descended from this Edward.
William Brabazon of Creagh 1654 to 1731
Following the turmoil of the Cromwellian period and government by a Republican-dominated Parliament, the monarchy was restored in the person of King Charles II in 1660. The restoration presented the threat to the Cromwellians of the return of all or part of their newly acquired estates to the families of their original proprietors. An Act of Settlement was passed in Parliament, in an attempt to address the complaints of those whose lands had been taken or divided by the Cromwellians and to placate those who had acquired lands at that time. The new monarch was slow to undo the earlier Cromwellian settlement of land, as he himself was a Protestant King of a Protestant England deeply suspicious of Roman Catholicism. There was also a strong Protestant interest group composed of certain newly arrived Protestants and those longer established in Ireland who did not wish to see Roman Catholicism rehabilitated. Unable to adequately balance the interests of the dispossessed and those fearful of losing their new estates and with insufficient land to placate all, the Act of Settlement would leave many disenchanted.
The King declared that all those Cromwellian adventurers and soldiers would be left in possession of their estates with the exception of those the monarchy regarded as particular enemies, such as those directly involved in the killing of the king' father King Charles I. Those Roman Catholics found innocent were also to be reinstated to their lands and the Cromwellians then in possession of that Catholics holding was to be compensated elsewhere. The solution proved unsatisfactory to many but allowed for many Cromwellian landholders settled in Ireland to retain the majority or part of their estates.
Anthony Brabazon's son William, at the time of the Cromwellian confiscations and transplantations, was a minor. On the restoration of the monarchy, ownership of lands forfeited by Anthony Brabazon and allocated to William Spenser were disputed between William Spenser and Anthony Brabazon's heir, his son William. The lands decreed to Spenser by the Cromwellians were confirmed upon Spenser after the Restoration by patent of 1677.[xxxvii] Despite both having had a strong claim to the lands and Brabazon having securing a patent in 1684 for the lands held by Spenser that his father had forfeited, Spenser retained the lands and in time sold the same to the Trench family.[xxxviii]
Following the outbreak of war in Ireland in 1689 between the deposed Roman Catholic King James II and his Protestant daughter and son-in-law Mary and William of Orange, members of many of the most prominent County families served as officers in the ranks of the Jacobite army. A number of Galway families such as the Lallys of Tullaghdaly served in Dillon's regiment under Colonel Henry Dillon and it is likely that William Brabazon, who held the rank of captain in that infantry regiment was William son of Anthony of Ballinasloe. An early nineteenth century pedigree of the family gave him as 'a captain of a troop in King James's army and was at the battles of Aughrim and the Boyne and was one of the Commissioners for the capitulation of Limerick.' William Brabazon resided at Creagh and remained a Roman Catholic and retained a sizeable estate in his own right by descent in the vicinity of Ballinasloe. In his lifetime the Trench family, who gradually acquired lands about Ballinasloe in the late seventeenth century and who supported the forces of William of Orange in the Jacobite-Williamite War rose to prominence. Under the latter family, Ballinasloe, straddling the River Suck and both parishes of Creagh and Kilclooney, would develop into a town of significant size. The Brabazon lands, lying in the former parish, lay east of the Suck on the Roscommon side of the river.
He was married twice, firstly to Mary, daughter of George Browne of The Neale in Co. Mayo. By his first marriage he had two sons; Anthony of Ballinasloe and George and three daughters; Alice, married to John Burke of Lismore Castle, parish of Clonfert, Ellice, married to John Nolan of Ballinderry and Bridget married to Nicholas Lynch of Barna.[xxxix]
The Penal Laws
As a Roman Catholic William faced considerable difficulties regarding the protection of his estate under the anti-Catholic Penal Laws enacted in the early eighteenth century by a Protestant-dominated Parliament.
William's eldest son, Anthony, married Margaret, daughter of Edmund Malone of Cartron, County Westmeath, while William's second son by his first marriage, George, died unmarried. Anthony's father-in-law Edmund Malone took a thirty-one year lease on the Galway and Roscommon Brabazon lands in trust for his daughter Margaret and son in law Anthony.[xl]
Following the death of his mother Mary, Anthony faced the possibility that in the event of his father's remarrying and having other sons, as a Roman Catholic his property, under the restrictive Penal Laws favouring Protestantism, could be divided by a practice known as gavelkind among any further sons.[xli] It would appear that in an attempt to protect the integrity of the family estate and his interests, Anthony Brabazon, described as 'of Creagh,' conformed to Protestantism in 1717.[xlii] He professed Protestantism, it was claimed, with the intention of then making his father a tenant on the lands, rendering the settled estate more secure, 'with the remainder in fee to him the said Anthony by force and virtue of the Act of Parliament made in this Kingdom entitled An Act to prevent the further Growth of Popery and to prevent the descent of the said estate of the said William in gavelkind.'[xliii]
Anthony served as a Justice of the Peace and in 1722 as High Sheriff of County Galway. He died, however, without issue in Dublin in 1724, in the lifetime of his father, and although he publicly professed Protestantism, his sisters and their husbands were unclear as to whether he was attended on his deathbed by a Protestant minister or Roman Catholic priest.
Anthony had acquired deeds of conveyance of the family estate from his father, in part to borrow upon the property to raise his part of a dowry to be provided to his sister Bridget. He had then conveyed the estates to three men, Francis, Baron of Athenry, George Browne of the Neale and his in-law Richard Malone of Dublin, 'subject to his debts being paid out of the profits.'[xliv] In the event of his not having heirs, his estates were to descend to the same three individuals. All of Anthony Brabazon's sisters remained Roman Catholic and they and their husbands contested the legal transaction undertaken by Anthony that conveyed family lands to the three men. Despite the transaction and ensuing legal dispute, William, Anthony's father, appears to have remained in possession or control of the estate and would pass it on to his son by a second marriage.[xlv]
Anthony's father William entered into a second marriage, on this occasion to Catherine, daughter of William Fitzmaurice of Coolnaught, Co. Mayo. By his second marriage he had two sons, George and Malby. The former became, after the death in 1731 of his father, heir to the estate of the Brabazons. Malby, the latter, served as a major in the army and married Catherine Le Merchant 'whose father was sometime Governor of Guernsey.'
George Brabazon of Brabazon Park, County Mayo 1731 to 1780
George Brabazon was a minor at his father's death. He conformed to Protestantism on two occasions, first in 1732, while a minor, and again in 1739, possibly to consolidate his claim to his family lands.[xlvi] At his conformity in 1732 he was described as 'of Carrowgarry, County Mayo' but at his second conversion he had only recently moved from there to Dublin. He married Sarah, daughter of Dominick Burke of Clorough, County Galway and came to be seated at New Park (also known as 'Brabazon Park'), near Swinford in County Mayo.[xlvii] By his wife he had four sons; Anthony, Malby, William and Edward. He retained possession of the family estate also about Creagh but neither he nor his immediate descendants thereafter appear to have resided there.[xlviii] His wife died in August 1797 and less than a year later, on 29th March 1780, George Brabazon died and was succeeded by his eldest son and heir Anthony. Of Anthony's three younger brothers. at least two and possibly all died in the lifetime of their parents. Malby Brabazon served as a colonel in the army and died at the siege of Guave in the island of Grenada in 1796, while both William and Edward died without issue, the former in 1793.[xlix]
Sir Anthony Brabazon, Baronet, of Brabazon Park, County Mayo 1780 to 1803
Anthony Brabazon, born about 1750, married Anne, eldest daughter of Sir Capel Molyneaux, 3rd Baronet, in 1777 and 'for what services is unknown' was created a baronet in December 1797.[l] He died on 3rd July 1803 and was buried at Killconduff, near Swinford in County Mayo.[li] By his wife Anne, 'who survived him for many years' he had at least two sons and three daughters, the eldest son of whom, George, died in 1798 in his father's lifetime. His daughter Elizabeth died in her youth and Anne-Mary married Hercules Sharpe of Oaklands, near Battle in Sussex (another source gave Sharpe's residence as 'Blackhales in County Durham'), while his daughter Sarah married Henry Francis Lord Teynham in 1828.[lii] The baronetcy and estate was inherited by the second son and heir, William John.
Sir William John Brabazon, Baronet, of Brabazon Park 1803 to 1840
Sir William John Brabazon, bart., of Brabazon Park served as Sheriff of County Mayo in 1826. He entered politics as an active supporter of the Repeal movement, established in 1840 by Daniel O Connell and others after Catholic Emancipation with the aim of repealing the forty-year old Act of Union between Great Britain and Ireland. In 1832 he contested the elections for Parliament as a Repeal candidate and was defeated but the following year was elected after heading the poll.[liii] He thereafter served as Member of Parliament for County Mayo until his death on 24th October 1840. At his death, one not unbiased journal described him in his obituary as, although 'an excellent landlord and liberal politician,' 'possessing many amiable qualities' he was nonetheless 'a politician of a most dangerous class, at once an undiscriminating supporter of the present government and a violent repealer.'[liv] He was unmarried at his death but his mother was still alive although 'in extreme old age and decayed faculties.'
Having died at Brabazon Park, his body was carried by younger members of his tenantry in procession from the house to his burial place and was buried temporarily in the vault of the Protestant church at Swinford with the intention that he would later be consigned to a grave in the church graveyard.[lv] Upon his death the baronetcy became extinct.
Among the chief mourners at his funeral, alongside his brothers-in-law and nephew, was James Brabazon of Rath, County Louth, a member of the more senior line descended from Edward, Baron Brabazon of Ardee, elder brother of the first Captain Anthony Brabazon of Ballinasloe.[lvi]
Sir William John Brabazon was effectively the last of the senior line in possession of the lands in Creagh. As he died unmarried he bequeathed his extensive estates, of about seven thousand acres in County Mayo and the ancestral lands about Creagh, near Ballinasloe, to his nephew William John Sharpe, then aged twenty years and a student at Trinity College, Cambridge, with the injunction that he take unto himself the name of Brabazon.
Brabazon-Sharpe and the assumption of the name Brabazon
William John Sharpe Brabazon, adopted the surname Brabazon by royal licence dated April 1841 and died six years later, in 1847. His principal heir was his younger brother Hercules Brabazon Sharpe, then aged twenty-six years.
On his inheriting the Brabazon Park and estates in 1847 Hercules adopted the name Brabazon by royal licence in August of that year in compliance with the legal requirements imposed by his deceased uncle, thus becoming Hercules Brabazon Brabazon. Having been reared initially in Paris and educated at various schools in England and Switzerland, he had pursued an artistic career in opposition to his parent's wishes. He also inherited the Sharpe estate at Oaklands in East Sussex in 1858. He continued his artistic career and travelled widely, achieving some note before he died in 1906.
The Brabazon-Sharpe family retained possession of the earlier Brabazon property in the parish of Creagh into the mid nineteenth century.[lvii] In 1850 the Brabazon property was advertised for sale but retained by the family after they borrowed funds to do so. Two years later approximately 4,000 acres in Mayo and in the baronies of Moycarn, Castlereagh and Frenchpark, in County Roscommon were advertised for sale. They managed to retain their interests in their Connacht estate and would still be the possessors in 1876 of almost 7,000 acres in County Mayo and of 1,200 acres in County Roscommon. By the late nineteenth century, however, the Brabazon-Sharpe property in the parish of Creagh was sold and purchased by an individual who had made money in trade in the town of Ballinasloe.[lviii]
For the greater part of the nineteenth century a junior line of the Brabazons, with an estate about the denomination of Beagh or Birchgrove in the parish of Creagh maintained a presence in the area where their common ancestor, the first Captain Anthony of Ballinasloe, settled but Thomas Brabazon of Birchgrove, the last senior male representative of this line died unmarried in 1879 and his property descended to his nephew John O Shaughnessy of Birchgrove.[lix]
For further details regarding the arms of this family, refer to 'Brabazon' under 'Heraldry.'
---