© Donal G. Burke 2013
Excluding the immediate family of Owen dubh O Madden of Cloghan castle in Lusmagh, another important family group held lands on both sides of the Shannon in the early seventeenth century, stretching from the southern base of Redmount Hill in an arc to the north of the manor of Meelick and across the river into Lusmagh. This family group shared a common descent from one Fearadhach or Ferriagh the son of Donagh O Madden.  Fearadhach would have flourished about the middle of the sixteenth century and had at least four sons; Cathal carragh, Shane kittagh, Brasil and Ambrose and possibly a fifth in Murrough or Morogh keigh.[i]
The lands of the extended family group that included the O Maddens of Lismore extended west to include Killinehy, in the parish of Donanoughta, approximately four kilometres to the north west of the friary of Meelick.[ii] At Killinehy was built a long robust two-storey early-seventeenth century house, similar in many respects to the Protestant Bishop's substantial residence at Clonfert. This may have been the residence of a branch of the greater extended family, although in the mid-seventeenth century the land was held by Donogh mcBrasil of Lismore.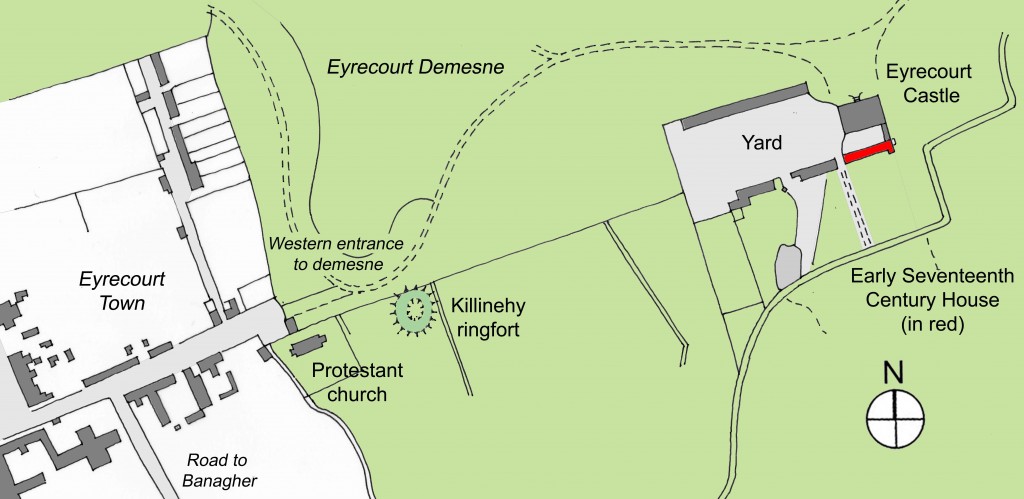 The location of the earlier Seventeenth Century house (in red) in relation to Eyrecourt Castle and the ringfort at Killinehy (circa 1842).
An eighteenth century descendent of this branch, John Butler Madden, then resident in France, would describe his descent as 'of the house and family of Killinehy, now called Eyrecourt,' and derived from one Murtaugh son of Denys son of that Murtaugh O Madden who was dispossessed of his Killinehy estate in the Cromwellian period. While the early line of descent of John Butler Madden is uncertain, an ancestor of this Murtagh may have been Donnogh son of Morogh keigh O Madden identified in contemporary records as 'of Lisanacody' on the southern slope of Redmount Hill. Morogh keigh's descent is given in various records as the son of Feriagh and appears to have been another son of Feriagh mcDonagh. Certainly the Gortnekelly lands on the western outskirt of the later village of Eyrecourt (and to the south of the townland of Lisanacody) appear later as part of this extended family's property.
Morogh keigh ('caoch', 'blind') O Madden appears to have been an individual of some standing in the territory, having been one of the men mentioned as party to the 1585 Indenture of the barony relating to the Composition of Connacht (although his name later inaccurately translated as Morogh mcRory of Lissenhackett).[iii] Morogh had at least one son, Donnogh mcMorogh mcFerigh O Madden of Gortnekelly. Father and son were pardoned side by side in 1604, when both men were described as 'of Lisanackody', but Donnogh mcMurrogh was described again as 'of Gortnekelly' when confirmed by the Crown in possession of the quarter of that name about 1618. John McMurrogh O Madden of Lisduan, who was found in possession of the quarter of Lisduan about 1618, may have been another son of this Morogh keigh.[iv]
It is unclear whether the line of Lismore or Gortnekelly was the more senior, but in the early decades of the seventeenth century, those of the line of Lismore were by far the greater landholders.
The Cromwellian Captain John Eyre was one of the largest beneficiaries of confiscated lands in the east of County Galway in the late 1650s. Settling on his new Irish lands he chose Killinehy as the centre of his extensive estate and constructed a large mansion at the location of the former O Madden house, incorporating the earlier house into the yard at the rear of the new building. To the immediate west of the mansion he erected a small Protestant chapel near the site of a ringfort known as 'Killinehy fort' by the late 1670s and about Eyre's new house, Eyrecourt Castle, the village of Eyrecourt developed.
Descendants of the family of France
A line of this family was established in France in the eighteenth century, when John Butler Madden pursued a career in the French army. The great grandson of the Murtagh who lost his lands in the Cromwellian upheaval, and son of Murtach O Madden, gentleman and Catherine Butler, he was born in 1752 and baptised at Birr in King's County.[v]
Second Lieutenant John Butler Madden
At the age of eighteen years John Butler Madden joined the Irish regiment of Berwick as a cadet in the regimental company of Michel Carroll. In 1775 he left the regiment and two years later married Marie Francoise Trochon de la Ceslerie in Nantes, by whom he had five children; Catherine, born in 1776 and later legitimised, Victor-Anne, born in 1777 and died in 1783, Alphonse-Edouard-Florimond, born 1779, Philippe, who died in infancy in 1780 and Gabriel-Louis, born in 1782.
In 1780, having sought a commission as a second lieutenant in the Irish regiment of Dillon in the French army, he was required to provide a pedigree proving his gentility. His connections with Ireland was such that the then Earl of Clanricarde, the foremost peer in County Galway, was among those who confirmed the validity of the pedigree, alongside others of that county and King's County. This pedigree detailed his descent from 'Killenihy, now called Eyrecourt' and the loss of their estate in the mid seventeenth century. Thereafter, it claimed, 'this family embraced a military life in the services of the King of Spain, the Queen of Hungary, etc. and never did submit to live in a less distinguished state, though more lucrative.' From his mother, the pedigree claimed a connection with the Butler family of Kilcash in Munster, 'nearly related to the Ormond family.'[vi]
John Butler Madden was serving as a second lieutenant in grenadier companie in Dillon's Regiment in 1784 and died alone at Nantes in December 1786, aged thirty-four years.
Alphonse-Edouard-Florimond Madden
John Butler Madden's youngest son, Gabriel-Louis married Julie Rolleste de Vieux Pont, by whom he had two sons; Gabriel, a priest and Charles-Alphonse. The latter married at Nantes in 1881 and had two daughters. With no male offspring this junior branch became extinct.
Alphonse Madden, the eldest surviving son of John Butler Madden, was aged about seven years when his father died. In 1802 he married Marie-Anne Coustard de Souvre at Château-Gontier in Anjou, by whom he had a son Alphonse-Pierre in 1803. His twenty-six year old wife died several days after childbirth. In 1817 Alphonse-Edouard Florimond married secondly Felicité, daughter of Augustin-Lancelot de Quatrebarbes, an officer of dragoons and a chevalier of St. Louis. Having served as an officer in the National Guard and as Deputy-Mayor of Château-Gontier during the Restoration, he died in 1819. By his second wife he had two sons; Augustin, born in 1818 and Edouard, born in 1819 after the death of his father.[vii]
Alphonse-Pierre Madden
In 1825 Alphonse-Pierre Madden married Hortense Cousin de la Briderais and resided at chateau de la Faucille at l'Hotellerie de Flée, near Segre in Anjou. By his wife he had three children; Alphonse-Anne, born in 1826, Hortense and Charles.
Alphonse-Anne Madden
Alphonse-Anne married Marie-Louise Miomandre de Saint Pardoux in 1858, by whom he had two daughters; Francoise and Louise-Marie. He died after being shot in a hunting accident at La Faucille in 1871. Three years later his widow married her brother-in-law Charles Madden, by whom she had an only child, a son, Charles-Edouard, born at Château-Gontier in 1875.
Charles-Edouard, nephew of Alphonse-Anne Madden
In 1907 Charles-Edouard Madden married Mathilde de Virto in Spain, by whom he had three daughters; Marie, Mathilde and Amelie. He died at Alicante in 1967.
Junior lines of the French branch
Of the the junior line descended from the second marriage of Alphonse-Edoaurd-Florimond, his eldest son by that marriage, Augustin, remained a bachelor and died in Tripoli while on pilgrimage to the Holy Land in 1853. Edouard, the second son of Alphonse-Edouard-Florimond married in 1848 Armandine Foucault des Bigottiéres and resided at Bazouges, near Château-Gontier and after 1852 at La Leziere, a mansion in Maisoncelles en Mayenne until 1884. They had four children; Georges, born in 1849, Marie, Augustin and Madeleine, born in 1861.
The last of the Maddens of France descended from John Butler Madden
Augustin, the second son married Miss Goupil in 1881 and had an only daughter, Suzanne. Georges, the eldest son and a cavalry officer, married Blanche Carpentier. They had an only son Edouard, born in 1891. He married Louise du Coudrez by whom he had four daughters. At his death in 1978 he was the last surviving male of the surname Madden descended from John Butler Madden. His sisters Marie and Madeleine also had children. Madeleine Madden married René Déan de Luigné, from whom descended Alain Loncle de Forville who undertook significant research work in the late twentieth century relating to the descendants of the Maddens of Killinehy in France.[viii]
For details relating to the arms of this family, refer to 'Madden' under 'Heraldry.'
---