© Donal G. Burke 2013
Set within an early twentieth-century stone mural memorial at the southern wall of the choir of Kilconnell abbey in east Galway is an armorial tablet bearing a coat of arms. Above the arms is inscribed the words 'Pray for the soul of 'Andrew Nugent Comyn of Ballinderry.' The shield, without tincture, is composed of a boar passant between three lions rampant, two in chief and one in base. The shield is more accurately described in this case as an oval and above the oval is depicted a crest upon a wreath, shown as an arm erect embowed in armour, without a glove, holding a sword, the armour shown pierced with small dots. While this may be intended to indicate the tincture Or, no other tincture is indicated or suggested elsewhere in the carving. The motto on a scroll below is given as 'Honor vertutis premium.'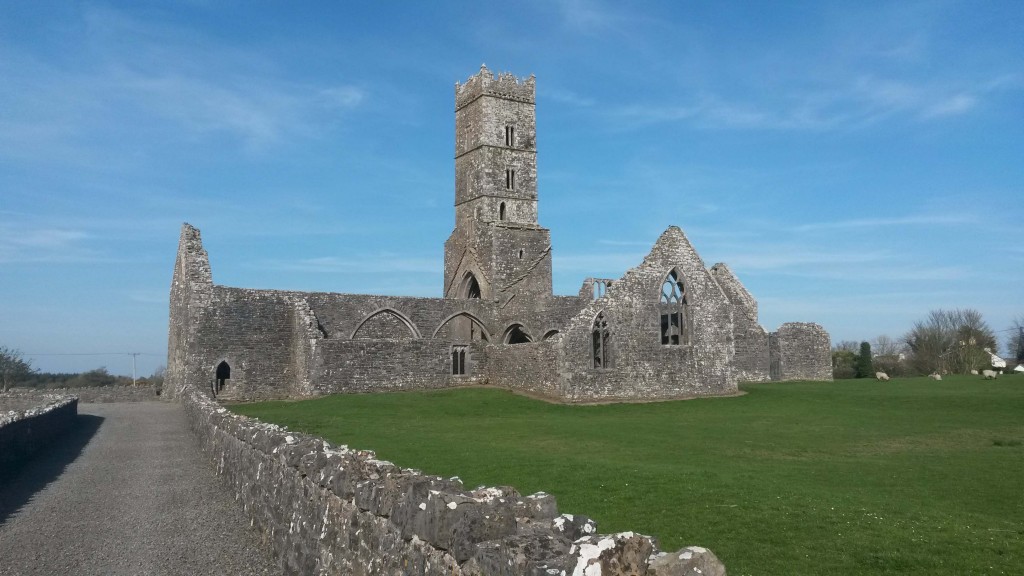 The ruined church of Kilconnell friary, viewed from the South West.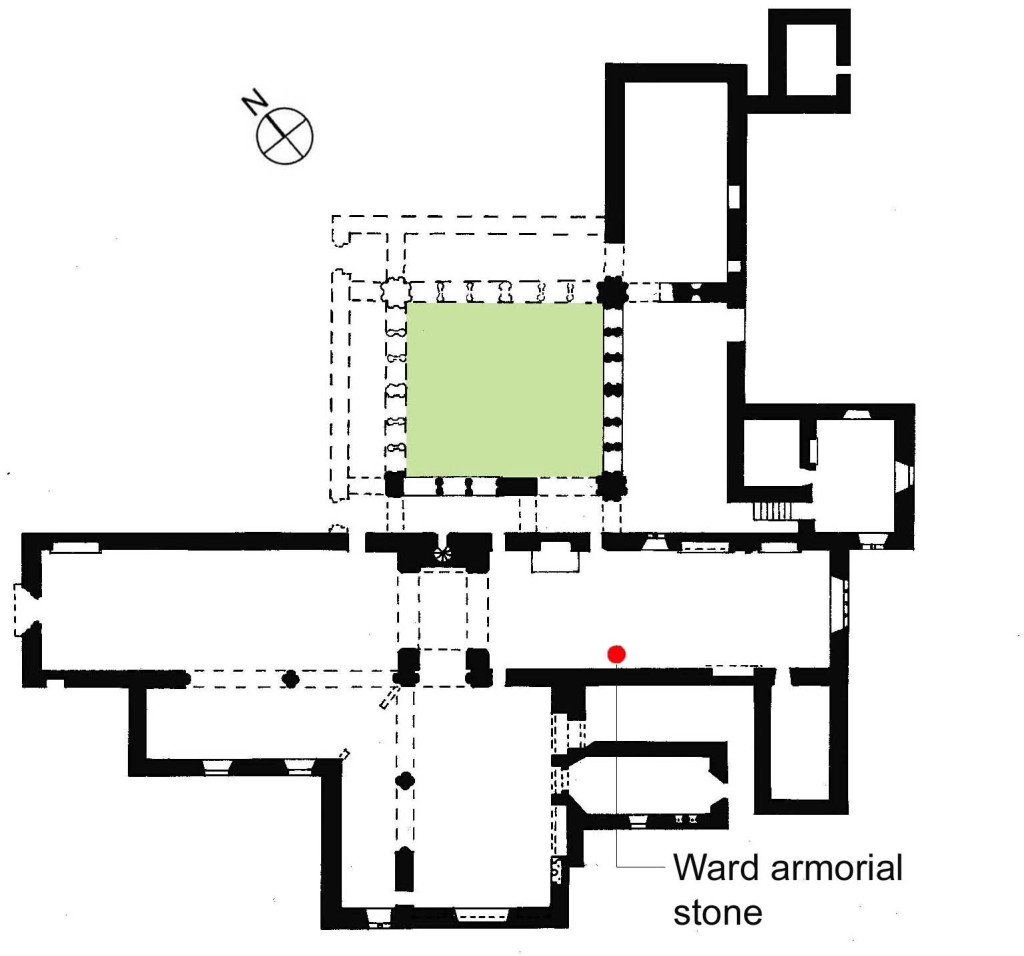 Plan of Kilconnell friary (after F.J. Bigger) showing location of the Ward armorial stone at the southern wall of the choir.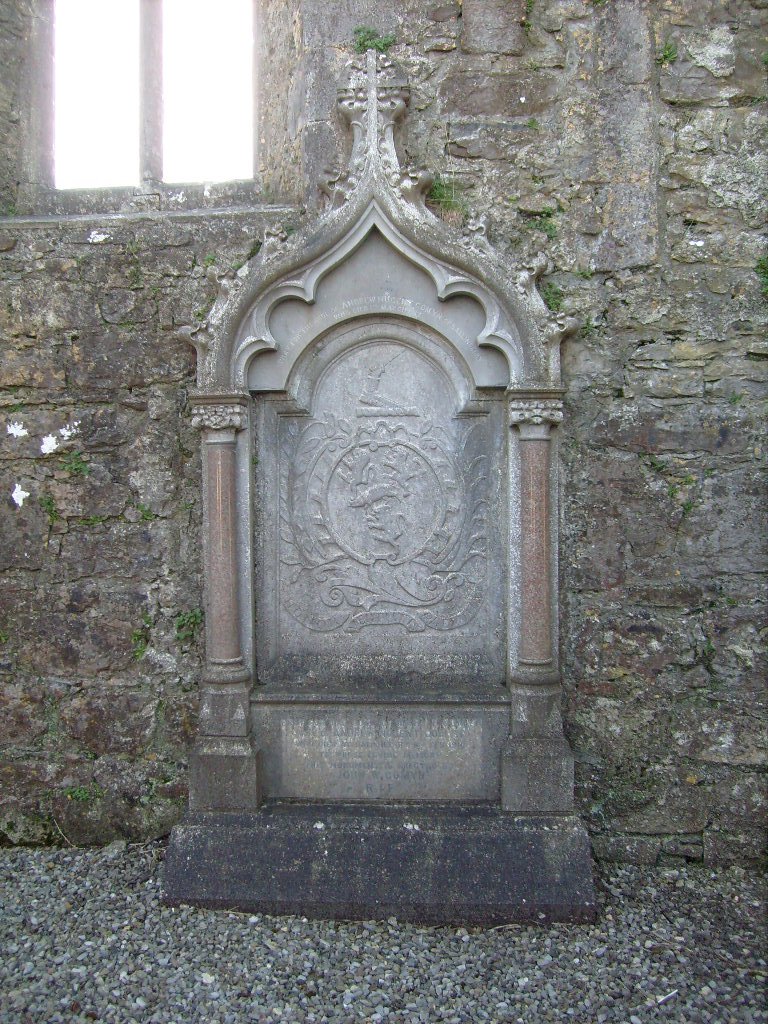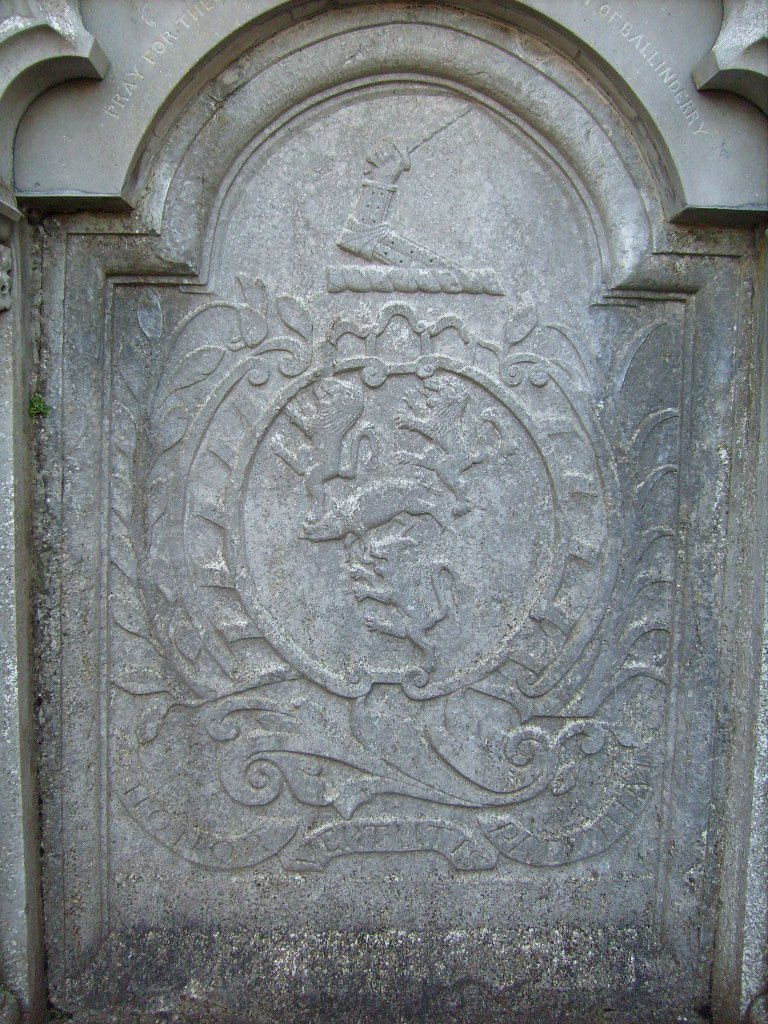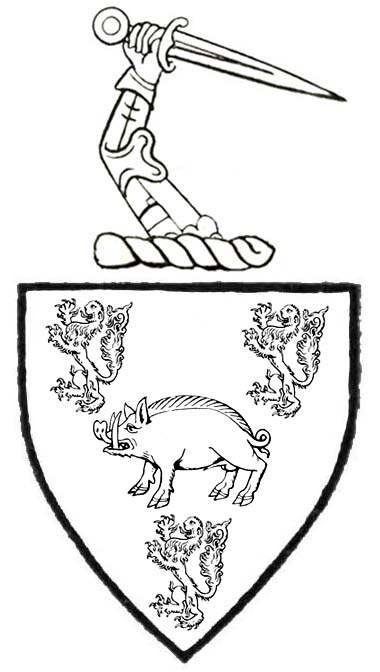 The inscription immediately below the arms is dedicated to Mary, wife of Andrew Nugent Comyn, who died in 1910 and at the base of this memorial, on a low stone plinth, is a later inscription commemorating other members of the Comyn family. The monument was erected to her memory by John Ward Comyn of Ballinderry, the unmarried younger brother of A. N. Nugent and brother-in-law of Mary Comyn. As A. N. Nugent died seven years after his wife, it would suggest that the monument was erected sometime after his death and prior to 1929, in which year John Ward Comyn died.
While the text on this memorial refers solely to the Comyn family, the arms utilised nonetheless appear to be those of the Ward family of Ballymacward. That this is the case is evident from a nearby recumbent stone under the friary tower, dedicated to Michael Ward who died in 1804, his wife Margaret who died in 1809 and their son Joseph Ward Esq. who died in 1818. At the top of this recumbent slab, either side of an image of the cross, is carved a circular scroll bearing the motto 'Honor Virtutis Premium' and within another circular border the image of a dexter arm holding a short sword, below what is either a curtain or clouds, a representation of the crest found on the afore-mentioned mural memorial.[i] When Francis Joseph Bigger visited the friary ruins in or before 1901, and noted the recumbent grave-slab to the Wards, the armorial stone had not at that time been inscribed by the Comyn family and was simply described as 'set upon a large panel adjoining the O Kelly tomb in the south wall of the chancel.' It is clear therefore that the arms on the Comyn memorial are those of the same Ward family.
The Ward family of Ballymacward and also of Ballinderry preceded the Comyns at Ballinderry, near Kilconnell. Sabina, sister and heiress of Lewis Ward of Ballymacward and Ballinderry married Andrew Comyn (also given elsewhere as Cummins) of Ryefield, in the barony of Frenchpark, Co. Roscommon in 1786.
This family of Ward or MacWard were of ancient descent in the area about Ballymacward in East Galway and along with a small number of other native Irish families, are believed to have composed an early kin group of people known as the Sodhain, who were settled in east Galway prior to the rise to dominance by about the end of the fifth century of another tribe of Celtic origin, led by their chieftain Maine mór and his father Eochaidh feardaghiall.[ii]
Maine mór and his descendants appear to have subjugated many of the existing tribes and peoples, including the Sodhain, and established a petty kingdom, covering much of the later east Galway named from their progenitor as Uí Maine (later Anglicised Hy Many). The senior-most family descended from this Maine was the O Kellys, from whom the rulers or chieftains of Uí Maine would be drawn. The MacWard family served as hereditary poets to O Kelly and as having been 'seated at Muine Chasain and Ballymacward in the cantred of Sodhan in Hy-Many.'[iii]
A later representative of a senior branch of the family, Lewis Ward resided at Ballinderry in the parish of Kilconnell, where he was seated in 1814, the lands leased from the Ecclesiastical Commissioners of the Protestant Church of Ireland. Having no children to succeed to his property, his sole heiress was his sister, Sabina, who married in 1786 Andrew Comyn of Ryefield, Co. Roscommon. Another of the family, however, one J. P. Ward, Esq. held the lease of Ballinderry by the 1830s.[iv]
---