© Donal G. Burke 2015
The arms of the representative of a principal family of the name Tully of County Galway is given in the nineteenth century by Burke in his 'General Armory of England, Scotland, Ireland and Wales,' based on information derived from records in the office of the Ulster King of Arms, as 'Vert, a chevron between three wolves heads erased Argent', and for crest a wolf's head couped Argent.[i]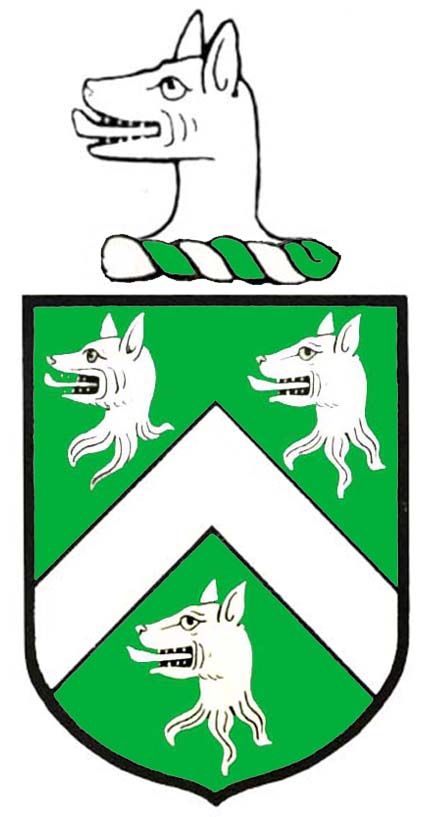 In describing these arms as occurring in the Register of Ulster's Office, Burke appears to be referring to the attribution of this blazon to 'Tully of Gallway' in a compilation of blazons of arms known as Genealogical Office Manuscript No. 62, formerly part of the records of the Ulster King of Arms. This compilation is believed to be a copy of an early seventeenth century Alphabet of Arms by William Smith, Rouge Dragon Pursuivant, transcribed circa 1640. It bears the signature of Richard Carney, who held the position of Ulster King of Arms on two occasions, during the Cromwellian period from 1655 to 1660 and again, under the monarchy, alongside George Wallis, from 1683 to 1698. Additional entries are believed to have been added to the book about the early decades of the eighteenth century. These additions are accounted for in part by Thomas Ulick Sadleir, last Acting Ulster King of Arms, who inserted a note in the manuscript to the effect that a number of later additional blazons at the end of each letter of the alphabet relate to grants made by Ulster Kings of Arms whom he simply identified as 'Carney and Hawkins.'
The additions to which Sadleir made reference appear to have been inserted for the most part from about the early decades of the eighteenth century, with a small number from the early nineteenth century which would post-date Carney or Hawkins. The blazon of 'Tully of Gallway' in G.O. Ms. 62 was inserted near the end of those surnames which commence with the letter 'T' and inserted by a later hand to that which wrote the main body of blazons.[i] It appears to have been written in the early eighteenth century and, from Sadleir's note the entry may have been assumed to relate to a grant of arms by Carney or Hawkins. However, it should be noted that a number of later insertions in G.O. Ms. 62 made by the same hand that wrote that of 'Tully of Gallway' included a number of families such as Blake, Browne, Fallone, and two Deans, all described as 'of Gallway' and were identical to the composition of those families' arms depicted on the margin on a Pictorial Map of the town of Galway dating from about the mid or late seventeenth century. From the inclusion also in the same manuscript of the surname forms 'Morech of Gallway' and 'Labarth of Gallway' it is evident that these particular blazons described as 'of Gallway,' including 'Tully,' are derived directly from the map of Galway town rather than from grants by Carney and Hawkins, given that these latter two surname forms are only associated with the town on that map.
The armorial bearings of Tully appear, as described above but with no tinctures shown, in the bottom right hand corner of the mid seventeenth century Pictorial Map of Galway town. The arms are shown alongside a number of those such as Fallon, Nolan and others whom Hardiman, in his 'History of the town and county of the town of Galway', states settled, like Tully, in Galway town during the reigns of Henry VI or Edward IV.[ii] From their inclusion on this map among the arms of other prominent individuals associated with the town in the seventeenth century it would appear that this particular family of the name Tully to whom these arms relate attained or maintained a degree of social importance in or about the town itself. A verse written in Latin below the arms of Fallone, Labarth, Nolan, Quinne, Tully and Porte differentiate these families from the fourteen principal families long-established in the town itself, describing these six as 'late enfranchised,' who 'claim a kindred through a connubial love.'
There is no clear surviving evidence to identify the individual or his descendants settled in the town of Galway to whom the arms on the Pictorial Map referred. One of the few references to an individual named Tully established in the town in the early seventeenth century relates to a physician, the occupation traditionally associated with the name. In February of 1627 John Blake fitzNicholas of Galway, merchant, mortgaged a stone house in the town of Galway to Iriell Tully of Galway, physician. Tully was joined in the financial venture by two others, both merchants; Dominick Skerrett of Galway and Peter Browne fitzStephen of Athenry. Several branches of the name Tully were established about County Galway in the early and mid seventeenth century, about Garbally in the parish of Kilcloony and the parishes of Moylough, Kilconickny, Kilchreest and Ardrahan. The Trench family acquired the remainder of the estate of the Tullys about the parish of Kilcloony following the outlawry of Matthew Tully of Cleaghmore in the aftermath of the Jacobite-Williamite war, about which much of the later town of Ballinasloe developed.
The arms of Tully and Fludd
The arms associated with the surname of Tully on the map of Galway town bear a close resemblance to those confirmed in the Elizabethan period as appertaining to Thomas Fludd of Millgate in Kent, son and heir of John Fludd, Esquire, of Morton, Shropshire. On 10th November 1572 this Thomas Fludd or Flood was confirmed arms by Robert Cooke, Clarenceux King of Arms of 'Vert, a chevron between three wolves heads Argent' with a crest 'out of a ducal coronet Argent an ounce's head Proper.'[iii] His arms were given in the 1574 Visitation of Kent by Cooke as 'quarterly, 1. Vert, a chevron between three wolves heads erased Argent, 2. Per fess Sable and Argent, a lion rampant countercharged, 3. Argent, a chevron Gules between three pheons meeting at point Sable, 4. Sable, three horses heads erased at the neck Argent and for crest, out of a ducal coronet Or, an ounce's head Proper.'[iv] The confirmation of arms rather than a grant of arms in this case would imply that these arms had been in use, or claimed, by this family for some time previous to 1572.
Another contemporary of this Thomas son of John Fludd was Edward Flood, who married Elizabeth, daughter of Robert Spring of Lavenham in Suffolk following the death of her first husband John Jenny of Great Cressingham of Norfolk. Elizabeth Flood died in 1588 and a brass plate at her burial place in Great Cressingham church displayed the arms of Flood, quartered with another and impaled with those of Spring.[v] Although the arms of Flood in these arms was described as 'Vert, a chevron between three wolves heads erased Or,' no chevron appears clearly distinct on a mid nineteenth century illustration of these arms. Although the brass plate may have been placed in the church some years after the death of Elizabeth, it would suggest that other contemporary families than that of Thomas of Millgate claimed arms with three wolves heads in the mid sixteenth century.
That Thomas Fludd who was confirmed arms of a chevron and three wolves heads in 1572 was knighted in 1589. He appears to have served initially as a victualler to several of the Crown's garrisons in England and then as a surveyor. Having settled at Millgate in the parish of Bearsted in Kent, he served as a Justice of the Peace in that county about 1579 and went on to serve as receiver of the revenue in the Exchequer for Kent, Surrey and Sussex in 1582. Seven years later he was paymaster of the Queen's forces in France and eight years later was Queen Elizabeth's treasurer of war. He served as a Member of Parliament for the borough of Maidstone on three occasions between 1583 and 1601 and in 1600-1601 was admitted to Gray's Inn. He had at twelve children, of whom only six were living when he died in 1607. He was buried in Bearsted church.
The arms of Thomas Fludd, son and heir of Alabaster Fludd, and a descendant of that Sir Thomas Fludd of Millgate who died in 1607, were given in the heraldic Visitation of Kent taken between the years 1663 and 1668. Alabaster Fludd, elder brother of Thomas and Priscilla Fludd, was the eldest son of Thomas Fludd of Gore Court in the parish of Otham in Kent, Sheriff in 1652. Gore Court was acquired from one Nathaniel Powel by the father of this Sheriff Thomas Fludd, who was also known as Thomas and was married to Catherine, daughter of Levine Bufkin of Gore Court and who in turn was the eldest son of Sir Thomas Fludd who died in 1607.[vi] The quartered arms of Thomas son of Alabaster Fludd was shown tricked in the 1663 Visitation of Kent as identical to the quartered arms of his ancestor Sir Thomas Fludd as shown in the 1574 Visitation. No motto was given therein.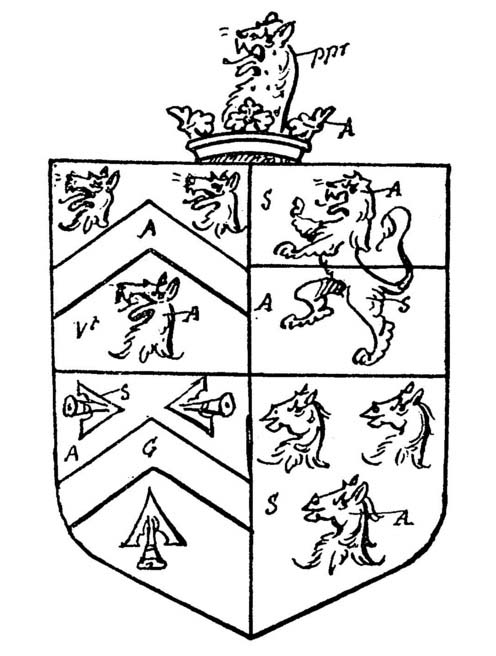 The tricked quarterly arms of Fludd of Millgate and Gore Court in Kent, from the 1663 Visitation of that county.
While Sir Thomas Fludd's son and heir was his eldest surviving son Thomas, his younger son Robert became a noted scholar, physician and mystical philosopher and appeared in the heraldic visitation of London in 1633 as Robert Flood of London, Doctor of Phisick. His entry in the visitation records elaborated on his predecessors, giving his grandfather as John son of David Flood of Shropshire. Dr. Flood's arms were shown in those records as differenced from those of his elder brother and were illustrated tricked as 'Vert, a chevron Ermine between three wolves heads Argent.'
Although wolves heads were shown in the 1663 visitation of London, gryphons heads erased were given in some sources as charges in the arms of those named Fludd or variants thereof. Within the family of Sir Thomas Fludd, while Edward Hasted in his 1798 'History and Topographical Survey of the County of Kent' gave the arms of Sir Thomas as confirmed by Cooke as quartered and with a chevron between three wolves heads, he gave the arms of his son Thomas as 'Vert, a chevron between three gryphon's heads erased Argent.' (Both the Visitation of Kent and London displayed them with wolves heads however).
A chevron Ermine also served as a difference on the arms recorded in Ireland of one Richard Flud of Dublin, who appears to have flourished about the late sixteenth or early seventeenth century. Burke in his 'General Armory' made reference to the Funeral Entry in the records of Ulster King of Arms which related to Margaret Flud, who died on 28th January 1614, wife of Richard Flud of Dublin. Based on that Funeral Entry, Burke gave her husband's arms as 'Vert, a chevron Ermine between three wolves erased Argent.' The deceased woman was a daughter of John Dillon of Dublin, Alderman and her Funeral Entry gave an exemplification of the impaled arms of Flud and Dillon. The arms, however, were not blazoned or tricked and while Burke may have been correct as identifying these animal head charges as wolves heads, their depiction beaked in the Funeral Entry bore a closer resemblance to three gryphon's heads erased Argent than to wolves heads.[vii] Above the 1614 Funeral Entry was written in a later hand the alternative and phonetically similar surname variations of 'Floyd, Flyde, Lloyd.' That these particular animal heads may have been gryphons heads is further suggested by the Funeral Entry in Ulster's Office of one Edward Lloyd or Floode, who died in 1597, son and heir of an unidentified knight of the name described as 'of Wales.' His arms were given by Burke in his 'General Armory' as 'Vert, a chevron Ermine between three gryphon's heads erased Argent, a label of three points Gules.' These 1597 and 1614 entries not only point to the charges on the arms of Richard Flud of Dublin as gryphons but also point to the inter-changeability of the name Fludd, Flood, ffloyd and lloyd in the sixteenth and seventeenth centuries, their similarity phonetically leading to their similarity heraldically. (One late sixteenth century source have the name of the immediate ancestor of Sir Thomas Fludd of Millgate as David Fludd alias lloyd.)
The connection between the arms of Tully and Flood has its origin in the view that the original form of the name Tully may also have been anglicized as Flood. One view is that McTully and its other variant anglicized forms, such as Tully, may derive from the Gaelic family name Mac Mhaoltuile, translated from the Irish language as 'son of the devotee or follower of the Divine will.' Edward MacLysaght, in his 'Irish Families, their Names, Arms and Origins,' noted that in the mid twentieth century the name was 'fairly common in Counties Galway and Cavan, but rare elsewhere (except in the city of Dublin where, of course, names from all parts of Ireland are to be found).' MacLysaght noted that the name was also given in a seventeenth century manuscript as MacTuile, which may have been an abbreviated form of Mac Mhaoltuile. He was of the view, however, that the name may originally have been 'Mac a' Tuile meaning 'son of the flood' (from 'tuile', 'a flood).  In connection with that view he noted the mention in the Elizabethan Fiants of one 'Dionysius Flood alias Donogh O Miltilly, spelt O Moltolle in another case.'
The inter-changeability of the surnames Flood, Fludd, Fluddy, ffloyd and Lloyd not only among those of English origin but the use of the name Flood or similar by those of Gaelic origin such as O Multulle or O Multilly has led to uncertainty in determining the origin of individuals named Flood in Ireland.
The Dionysius to whom Dr. MacLysaght made reference was given in the Fiants as Dionysius Fludd alias Donnogh O Multilly of Kilkenny, yeoman, pardoned by the Crown alongside others in 1572. His origin was clearly native Irish, with two later Crown pardons, one in 1578 and another in 1601 extended to one Donogh O Mulltulle of Irishtowne, County Kilkenny, yeoman and to the widow of John O Multully of Irishtown, County Kilkenny, respectively.[viii] From the 1572 pardon it is evident that the Anglicised 'Fludd' was applied to those of Gaelic origin about Kilkenny from at least the late sixteenth century.
One family named Flood with whom arms were associated and whose origin is uncertain was that of Conely fflood who died in 1529. This family, however, would appear to have been of Gaelic extraction and established at or near Kells in County Meath in Ireland. The personal name Conely (ie. Conla) is of Gaelic origin and rare. It does appear, however, in the pedigree of Kyvas Tully of Garbally in County Galway, who was appointed Protestant Dean of Clonfert in 1601 and was still in use among the Tullys of County Galway in the seventeenth century. In addition to one Conla appearing as a distant ancestor of Kyvas, his younger son was named Conla and one Conly Tully and his wife Mary were landholders in the parish of Ardrahan in County Galway in the late 1630s. The use of this name, when taken together with other evidence, would suggest that the ancestors of that Conely fflood who died in the 1520s may have been Multullys.
Although it is unclear whether this family were of native Irish or of English origin, an Irish family of Multully were settled at Ongenstown in the parish of Ardbraccan, in County Meath, near and immediately south-east of Kells. In November 1641, at the outset of the Rising of that year, the rebels fferdurrogh O Dayly of the parish of Moynalty, north of Kells and John Multully and his brothers of Auncienston (ie. Ongenstown) in the county of Meath raided the church of Ardbraccan and the property of William Meoles, Protestant Dean of Clonmacnoise and parson of Ardbraccan.[ix] The Irish name appears to have been Anglicized as Flood in Meath as, almost four years later, a difference arose between one Charles Flood alias Multully and Captain William Cadogan concerning 'the cattle and goods taken from His Majesty's subjects within the English quarters of the county of Meath by any of the Ultaghs' or rebel Ulstermen.[x]
It should be noted that in 1892 Lord Walter Fitzgerald recorded a memorial in the north wall of a church in the parish of Castletown in County Meath, not distant from Kells, bearing the inscription; 'This wyndowe was builded bi Richard Floudi of Kenlis mercheant the 12th of Juli 1578 whose soule God take to his merci.'[xi] The same inscription, but with some letters of the surname apparently somewhat obscured at the time, was recorded in 1864 by the antiquary George Victor Du Noyer. The latter source, however, described the memorial as having been located on the tower of the old church at Kells. The identity of this Richard Floudy or Floud is uncertain and Kenlis was a placename associated with Kells, but it is unclear if there was a connection between this person and Conely fflood. Irrespective of a connection or not, or the possibility of another family of a like name but different origin settled near Kells in the late sixteenth century, the use of the personal name of Conla would still suggest a Gaelic origin for the descendants of Conely fflood.
When Conely fflood died in the 1520s he was buried at Kells and an armorial stone was erected above his burial place. His descendant William Flood, bearing the military rank of quartermaster, appears to have made contact with the Office of the Ulster King of Arms regarding armorial bearings relating to his family. (He received a commission in 1662 as Quartermaster in the King's army in Ireland in the troop of horse of Sir Theophilus Jones, part of the Duke of Ormonde's regiment.[xii] The troop's headquarters was based at Kells.[xiii] In 1665 he surrendered his commission.)[xiv] Subsequent to that initial contact with the Office of Arms, five individuals, including one Elinor fflood, aged fifty-five years, appended their names as witnesses in September of 1664 to a document retained in the office of the Ulster King of Arms to certify that 'in the Body of the Churche of Kells in Meath there lyeth a toume stone wherein is engraven the armes of Conely fflood,' whom they stated was great grandfather of 'Quartermaster William fflood.' The arms on the tombstone 'which were engravne the 24th of March 1529' were stated to consist of three wolves heads.[xv] The origin of Quartermaster fflood's family was not detailed in the document but, if the information was correct, it could be implied therefrom that the wolves head charge was associated with the surname Flood from at least the sixteenth century in Ireland. (The arms were not entered in Ulster's Register of Arms according to a note appended to the 1664 certificate.)
It would appear possible then that there were at least two families of separate and distinct origin of the name Fludd or Flood or variants thereof, who may have been armigerous in the mid or late sixteenth century; that of Conely fflood in Ireland and that of Sir Thomas Fludd in England. Both carried wolves head charges.
The presence in Ireland of other families of English or foreign origin of the name Fludd is evident from the appearance of such individuals as Thomas Flodde, serjeant, killed in 1561 alongside about thirty other English soldiers in an engagement with Irish rebels while on campaign in Ulster.[xvi] A contemporary of this sergeant was one Captain Flude, also given in contemporary records as Fluddy or Lloyd, who commanded a company of English soldiers campaigning against Irish rebels in Ulster in 1567 and appears to have been the same Captain Richard Flood mentioned in 1571 in the State Papers and other State records relating to Ireland.[xvii]
Another contemporary of Captain Flood and Sergeant Flodde was Walter Fluddy of Dublin, 'soldier or gentleman,' pardoned in 1560 of the murder of one Walter Browne, priest, late of Leighlin, County Carlow.[xviii] Another was David Flody, granted the castle and lands of Kilclonfert in Kings County in 1562. His name and that of immediate family members appears in various contemporary and near contemporary records also as Fludd, Fludde and Flood. It would appear to be this individual who was that 'Mr. Flood and his family' upon whom 'outrages' were committed in King's County by Irish rebels 'between late harvest 1597 and the following March.' He may have been killed in that raid as pardons extended by the Crown to certain individuals in 1598 specifically excluded those 'guilty or accessory to the murder of Captain George Bingham, David Fluddy and Hugh Fluddy with the children and servants of the said David and Hugh or any who treacherously took the castle of Sligo or who delivered it to the rebels.'[xix] In 1603 livery was granted of the lands of Kilclonfert to Oliver Fludd, gentleman, who was described in one source as grandson and heir of David of Kilclonfert and in another as nephew and heir of David Fludde, deceased.[xx]
That certain if not all of these Floods were of English or Welsh origin is suggested by the license given in 1600 to the 'old servitor,' David Floudd, 'to go into England' 'for his relief,' he by then 'being not able to serve' on active duty.[xxi] Similarly, Captain Walter Fludd, also given as Flood and Floyd, in command of a company of soldiers in the army of Sir Conyers Clifford serving in Ulster in 1599 and who fought at the battle of the Curlieus in August of that year appears to have sold his company to his lieutenant and returned to England in 1600.[xxii]
John Burke in the 1833 edition of his 'Genealogical and Heraldic History of the Commoners of Great Britain and Ireland' related that a family of the name Flood, established with extensive estates in County Kilkenny at Flood Hall, Farmley, Paulstown Castle and Viewmount, were 'assumed to descend from Sir Thomas Fludd, knt., treasurer to Queen Elizabeth.' As such their arms were given therein, undifferenced, as 'Vert, a chevron between three wolves heads erased Argent, for crest a wolf's head as in the arms' and for motto; 'Vis unita fortiori.' Warden Flood, a member of this family, wrote in his 1844 work on the life and work of his kinsman the Rt. Hon. Henry Flood M.P. that this family of County Kilkenny descended from Major Francis Flood, 'who was sent over to Ireland in the English horse and was employed during the civil wars of the commonwealth in 1647. He gave him as lineally descended from the eldest son of Sir Thomas Fludd of Millgate in Kent and after arriving in Ireland married the only daughter and sole heiress of Colonel Warden of County Kilkenny. However, George Dames Burtchaell, in his 'Genealogical Memoirs of the Members of Parliament for County Kilkenny', published in 1888 believed that the family did derive from Major Francis Flood of Burnchurch, but believed him to be son of Thomas Flood of Newtown, County Longford, this latter who died in 1673. Burtchaell believed that he was more likely to have been a relative of Francis Flood of Kilclonfert, King's County, gentleman, who was attainted by the Parliament of King James II in 1689. He became connected he believed to the Warden family through his marriage in 1692 to Anne Warden heiress of Burnchurch in county Kilkenny.
In 1818 Frederick Solly, Esquire, maternal grandson of Sir Frederick Flood of Banna Lodge and of Slaney Lodge in County Wexford , baronet, obtained a Royal Licence to bear the additional name of Flood after that of Solly and in the following year his newly quartered arms were exemplified by Sir William Betham Deputy Ulster as quarterly first and fourth, the arms of Flood and second and third those of Solly, with the crest of a wolf's head erased Argent and motto 'Vis unita fortior.'[xxiii]
The use of identical elements in the composition of the arms of Tully, Fludd and Flood would appear to be based on the perception that the early form of Tully or McTully may have been 'Mac a' Tuile or 'son of the flood.' That the arms on the tombstone of Conely fflood were claimed in the seventeenth century to date from the 1520s would suggest that that perception dated from at least the early sixteenth century. However, that this belief in relation to the original meaning of the name in the Irish language may have been then current does not necessarily imply that it was correct.
It is unclear whether the possible Irish arms of Conely fflood pre-date those of fflood of England and or vice versa. In the occurrence of armorial bearings above the burial place of Conely fflood at Kells it is worthy of note, however, that, if the stone was carved when the witnesses state, those arms would have pre-dated the establishment in Ireland of the Office of the Ulster King of Arms. If that was the case, it would be an uncommon and unlikely example of a family of Irish origin of minor landholding status utilising similar arms to those of English extraction in England at roughly the same time but before the introduction of a Dublin-based heraldic regulatory authority.
There would appear to be a number of difficulties with the evidence given in the 1664 certification relating to the tombstone of Conely fflood. If those were correct who certified that the arms on the Kells tombstone were carved in 1529 and if the family were of Gaelic origin, it would be an unusual occurrence of Gaelic arms found on an early sixteenth century memorial. Almost all of the surviving armorial tombstones located in close proximity to the Pale of that period or of the late fifteenth century bear the arms of those of Old English descent. In addition, the dates given in the certification would suggest a discrepancy in the information provided. Conely fflood may have been an ancestor of Quartermaster Flood but if the date of 1529 was correct then he must have been a more distant ancestor than that of his great-grandfather. If the information was correct in identifying him as the Quartermaster's great-grandfather, then he is likely to have died much later than 1529, possibly in the late sixteenth century. In this regard it should be noted that the nineteenth century antiquary G. V. Du Noyer recorded an inscription in the church at  Kells to the effect that the 'bodie of this churche being in utter ruyn and decaie was reedified in anno 1578′ in the reign of Queen Elizabeth I.[xxiv] Although there is little evidence to support the case, it is possible that the date on the tomb may have been misread and may have been 'engravne' in 1579, about the time reconstruction work was undertaken on the church in which it lay.
The inconsistencies in the 1664 certification render it difficult to be certain as to whether or not the arms on Conely fflood's tombstone dated from the early sixteenth century. These inconsistencies, taken together with the wider context in which surviving armorial bearings occur in Ireland in the sixteenth century, would suggest that the arms in the Kells church may have been of a date later than 1529. If the usage of arms by Conely fflood or his offspring did pre-date the arrival of the Ulster King of Arms or any herald based in Ireland, a representative of Conely fflood's family may have been responsible for the assumption of those arms. In that event it is uncertain if an English herald or an English armiger would have based the design of the English arms upon those of another named fflood in Ireland, possibly Anglicised from O Multully, or if the arms associated with Conely fflood were taken from earlier Fludds resident in England. The latter would appear more likely. It is also possible, however, that the date on the tombstone of Conely fflood related solely to his death and that the armorial stone may have been erected later, at which time the arms may have been taken from those borne by others of the surname of English extraction in Ireland.
For further details refer to 'Tully' under 'Families.'
---