© Donal G. Burke 2013
A branch of the Moores, described as 'a younger branch of the Cloghan Castle family,' was resident at Annaghbeg in the parish of Ahascragh, County Galway in the mid eighteenth century.[i] This branch descend from William Moore of Cloonbigny and Clooncoran in County Roscommon, third son of John Moore of Bryes, County Mayo and Cloghan Castle, then in County Galway and Lady Mary Burke, daughter of Richard 2nd Earl of Clanricarde.
John Moore of Bryes and Cloghan Castle died in 1631 and William inherited his father's Cloonbigny estate while the Cloghan Castle and County Mayo estate descended in the line of his elder brother Garrett. William of Cloonbigny married firstly Mary, second daughter of Hon. Edmund Burke of Kilcornan, younger son of Ulick, 3rd Earl of Clanricarde and secondly Catherine Dillon and had at least one son, Major Edmund Moore of Cloonbigny.[ii]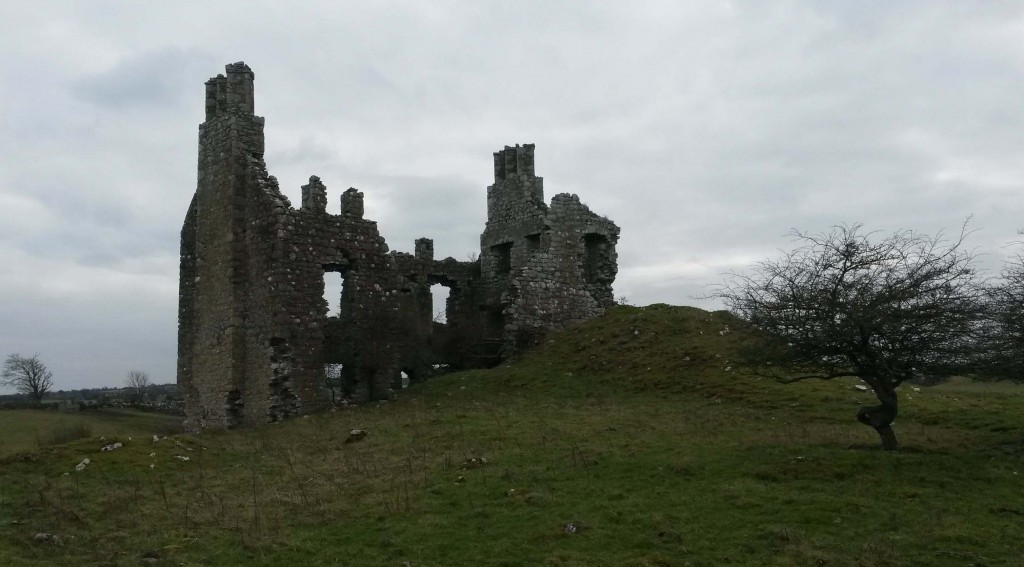 The ruins of the seventeenth century residence known as Cloonbigny Castle in the Roscommon parish of Taughmacconnell, viewed from the north. Originally constructed as a simple rectangle on plan, a later extension, which appears to have included a spiral staircase was later added to the west corner of the house, creating an 'L'-shaped plan.
Garrett Moore, who flourished about the late seventeenth century or early eighteenth century, was described as 'of Annaghbeg, Co. Galway' and son of Major Edmund Moore of Cloonbigny, Co. Roscommon in a family pedigree relating to a later female descendant.[iii] Major Edmund Moore of Cloonbigny and his wife Alice, daughter of Sir Henry Talbot of Templecoone and Mount Talbot had at least three sons; William, Garrett and James.[iv] While William inherited Cloonbigny, Garrett, the second son, came to reside at Annaghbeg and married Jane, daughter of one Hubert Kelly with whom he had at least six sons; John, Hubert, Garrett, William, James and Henry, the youngest, who died in 1763.[v]
John Moore, the eldest son of Garrett, appears to have inherited his father's estate. In 1749 John Moor was resident at Annaghbeg and was described as seated there and living in 1767 in the family pedigree. He married Mary, daughter of Edmund Hearne and had at least six children; Garrett, Edmund of Annaghbeg, John Hubert, Margaret, who married in 1766 Count Conor O Kelly of Tycooly (elsewhere her marriage was given as in 1776), Elizabeth, who married firstly Thomas Dillon of Greenville, Co. Galway and secondly one F. Baron Brady of Austria, and Lucy, the youngest daughter, who married in 1792 one William Gardiner, sometime Minister plenipotentiary to Poland.[vi]
John Moore's eldest son Garrett, born in 1741, went on to inherit the Cloghan Castle estate in Kings County, while Edmund, the second son inherited his father's Annaghbeg estate.[vii]
John Hubert Moore, third son of John Moore of Annaghbeg and Mary Hearne, was born in 1765 and was admitted to the King's Inns and the Middle Temple to study law. Having then served for four years as an 'Officer in His Majesties army', he resumed his study thereafter and was admitted to the degree of barrister in 1792.[viii] Both John Hubert Moore and his elder brother Garrett, who adopted the Gaelicized name 'O Moore' and was styled 'Colonel O Moore', played a prominent part in the Irish Volunteers about the 1780s, with Colonel O Moore serving as commanding officer of the Clanricarde Chasseurs. John Hubert Moore served as Adjutant in that same corps. Both were present at the review of the Volunteer Corps at Birr in 1784.
John Hubert Moore married twice. He married firstly Lavinia, daughter of James Jackson in 1787.[ix] By the end of the century John Hubert was resident at Shannongrove in the parish of Clonfert, on the banks of the Shannon near Banagher, in the townland of Kilnaborris, a property rented from a family of the name Madden. The same John Hubert Moore of Shannon Grove, leased lands of 'Coolnebranagh otherwise Kilnaborris, otherwise Shannon Grove, otherwise Madden Grove and Gorta Purth, otherwise Monkfield' in the parish of Clonfert from Bryan James Madden of Monkfield, son of 'the late Andrew Coghlan Madden esq. in 1798.[x] Three years later, John Hubert Moore, Barrister at law, of Shannon Grove married Maria, Lady Dunboyne, the widow of John Butler Lord Dunboyne, in August of 1801.[xi]
Maria Butler was twice married. Originally from Wilford House in South Tipperary, her first marriage was the cause of some controversy. At the age of 23 years she married her 57 year old relative John Butler 22nd Lord Dunboyne. Her husband was the third son of the 18th Lord Dunboyne and formerly the Roman Catholic Bishop of Cork. After the successive deaths of his father and more senior male heirs to the Dunboyne title, the title fell to the Bishop late in his life. The Bishop wished to keep the ancestral title in his own branch of the family, but as a Roman Catholic cleric, had taken a vow of celibacy. He sought in vain a dispensation from the Pope to marry. His subsequent resignation and conformity to the Church of Ireland and marriage attracted a considerable amount of attention in late eighteenth century Ireland. The couple lived for a time at Dunboyne and later Dublin and had one child who died in infancy. They later separated and he died in Dublin in 1800, after making a will leaving the greater part of his property to Maynooth College and being received back into the Roman Catholic Church on his deathbed.[xii] His widow then married John Hubert Moore and came to live at Shannongrove.
John Hubert Moore had at least two sons and a daughter. By his marriage to Lavinia Jackson he had a son Garrett and by his second marriage, to Maria Lady Dunboyne, he had a son Hubert Butler Moore, born in 1804. John Hubert's daughter Alice married Middleton O Malley, son of George O Malley Esq. of Spencer Park, J.P. Co. Mayo.[xiii]
John Hubert's eldest son Garrett had a son John Hubert Moore, born in 1819, who was educated in Trinity College Dublin and who married Emily Henry.[xiv] At their marriage in 1841 this younger John Hubert was described as 'of Castletown, Queen's County' while Emily was described as 'of Eccles Street, Dublin.' John Hubert the younger appears to have been the same man later described as 'John Hubert Moore of Jockey Hall, Curragh', in County Kildare, a noted sportsman, who had a son Garrett Moore. The latter, commonly known as 'Garry' Moore went to England at a young age in the 1860s, spending some time in the tuition of Alan McDonough, a noted horse-rider and trainer of east Galway origin. He achieved note as a steeplechase rider before becoming a successful trainer.[xv]
Emily Moore alias Henry died on 18th January 1902 and two years later, on 26th May, John Hubert Moore the younger died. Both were buried in Mount Jerome Cemetery in Dublin.[xvi] Four years after the death of his father, Garrett Moore died, at a relatively young age, in May of 1908.[xvii]
The family Annaghbeg and Shannongrove property, however, descended in the line of John Hubert the elder's second son, Hubert Butler Moore.[xviii]
Edmund Moore was the occupant of Annaghbeg in 1814. Hubert Butler Moore inherited Annaghbeg and was leasing the property in the 1850s to one Charles Bailey. At that same time, Hubert Moore was renting his own residence at Shannon Grove in Kilnaborris from Belinda C. Madden. Nearby, in the same townland of Kilnaborris he was renting a smaller house (valued at eight pounds sterling, compared to Shannon Grove at twenty pounds sterling) to John Seymour. In May of 1824 Hubert Butler Moore, described as of 'Shannon-view, County Galway, only son of Lady Dunboyne' married in Glasgow Mary, the eldest daughter of the late Valentine Blake esquire of Tully.[xix]
Hubert Butler Moore and Mary Blake had one son; Butler Dunboyne Moore, born in 1827 and three daughters; Eleanor Maria, Jane, who married in 1852 Sir Thomas George Skipwith, baronet and Mary, who married Hans Robert White, Major in the 89th foot, the same regiment in which her brother Butler Dunboyne held a commission as captain.[xx]
The Butler Moores of Shannongrove were doubly connected to the Eyre family of Eyrecourt. Hubert Butler Moores only son, Captain Butler Dunboyne Moore, 89th Regiment, married Nance, commonly called Nannie, sister of John Eyre junior of Eyrecourt Castle in 1854 while in October of 1846 Hubert Moore's eldest daughter Eleanor Maria married John Eyre junior. By their marriage, John and Eleanor Maria Eyre had seven daughters, and it was reputedly in honour of these Eyre girls that seven groves of beech trees were planted on the eastern crest of Redmount Hill. The trees grew to form what became known locally as 'The Seven Sisters', a landmark easily visible from much of the surrounding flat countryside.[xxi] In noting the beauty of several of the daughters, it was noted that their mother did not 'in her portrait appear as particularly handsome.'[xxii]
In August of 1860, Maria, Dowager Lady Dunboyne died at the age of ninety-six years, having survived her first husband by sixty years. She was buried in the grounds of Clonfert Cathedral, below a sepulchral monument erected by her son Hubert Butler Moore 'of Shannongrove, of this parish' who had the memorial inscribed commemorating his mother. The same monument would commemorate Nellie, daughter of Nannie and Butler Dunboyne Moore who died aged six years in 1870 and the death in January 1902, at the age of 68 years of Nannie, the wife of Butler Dunboyne Moore.[xxiii] In November of 1874, Mary Dunboyne Moore, eldest daughter of Captain Butler Dunboyne Moore and Nannie Eyre married at Eyrecourt church Rev. J. Aldridge, Vicar of Eyrecourt while the Dunboyne Moore's daughter Jane married in 1881 Sinclair Edward Gould Butson of St. Brendan's, Clonfert, Co. Galway, Major in the Connaught Rangers.[xxiv]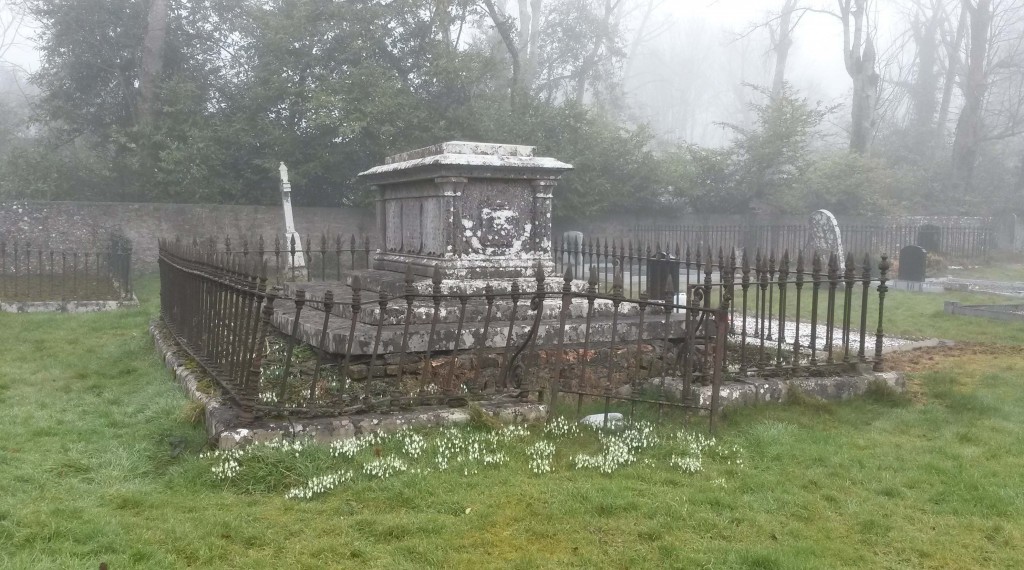 The Moore family tomb at Clonfert Cathedral, its railings damaged by a fallen tree in the late twentieth century.
Eleanor Maria Eyre, Hubert Butler Moore's daughter, was living at Eyrecourt Castle in 1901 at the age of seventy-four years with her son Gregory H. Eyre and her grandniece Isobell Miller. Ten years later, she was described as the head of the family and living at the Castle with her daughter Bessell Caroline Eyre.[xxv] Reflecting on the decline of the house, grounds and garden forty five years after the last of the Eyre family had departed Eyrecourt, an author familiar with the family recalled the affection Eleanor Maria, 'Old Mrs. Eyre' had for her garden and her peacocks and her habit of sitting out by the front door of the house largely undisturbed by the intermittent Irish rain.[xxvi]
For further details relating to this family, refer to 'Moore of Cloghan Castle' under 'Families.'
For the arms of this family, refer to 'heraldry.'
---