© Donal G. Burke 2013
A memorial tablet commemorating one Martin Blake and his wife Julian Power was set into the north wall of the choir of Loughrea abbey church in 1732 bearing the arms of the family. Four sons of this Martin and Julian Blake had the stone erected to the memory of their parents. The Blake commemorated thereon died on the 6th May 1731 and was Martin Blake of Loughrea, son of Richard Blake of Kilquain.[i]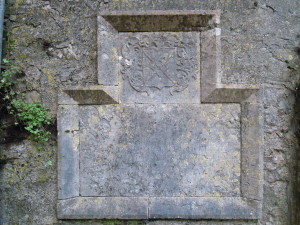 Richard Blake of Kilquain in the years preceding the 1641 Insurrection was seated at Kilquain in the parish of that name in the centre of the ancestral territory of the O Maddens.[ii] He was proprietor of an estate in the barony of Longford in east Galway that comprised lands in the parishes of both Kilquain and Tiernascragh. His lands were confiscated by the Cromwellian authorities in the mid seventeenth century and he appears to have settled thereafter at Loughrea, acquired various properties in and about that town and died sometime after 1695.
This Richard of Kilquain was the elder of at least two sons of Martin Blake, third son of Walter, third son of Andrew son of John Blake. The Blakes of Loughrea and later of Hollypark, near Loughrea, descended from Richard of Kilquain, were a distinct branch from the Blake family who were seated at 'Gortnamona or Moorfield' in the parish of Fahy in east Galway in the eighteenth century. This latter branch was descended from an uncle of Richard of Kilquain; Robert, the second son of Walter fitzAndrew Blake.[iii] This Robert, a wealthy merchant of Galway, gave the Abbey of St. Francis at Galway town as the burial place of their ancestors.[iv]
The arms depicted on the 1732 memorial to Martin Blake display a simple fret dominating the shield and above a closed visored helmet in profile, on a wreath, a crest of what appears to be a cat or similar animal passant. The crest by the twentieth century was damaged and defaced, with an elaborate mantle cascading down on either side of the shield from the helm. The armorial bearings did not carry a motto or show surviving evidence of any tincture on the stone. It is likely that the family used the same tinctures common to others of the name with whom they were distantly related, such as the Blakes of Ardfry, consisting of arms Argent a fret Gules and for crest, a leopard or mountain cat passant Proper.[v]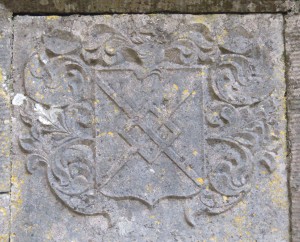 The family vault in the abbey at Loughrea was closed sometime about the end of the nineteenth century and the remains of certain of the family were removed to a new grave outside of the church walls. A new headstone, replicating the original eighteenth century inscription, was erected by a descendant over the new grave in 1902.
For further details regarding this family, refer to 'families.'
---